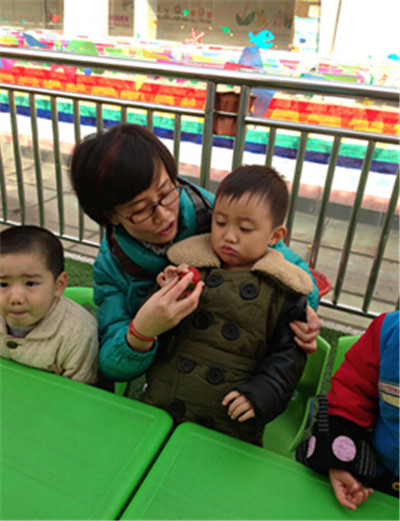 TaoYan is Principal of the Xiaobeilou Teenager Club of Xiangxi Autonomous Region, Hunan Province. She graduated from the Vocational Secondary School for Preschool Teachers in Yiyang, Hunan Province in July 1991. From September 2010 to July 2013, she specialized in preschool education as a junior college student at Xiangxi RTVU.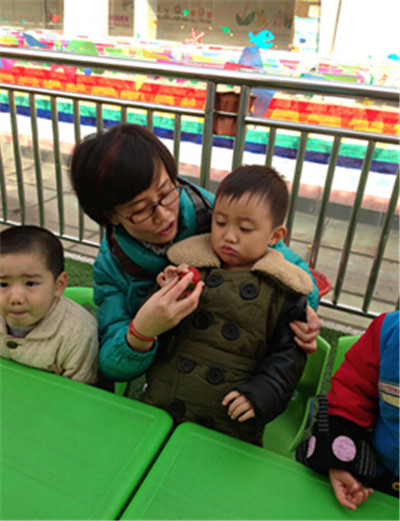 When she started working, TaoYan continued to adhere to the concept of lifelong learning, and never gave up learning new things. She insisted on self-directed learning and never felt conceited about the things she had already achieved. To further improve herself and to address the opportunities and challenges facing her with a positive attitude, she was determined to study at Xiangxi RTVU to get further education for self-improvement.
A devoted and passionate worker
1. Tao Yan said that she chose to study at the RTVU because she was attracted by its "open education" model. This kind of model requires no entrance examination and can be combined with a regular job. More importantly, the diverse forms of education it provides allow her to get further education without taking time off work. Its certificate of academic degree is recognized at the national level, which is useful for professional title evaluation and further education.
2. Study at the RTVU is different from the traditional face-to-face teaching model. Students are not confined to the classroom. They can create their own learning style, and schedule their study at their own disposal. Furthermore, they can choose the right time and place to study. Although their study is flexible, it requires strict self-control. They have to establish a learning schedule that suits the conditions of their own study and life. This requires that students do a number of things:
(1) Take an active part in learning, and pass the tests and evaluations for all the required courses, mandatory electives, and free electives.
(2) Choose free electives according to their own hobbies and credits, so as to meet their own credit requirements and achieve their learning goal.
(3) Prepare in advance to deal with any courses that may present difficulties for them.
(4) Finish their homework in due time and avoid procrastination. When doing homework, treat it as an exam and approach it following the principle of "easy first, difficult last".
(5) Take every class seriously and avoid missing any classes. Make notes while listening. If absent from class due to work commitments, borrow notes from classmates.
(6) Have a reasonable time allocation for study; guarantee that the time spent on self-directed learning is not less than 10 hours a week. Study for one hour every day. While learning, keep notes on anything that one doesn't understand, and then mark them to be resolved in future studies.
(7) Take an active part in multimedia teaching and grasp the learning content.
3. It is easy to enroll in an RTVU, but the graduation rate is strict. Generally, the students have to undergo tough exams. They can only graduate when they when they pass the exam. This makes a degree from an RTVU more authoritative. Through three years of study, Tao Yan graduated from the university with excellent results. She was named an "Outstanding Graduate of Xiangxi RTVU" in October 2013.
4. In the spirit of "serving the children, teaching, and tutors", Tao Yan devotes herself to her work, empowering her work with a strong sense of innovation, and playing an important role in the quality improvement of childcare and education. While taking part in further education at Xiangxi RTVU, she did not set aside her work. She has a high sense of responsibility and great passion for exploring new management experiences and methods that suit the tutors. Her contributions included:
(1) Organizing the annual art performance on Children's Day, as well as outdoor activities during spring and autumn;
(2) Conducting interview and tour activities to get to know the current family situation of the children; actively apply for financial assistance for impoverished children from local education department (three per semester);
(3) Getting to know each tutor's professional ability and teaching level. On this basis, she was able to adapt her teaching research according to their characteristics, and adopt teaching methods such as layering teaching, online teaching, and backbone-led teaching, in order to rapidly improve their professional skills. Their teaching levels have increased significantly under her efforts;
(4) In the annual essay competition, essay by the tutors in the kindergarten were always awarded with first prize;
(5) In 2010, she was awarded the title of "Outstanding Kindergarten Principal ", and the kindergarten where she works has been named an "Outstanding Kindergarten" on several occasions.
Looking to the future with an innovative spirit
"Good, better, best, never let it rest, till good is better, and better best. Go forward, otherwise you will fall behind!" This is what Tao Yan believes. With this belief in mind, she never stops learning no matter how difficult or tiring the work is. Working is pleasant, and learning is graceful. She believes that reading and learning are effective ways to enrich and improve herself. Throughout her career, she has been earnest and responsible, striving to work hard in her ordinary post. She sets a good example at work and is well recognized by her working unit. From June 26 to July 18, 2012, during a period of flooding, she worked on the front line, saved important materials belonging to the unit, and ensured the safety of each child in the kindergarten. The tutors were moved by her spirit of selfless dedication. Her actions helped bring the tutors together.