High quality shareable teaching resources
The OUC headquarters has the capacity to research, develop, and build a variety of multimedia teaching resources. As of now, 1,024 courses for degree education and 6,071 courses for non-degree education lasting 400,000 minutes have been developed, and subject resource pools have been built for basic education and enterprise management training. The digital library maintains 363 million books adding up to 7,390.6TB of resources, and supports concurrent access from multiple terminals and users. In addition, a large number of printed and audio-visual materials have been produced by related publishing houses.
The Digital Learning Resource Centre has established 221 sub-centres at branches and vocational universities, gathering nearly 30,000 degree and non-degree education courses. Nearly 20,000 micro-lectures have been developed, covering human life, social sciences, science and technology, agriculture and medicine, arts, health, and recreation.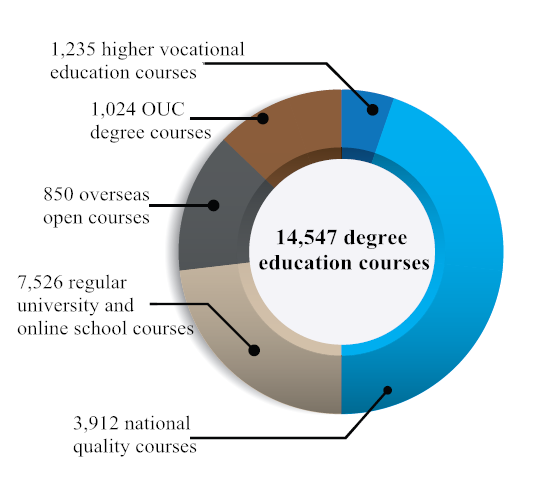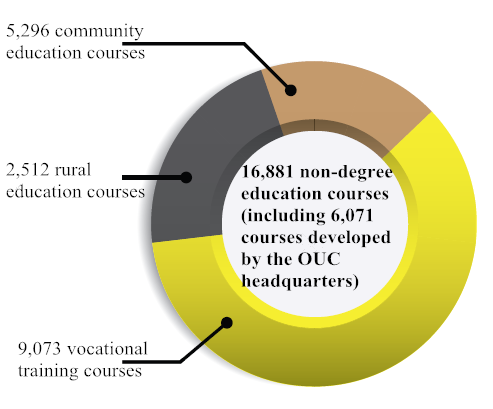 The university makes use of the platform provided by the Digital Learning Resource Centre to offer open public courses for learning and learner support. At the same time, free video learning resources are offered to the public through China Education Television's (CETV) "RTVU Classroom" Channel and the "Open Classroom" section of the RTVU online learning platform.