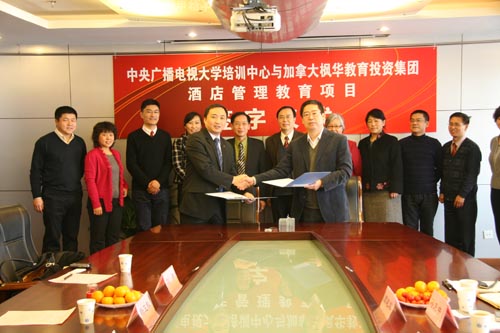 Introduction:
CIBT Education Group Inc. (CIBT) is an international education management and investment company listed on the Canadian and American stock exchanges. Its headquarters is in Canada. CIBT aims to provide the education industry in China with professional services such as: educational investment, acquisition, management, and consulting.
Its subsidiaries include educational institutions like Beijing China-Canada School of Business, China-Canada Beihai International College, Sprott-Shaw Community College in Canada, the China Operations Department of the American Hotel & Lodging Association Educational Institute, and King George International College. CIBT owns and operates an educational network consisting of 72 branch campuses and numerous cooperative joint programmes in 18 countries and regions. Via campus networks in China, Canada, and other countries around the world, CIBT offers North American and Chinese learners numerous accredited courses, including business and management courses, English training courses, and professional skills training courses such as auto repair and maintenance, diesel engine repair and maintenance, computer science, hotel management, tourism, and so on. At present, CIBT has a total of 13,000 registered students, which makes it one of the most comprehensive foreign-funded institutions engaged in introducing foreign higher educational projects to China. CIBT is also one of the first educational institutions approved by the State Academic Degree Committee to confer the MBA (Master of Business Administration) degree.
Cooperation with the OUC:
Cooperation between the Open University of China (OUC) and CIBT Education Group began in 2009. The two sides wanted to utilize the educational resources and the management strengths of both parties. By launching dozens of cooperative projects in many fields in China and Canada, the two sides aimed to introduce new operational concepts and models, expand their teaching areas, improve teaching quality, and promote their international influence in the global education market.
On October 16, 2009, the OUC and CIBT Education Group signed a cooperative framework agreement. The signing of the agreement was a key event in the "2009     International Forum on Open and Distance Education".
On December 8, 2010, the OUC signed a cooperation agreement with the CIBT Education Group initiating an international hotel management programme.
In March, 2011, representatives from CIBT Education Group visited the OUC. Both parties engaged in discussions about the possibility of working together to build an international interactive video studio equipped with two-way videoconferencing technology. The two sides also exchanged views regarding future cooperation on the international hotel management programme.