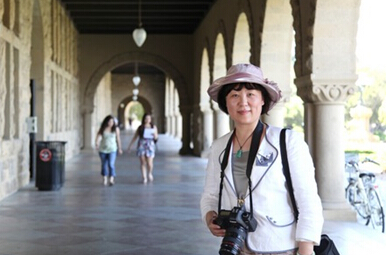 Li Hong, now employed at Tianjin University of Technology's Institute of Management, is head of the Department of Financial Management and Accounting, an Academic Leader, Professor, and Graduate Tutor. Her major research fields are Environmental Accounting and Corporate Finance.
In June 1997, she earned her master's degree from Wuhan University of Technology's Management Engineering Specialty (Business Management). In the autumn of 2005, she enrolled in the Open Education bachelor programme at Tianjin Radio and TV University (TJRTVU), majoring in Business English.
Li Hong is a strong self-directed learner with a profound understanding of the concept of lifelong learning. During her schooling years, she took great efforts to resolve potential time conflicts between work and study, persisting in participating in face-to-face instruction, online learning, and learning on her own. She successfully completed learning tasks and achieved excellent grades, with compulsory coursework scored at 89 points and her graduation thesis earning 86 points. In addition, she often led participants in activities organized by the university and urged fellow students to participate in collaborative learning activities such as online group learning, group discussions, and online exchanges.
Li Hong not only excels in her studies and in the workplace she also plays a key role as a teacher. She has won several research awards and work honors. In both 2010 and 2011, she was named as an outstanding Communist Party Member. Learning English provided immense support for her scientific research and teaching career. While a tutor at the university, she focused on combining production, learning, and research by taking up to 11 subjects, including 7 provincial-level subjects and 1 national-level subject. Her hard work earned numerous awards: Research on Countermeasures to Meet WTO Challenges and Optimize the Industrial Structure of Our City was awarded  second prize of "Excellent Research Results" at Tianjin Municipality's Seventh Session; "Research on Gradient Transfer of Industries in Beijing, Tianjin, Hebei Province and Hebei Industry Structure Optimization" was cited for its excellent results and awarded "Philosophical and Social Sciences Outline Research Project in Hebei Province;" Research on Strategic Patenting Pledge and Financing for Technology-based SMEs in Tianjin Binhai High-tech Industrial Development Area was granted with an award of excellence at Tianjin Municipality's "Seventh Annual Academic Conference of Social Sciences;" and her Research on Decision Modes of Project Investment Based on the Low Carbon Economic Perspective was awarded the third prize at "The 13th Tianjin Outstanding Achievements in Social Science." The achievements of her Research on the PPP Implementation Effect of Beijing Metro Line 4 were widely recognized by experts and scholars, including Former Director of Beijing Traffic Development Research Centre Quan Yongshen, Director of Feasibility Research and Evaluation Centre of China International Engineering Advisory Corporation Li Kaimeng, and famous economist Ma Guangyuan, PhD. The evaluation content and methodology in this project filled in a critical gap in PPP project evaluation in the field of city rail traffic in China. Its concept and methodology provided references for multi-objective decisions for projects against the low carbon economy. Li Hong has published more than 50 papers, among them, an article entitled, Research on Decision Modes of Project Investment Based on the Low Carbon Economic Perspective was adopted in the Accounting Research (Class A); the Research on the Relation between Industrial Carbon Emissions in China and Economic Development: Empirical Research Based on Panel Data from Industry, Construction Industry, and Transportation Industry was used in macroeconomic research. The Decoupling Problems of the Industrial Economy Against the Material Flow Index was accepted by the Resources and Environment (Class B), Population of China. She also performed wonderfully in guiding the graduation thesis for class of 2011 undergraduates. The paper on Research Based on the Tax Planning of the Iron and Steel Enterprises in VAT Transition - A Case Study on Hebei Iron and Steel Group by Liu Chunxu, a student guided by Li Hong, was awarded third prize for excellent graduate thesis.
Since the November, 2001 inception of the Accounting Association of China's Professional Committee on Environmental Accounting, Li Hong has actively participated in professional committees holding discussions on forefront environmental accounting topics, as well as international academic conferences and the Congress on Social and Environmental Accounting Research(CSEAR)'s first symposium in China. Exchanges at the conference enriched and expanded research on environmental accounting in China. In this vein, she undertook the project entitled "Low-carbon Material Flow Optimization Mechanism and Countermeasure for Cities," under the National Social Sciences Fund. Li Hong has published more than 30 papers.
Financing and decision-making have always been at the core of the study of corporate finance. Li Hong has conducted in-depth studies on this field and has achieved ample results, tackling 9 projects and publishing more than 40 papers. In addition to researching corporate financial theories, she created financial and accounting laboratories and completed an accounting cycling experiment. Her practical teaching experience has helped to lift the professionalism of many students in the areas of money management, banking, securities, and tax in a comprehensive way, and laid a solid foundation for their theoretical learning and engagement in future professional work. Her students have passed accounting practitioners' qualification tests, meeting industry standards. Data shows that the passing rate on practitioners' qualification tests in all of her previous sessions was 95%, winning Li Hong praise from leaders at all levels and peers as well. She joined forces with the Accounting Society of Tianjin City to set up a computerized accounting training centre, which was unusual in that it was not aimed at making profit through outbound training. Instead, the centre focused only on training students taking the Accounting Computerization Course in the specialty of Financial Management. This has enabled students to obtain professional credit and relevant vocational qualifications at the same time, saving valuable time and reducing the economic burden on students.
In 2011, Li Hong helped establish a Key Research Base of Humanities and Social Sciences for Colleges and Universities in Tianjin, which also served as the main platform for the subject of "Management Science and Engineering," a Class A, key discipline in Tianjin. She also developed an integrated investment planning subject in the "Twelfth Five-Year Plan" for Tianjin colleges and universities. She was also involved in creating the Circular Economy Research Institute for TUT and achieved a number of influential research results. Since she began leading the postgraduate team, she established an integrated ability training base for graduate students named the "Tianjin Economic Development Research Institute," which has helped to considerably improve the scientific research ability and interpersonal communication skills of graduate students.
Li Hong focused on combining theoretical knowledge with actual development and actively participated in academic conferences related to the field of financial management, including professional committees on enterprise accounting guidelines, internal controls, environmental accounting, Extensible Business Reporting Language (XBRL), financial management, accounting education, and international academic exchanges. She has been granted a 'Certificate of Completion of Internal Control for Enterprises' issued by the China Accounting Society(CAS), as well as a 'Senior Management Training Certificate' issued by the Shanghai National Accounting College. She has studied and understood cutting-edge information in the fields of accounting and financial management from different perspectives and introduced the latest research theory into the discipline's development and teaching of students.
All the while, Li Hong was also active in social work. She is a senior member of CAS and a special guest researcher at the Tianjin Economic Research Institute. Each year, she attends academic conferences at the Professional Committee of CAS, making guest reviews and academic reports. Related conference papers can be retrieved at www.cnki.net. She has participated in high-end training, e.g. the Basic Standards for Enterprise Internal Control and China XBRL Specification and Classification Standards organized by the National Accounting Institute, and she has been granted with relevant certificates. She has been a visiting scholar to the United States twice and repeatedly gone abroad for academic exchanges.
Li Hong noted that through her education with the RTVU, both her expertise in English and her teaching skill-level have been greatly improved, and she has a more profound understanding of life-long learning as well. She believes that, as a tutor, learning is an eternal theme. Lasting and un-remitting learning has been a fundamental guarantee to keeping her teaching abilities in tune with the times.