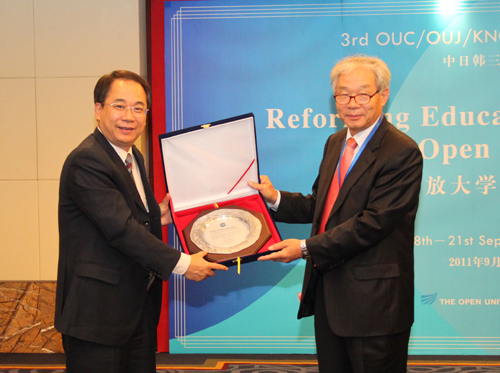 About KNOU:
Korea National Open University (KNOU) was founded in 1972 with its headquarters on University Road, Seoul. KNOU has developed from its initial status as a two-year tertiary education institution to a state-run distance education university focusing on four-year undergraduate education.
It also incorporates postgraduate education and is now regarded as an important base of lifelong education in Korea. KNOU is authorized to grant diplomas, bachelor's degrees and master's degrees. KNOU is composed of four undergraduate colleges – the School of Humanities, the School of Social Science, the School of Natural Science and the School of Education– and 22 undergraduate departments. In 2001, KNOU set up its own postgraduate school with all courses taught online. KNOU has set up 17 postgraduate departments based on its undergraduate departments. It has also established a number of non-degree education courses and a self-study examination centre responsible for granting bachelor's degrees to self-study students. KNOU currently has 470,000 graduates and more than 170,000 currently enrolled students. More than 100,000 students apply for entrance every year.   
Cooperation with the OUC:
The OUC, KNOU and Japan Open University jointly initiated the tripartite distance education forum between China, Japan and Korea, with the first session sponsored by the OUC in 2009.