About ICDE:
The International Council for Open and Distance Education (ICDE) was founded in 1938 in Canada as the International Council for Correspondence Education and today has members from over 60 countries worldwide.
ICDE's Permanent Secretariat is in Oslo, Norway, and has been hosted by this country on a permanent basis since 1988. ICDE is supported by the Norwegian Ministry of Education and Research and by membership fees.
ICDE has consultative partner status with UNESCO and shares UNESCO's key value -- the universal right to education for all. ICDE further derives its position from the unique knowledge and experience of its members throughout the world in the development and use of new methodologies and emerging technologies.
ICDE is the leading global membership organization and devotes itself to promoting open, online, and flexible learning, including e-learning, and draws its membership from institutions, educational authorities, commercial actors, and individuals. It supports its members in carrying out intercultural exchanges in worldwide open and online learning, promoting international cooperation, and also offering a range of forums to encourage institutions and individual members to launch academic and professional exchange activities in the field of open and online learning. Its main academic exchange activities include the ICDE World Conference held every two years and the ICDE SCOP meeting held every year.
Cooperation with the OUC:
China Central Radio and TV University (CCRTVU, now the OUC) joined the ICDE in 2000. Since that time, the OUC has sent representatives to attend the ICDE SCOP and ICDE World Conference every year. It has also carried out academic exchanges with other members and welcomed visits from the ICDE representatives.
In October 2011, the 24th ICDE World Conference was convened in Bali, Indonesia. The OUC was elected as one of six new Executive Members of the ICDE. At the end of the conference, an announcement was made that the Open University of Tianjin would hold the 25th ICDE World Conference in 2013.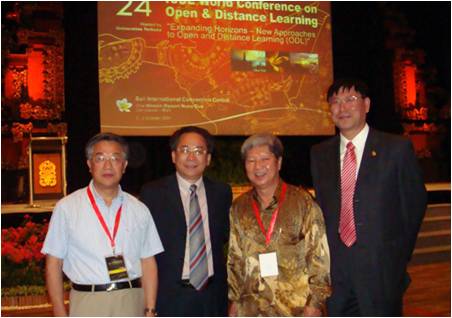 In February 2012, Secretary General of the ICDE Gard Titlestad visited the OUC's Wukesong Distance Education Teaching Building.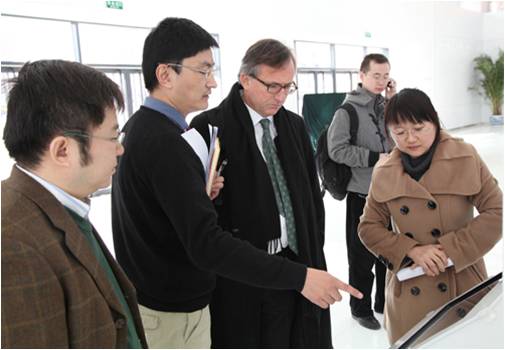 In December 2012, the 2012 annual meeting of the ICDE's Executive Committee was convened in Oslo, Norway. Six executive members and more than 60 principals from Norway's universities attended the meeting.
In November 2012, the OUC President Yang Zhijian visited the United Arab Emirates to take part in the ICDE SCOP 2012.