Issues in 2009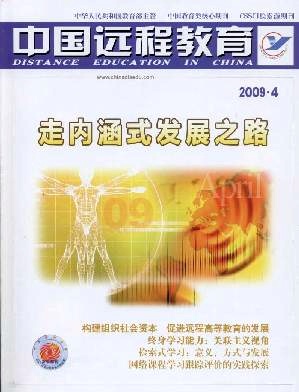 Contents:
RTVUs' Role in Constructing a Lifelong Learning System in a Learning Society
Innovations in Distance Education: Constructing an Education Center in West China
Promoting Development of Distance Higher Education by Building up Institutional Social Capital
An Analytical Framework of Blended CMC
Learning-Centered Quality Assurance: Implications from ICDE Quality Audit for Shanghai Television University
Lifelong Learning Abilities from a Perspective of Connectivism
Learning through Information Retrieval: A New Learning Mode
Constraints on the Application of Network-based Multimedia in Foreign Language Teaching
Learners' Performance Tracking and Evaluation in Online Courses
A Developing-While-Teaching Design Model for State Benchmark Courses: A Case of the Course Theories and Practice of Learning and Teaching
Development and Application of Degital Teaching Resources: Experience and Inspiration from UK Primary Schools
Happiness Index of IT Teachers in Primary and Middle Schools in Remote and Rural Areas: A Case in Qinghai Province
Design and Development of Text Classification System for Online Educational Resources
Software Engineering Approach and its Application in Developing Standardized Online Courses
Online Higher Education: From a Marginal to an Integral Component of Higher Education in the USA—A Review of Sloan Consortium's Surveys (2002-2007)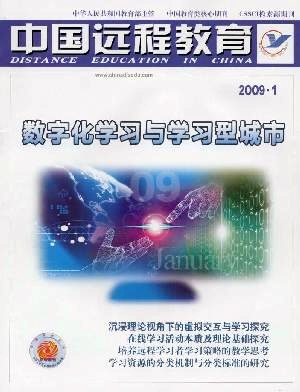 Contents:
Virtual Interaction and Learning From the Perspective of Immersion Theory: Developing Adult Learners' Learning Memory
Semantic Web, Course Domain Knowledge and Educational Resource Websites: From Course Resources to Course Resource Websites
Interpreting Learning Concepts
On the Nature and Underlying Theories of Online Learning Activities
Approaches to Distance Learning Strategy Training
Design of Kiekpatrick-based Evaluation of Online Distance Learning Performance
Modern Distance Education: Digital Gap or Digital Opportunity?
From Two-Term Academic Year to Four-Term Academic Year: A Case Study of An Online Education Institution in China
A Study on E-Learning Resource Cataloging and Coding Strategy
Education Informationization: Disparity between Rural and Urban Areas in Shandong Province
Accommodation and Balance: An Ecological Perspective on Integrating IT into Courses
Information Technology for Learning, Education and Training-Quality Management, Assurance and Metrics: A Case Study of a Learning Management Platform
American Community Colleges: A Right Way for Community Higher Education in Chinese Context?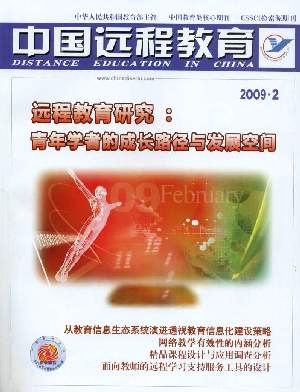 Contents:
Informationization Strategies from the Perspective of Educational Information Ecology Evolution
Ecology in Modern Distance Education: A Case of Hangzhou Radio and TV University
The Economies of Scope in the Distance Higher Education: A Research Agenda
Distance Higher Education in China: Policies and Legislations
Effectiveness of Online Education
Issues in Undergraduate Thesis Writing in OU's: From a Perspective of Knowledge Conversion Model
Quantitative Content Analysis: An Effective Method Evaluating Online Discussion
Investigation of the Design of State Benchmark Courses and Their Application
Investigation of the Functional Design of 2008 State Benchmark Courses (Online Education)
Application of Tibetan Digital Educational Resources in Networked Multiple Media Environment: A Case Study of Tibetan Middle Schools in Gansu Province
Promoting Modern Distance Education Project in Remote Rural Primary and Secondary Schools: Analysis of Operation Strategies
The Use of Theme Learning Websites in Junior Middle School IT Courses
The Research and Design of Distance Learning Support Service Tools for Teachers in Distance Learning Systems
Personalized Recommendation of Learning Resources in Online Education Environment
SECI-based Networked Learning Environment Construction
Courses, Credits, Qualifications and Disciplines in Distance Education: Implications from the Open University UK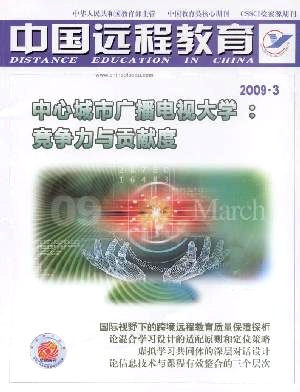 Contents:
Quality Assurance in Cross-border Distance Education: An International Perspective
The Pioneer Pattern and the Norm Pattern: A Narrative Research on the Practice of Distance Education at the Grass Roots Level
Categorization of Research Domains in Distance Education
Blended Learning Design: Appropriateness and Adaptability
Towards a Deeper Level of Interaction in the Virtual Learning Community
Distance Learners' Behaviors at Different Stages of the Learning Process
Research on Learner Support in China's Distance Education: An Analysis Based on China National Knowledge Infrastructure
Practice of and Reflection on Local RTVU to Develop Community Education
Research on Influence of Examination Media on Learner's Achievements
A Study of the State Quo of E-learning in Rural Primary Schools in West China
Effective Integration of IT into Course Instruction: Three Phases
Designing an Internet-based Platform for Individual Extracurricular Activities for Primary and Secondary School Students
Analysis of Credit Transfer Mechanism in American Postsecondary Education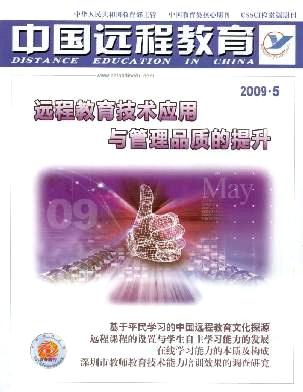 Contents:
The Affordances of Distance Education for Mass Learning in China: A Cultural Perspective
Reengineering the Radio and Television Universities Network
On the Motivation Mechanism for Promoting the Development of Radio and Television Universities in China
The Delivery of Distance Courses and the Development of Learning Autonomy
The Nature and Components of Online Learning Ability
Exploring the Institutional Culture of Chinese Radio and Television Universities: Inspiration from Customer Relationship Management
Student Dropout Rate in Online Education: Case Statistics
The Modern Distance Education Project for Rurual Primary and Secondary Schools and Its Impact on the Rural Economy and Social Development in West China
An Investigation into the Effectiveness of Educational Technology Literacy Training: A Case Study of Primary and Secondary School Teachers in Shenzhen
Research on a Distance Education Intelligent Recommendation System Based on Learners' Navigation Clustering
Application of EM Algorithm in Cluster Analysis for Mobile Learners
A New Route to Teacher Education in the Network Era: Implications from Teachers College in the Western Governors University in the U.S.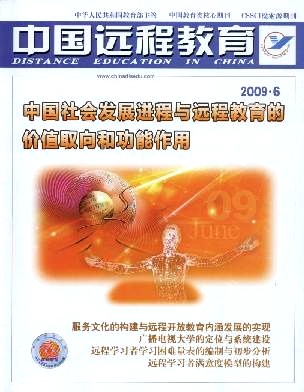 Contents:
Construction of Service Culture and Implementation of ODE Capacity Building
Mission Orientation and System Building of Radio and Televison Universities
Technology and Distance Education-On the Limitations of Three-Generation Distance Education Theories
Design and Analysis of Learning Difficulty Index of Distance Learners
Development of a Distance Learner Satisfaction Index, RTVU-CSI
One-to-One Tutorial in Distance English Language Instruction
Performance-based Online Teacher Development
Investigation and Analysis of Undergraduates' Use of Online Learning Resources
Case Study of Strategies for Training Teachers' IT Skills
The Three-dimension Quality Management for Distance Training: an Experiment
Interrelationship between Motivation, Satisfaction and Online Behavior: A Case Study of the State Benchmark Course Platform Moodle 1.8 in Hebei University
Educational Application of Social Annotation in the Internet Environment
A Review of Distance Higher Education in France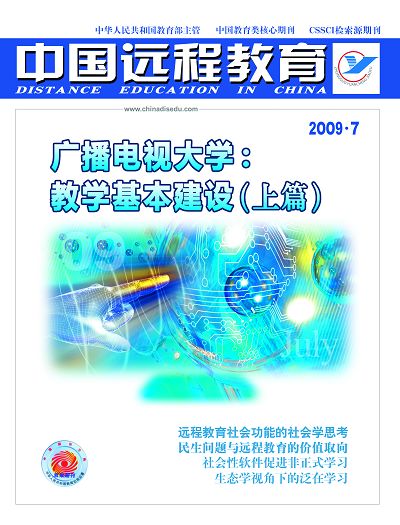 Contents:
A Sociological Perspective on the Social Functions of Distance Education
People's Livelihood and the Value Orientation of Distance Education
Towards a Multivariate Approach to Quality Evaluation: Reflections on the Summative Evaluation of the MOE Pilot Project
Using Social Software to Promote Informal Learning
An Ecological Perspective on Ubiquitous Learning
The Network Organization Features of Radio and Television Universities: Towards an Effective Governance Mechanism
A Positive Analysis of Students' Satisfaction with Online Learning Service Quality
A Systemic View of Course Informatization
Research on the Function Mashup and Interoperability Specifications of Personal Learning Environment
Implications from 2009 Horizon Report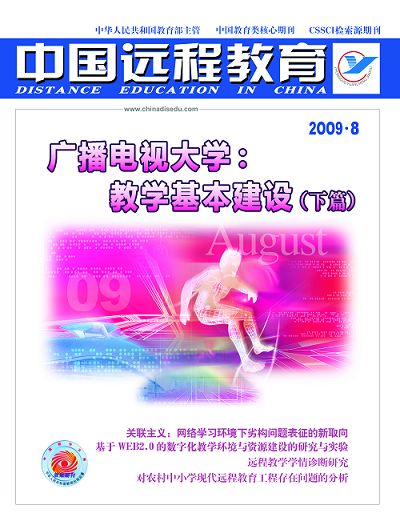 Contents:
Connectivism: New Solution to Representation of Ill-structured Problems in Online Learning Environment
British Open University Revisited: "Research Is Central to Our Mission"
WEB2.0-based Digital Teaching Environment and Resources Development: A Pilot Study
On Learner Diagnosis in Distance Teaching
A Comparative Study of Learning Styles of Distance Learners in the Perspectives of Regional and Organizational Culture
Diversified Assessment of Practical Ability of Open and Distance Learners
Quality Assurance System in Open and Distance Education
Outstanding Issues in Modern Distance Education Project in Rural Primary and Middle Schools
How to Implement Distance Education in Rural Primary and Secondary Schools
Potential Factors Affecting Users' Attitude towards Mobile Learning: A Perspective of Extended Technology Acceptance Model
Quality Assurance in Engineering Courses in the Open University UK: Interview with Mark Endean, Director of Open & Distance Learning Quality Council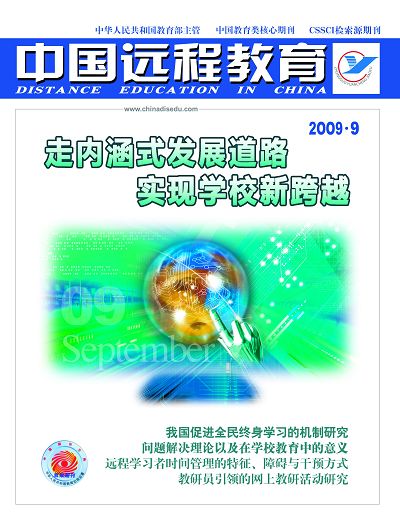 Contents:
Towards Lifelong Learning for All: China's Story
The Open University UK Revisited: "Research Is Central to Our Mission" (Continued)
Problem Solving Theory and its Significance in School Education
Distance Learners' Time Management: Characteristics, Obstacles, and Intervention Strategies
A Study on the Curricula for Performance Technology in America's Educational Communications and Technology Programs
Modern Distance Education in Guangdong: Status Quo and Further Development
Variables Affecting Cost and Effectiveness of Open and Distance Education Programs in Radio and Television Universities in Mountainous Regions
Setting up Model Grass-root Radio and Television Universities: Implications for Social and Economic Development
A Study on Researcher-led Online Teaching and Research Workshops
Teachers' Online Learning Activities: A Study Based on Learning Outcome Theory
Teachers's ICT Acceptance Model: Implications from TAM and TTF
Personalized Tutoring System for Large Scale Online Learning
Flexible Education for All: A Review of 23rd ICDE World Conference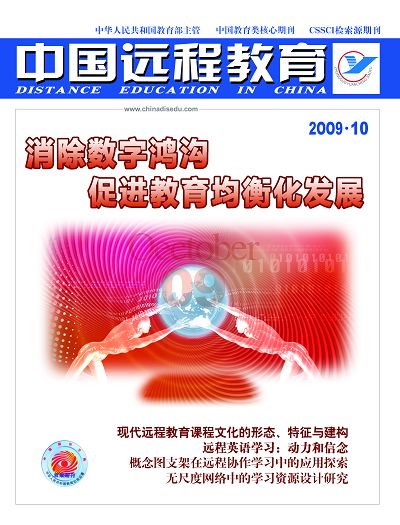 Contents:
Course Culture in Modern Distance Education: Forms, Characteristics and Construction
Promotion of Core Competitiveness through School Culture
Rritish Open University Revisited—Tradition and Innovation: A Unique Teaching System
Taking History as a Mirror
Distance English Learners: Motivation and Beliefs
Application of Concept Mapping in Distance Collaborative Learning
Learning Skills in 21st Century: A Study on New Media Literacy
Design of State Benchmark Courses: An Analysis of English Courses
Design of Instructional Materials in Scale-Free Networks
Issues in Designing IT-based Learning Resources for Community Education
County-Township Complementary Educational Information Management System: A Case Study of Huangzhong County, Qinhai Province
Literature Review of Research on Educational Blogs: Content Analysis
The Functions of Web2.0 in the Construction and Application of Distance Education Resources
Design of Mobile Learning Devices: Value Orientation and Methods
American Distance Higher Education: Characteristics and Experience