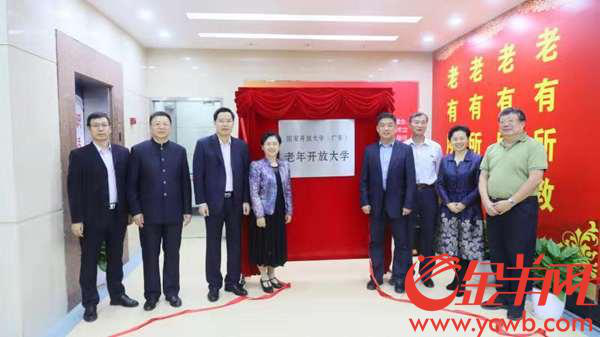 On 18 November, 2018, Guangdong Open University (OU) held a conference for its 40th anniversary to look to both its past and future. Hao Keming, member of the National Education Advisory Committee and leader of the Continuing Education Advisory Group; former vice-chairman Wen Lanzi of the CPPCC Guangdong Committee;
Secretary of the Party Group and chairman Wang Xiao of the Guangdong Social Sciences Association; vice president Lin Yu of the Open University of China (OUC); associate counsel of the Guangdong Department of Education, and other leaders and distinguished guests, gathered to discuss the construction and development of first-class open universities.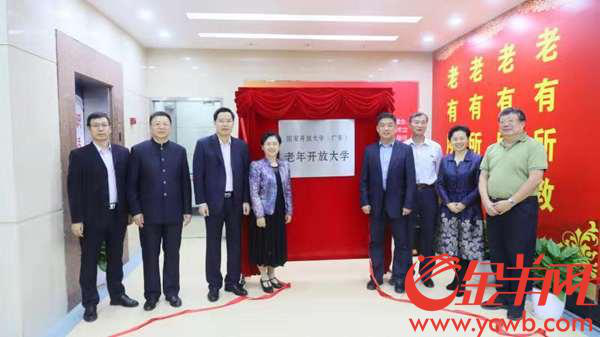 Inauguration of the OUC Open University for Older Adults (Guangdong) 

1.144 Million Graduates in 40 years

According to the introduction, the predecessor of Guangdong Open University was Guangdong Radio & TV University, founded in November 1978. It was renamed Guangdong Open University, and became one of the six open universities in China, in December 2012, with the approval of the Ministry of Education. As an open university run by the Guangdong Provincial People's Government under the direct administration of the Guangdong Department of Education, it is a new type of university that uses modern information technology to offer open and distance education, and is authorized to confer Bachelor degrees.

According to the introduction by President Liu Wenqing, Guangdong OU has the most complete educational system in China, including 89 prefectural city and county branch schools, and 23 secondary or branch schools operating in cooperation with enterprises and colleges. Its network covers Guangdong Province. Guangdong OU ranks in the top three in terms of overall strength of the 44 provincial RTVUs nationwide, and its many excellent graduates include deputies to the National People's Congress, teachers recognized nationally for their excellence, model workers, winners of national "May Day" medals, and so on. The university was recently authorised to confer Bachelor degrees, to construct a credit bank, and take the lead in establishing grading standards for continuing education in Guangdong. It has been recognized for its educational achievements, and has completed the building of Guangdong's only unified platform for continuing education.

Liu Wenqing said that the university has explored new ways for open and vocational education to complement each other, share resources, and achieve integrated educational development. The school's student body, having started at 13,000, now numbers 291,000, and over the last 40 years 1.144 million students have graduated, accounting for about 10 percent of university graduates in the province. It has helped popularise and promote equal access to higher education.

A new university for older adults

Along with celebrations of the anniversary of the university's founding, the OUC Open University for Older Adults (Guangdong) was inaugurated in Guangzhou that same afternoon. Another university for older people has thus been added in Guangzhou, which will mitigate the strain university resources for older adults in Guangzhou are now facing.

According to president Liu Wenqing, Guangzhou OU's extensive experience in open and distance education has given it a good foundation for running a university for older adults. It has the most complete educational system in China, and a classroom building 6,300 square meters in size. In addition, its teachers are well trained, and rich in experience.

OUC vice-president Lin Yu indicated that great attention has been paid in China to older-adult education recently. He also expressed the hope that the Guangdong OU for Older Adults would use its resources in combination with those of the OUC OU for Older Adults to play a leading role in older-adult education.

Vice president Sun Ping of Guangdong OU also gave a detailed introduction to the university's future setup and curriculum. He stated that about 1,350 square meters of teaching space had been built, and that 247 courses were available online. It has hired 17 renowned teachers from outside the university, set up 10 non-degree courses, with 11 classes enrolling 245 students and including folk-song performance, traditional Chinese medicine, and a Cheongsam appreciation and design. Famous singers like Xi Weiping, Li Sihua, and Yu Yan have been hired, and classes in Peking and Cantonese Opera, Tai Chi, calligraphy, poetry appreciation, jade appreciation and collection, tea culture, digital photography, mobile-phone photography, and piano will become available in the future. Seniors with an interest in any of these should log onto the official website of the university to find the admissions brochure.

By Sun Wei and Zhou Jingru, Jingyang Network (www.ycwb.com)