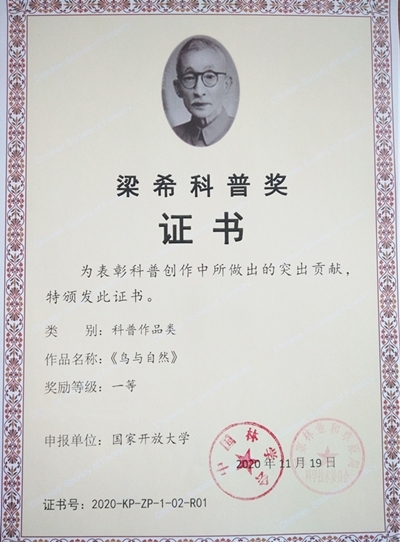 Recently, a five-minute microlecture, "Birds and Nature", developed by the Open University of China (OUC), came first at the 9th Liangxi Popularisation of Forestry Science Awards.
These awards belong to one of four categories of Liangxi Science and Technology award established by Chinese Society of Forestry with the approval of the Ministry of Science and Technology. The awards are national, and recognise the highest levels of scientific and technological achievement in China's forestry industry. They include the Liangxi awards for Forestry Technology and Science, Best Article, Outstanding Talent, and Popularisation of Forestry Science. The 9th Popularisation of Forestry Science Awards recognised 2 first-, 3 second-, and 8 third-place winners, and marked the first time the OUC was represented here.
"Birds and Nature" is a five-minute microlecture on bird ecology, and was planned and developed by the OUC and produced by Beijing Open University. The video tracks and shoots birds in their natural state, and tells interesting stories about them through a humorous script. Presented in a lively and novel way, it explains the relationship between birds and nature, and hopes to inspire audiences to respect nature, protect the environment, and defend birds. The course is a popularisation of bird science in terms of classification, bird survival and reproduction, behaviour, and relations with the natural environment, covering 10 topics altogether.
Since 2019, the OUC Learning Resources Department has been promoting high-quality five-minute microlectures. The "Birds and Nature" series, besides streaming on the OUC five-minute-microlecture website, has also been broadcast in the facilities of the Cuihu National Urban Wetland Park, and used for "Bird Loving Week" and other science-popularisation activities, making a positive contribution to enhancing science literacy and promoting ecological welfare nationwide.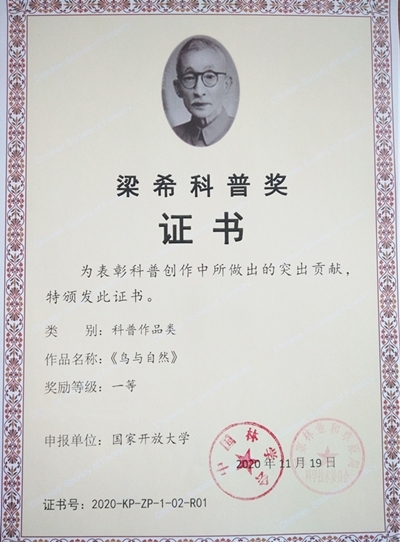 By OUC Learning Resources Department(Digital Library)