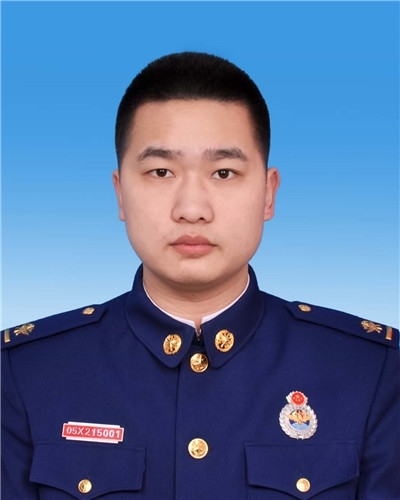 Wang Gui, a member of the Communist Party of China (CPC), was born in October 1996 in Huanggang, Hubei Province.
He enrolled as a Law undergraduate at Ximeng Radio and TV University (Ximeng RTVU) in 2018, having joined the army in September 2013, and is currently a 3rd -class firefighter in the Emergency Communication and Vehicle Service Station of the Xilingol League Fire Rescue Detachment of the Inner Mongolia Fire Rescue Department. In March 2015, he was awarded a "Third Class Merit" by the Public Security Fire Brigade of the Xilingol League, and his contribution to fighting Covid-19 led to him being named an honorary citizen by the municipal government of Ezhou, Hubei Province, in March 2020.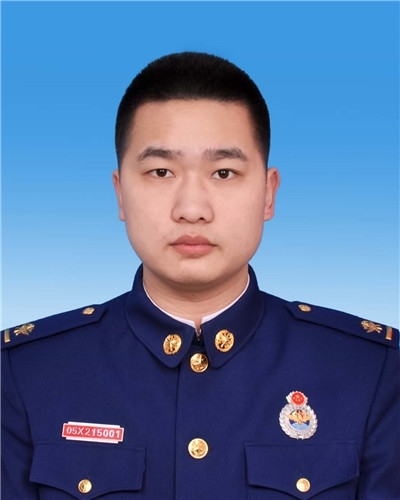 When Covid-19 broke out throughout the country at the beginning of the Chinese lunar new year in 2020, Wang Gui, on orders from his supervisor, immediately applied to join the struggle; to him, a fire fighter is obliged to heed a command. He was then transferred to the 7th Division of the Ezhou Shock Brigade, the Hubei provincial rescue force.
On 3 March 2020, stranded in Hubei by the epidemic, was ordered to Ezhou to provide support. Giving up on reuniting with his family, he resolutely stated that he would help regardless of compensation or risks, and left at once.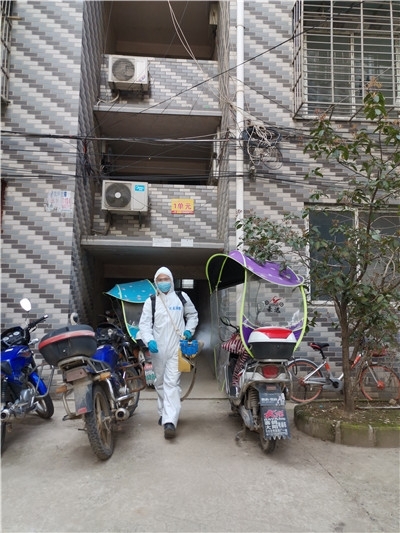 From the moment he joined the brigade in Ezhou on 5 March, Wang Gui and his team worked every day to disinfect residential buildings, factories, bus stations, railway stations, and schools in the urban area, while also assisting in the transfer of medical wastes, helping residents with supplies, checking body temperatures and health codes in supermarkets, inspecting fire hazards, and posting fire-prevention tips. As the head of the 2nd group of the 5th class of the 7th unit of the brigade, Wang Gui feared neither hardship nor heavy work. In communities with confirmed cases, he was the one burying his fear and rushing to the front line. Most of the areas Wang Gui was responsible for were old residential areas, seven to ten stories high and without elevators. Every day, he had to wear clumsy protective clothing and carry firefighting gear weighing over 60 kilograms. As a result, his feet became covered with blood blisters, his shoulders turned red and swollen, and his clothes became soaked in sweat, over and over again. When he took off his protective clothing, salt stains were visible on it. Sometimes, working in remote suburbs, he and his team would have to get up early and stay up all night. In order to give the others time to rest, Wang Gui would work long shifts, undertaking disinfection with no complaints.
On 19 March, he volunteered to disinfect a quarantine area in which there had been confirmed cases at the Ezhou Shun Feng International Logistics Airport; a similar area in Xinwan Village, Shawo Town; the Covid-19 wards at the Department of Medicine; and outpatient areas in the Surgery Department of Ezhou Central Hospital. His efforts brought acclaim to his unit.
As a CPC member, Wang Gui is both humble and tenacious in pursuing his mission. Unable to return to Inner Mongolia, he threw himself into helping his hometown in Hubei fight the epidemic. A firefighter is not someone who stands aside when there are emergencies, regardless of what they may be.
As a member of the team, Wang Gui took part in disinfecting 45,000 square metres in 80 apartments and 57 buildings, rectifying 10 fire hazards, distributing over 400 information fliers, providing services more than 40 times, transporting about 2 tons of materials, and taking the temperatures of over 500 people at the supermarket.
Wang Gui remained unshaken throughout this ordeal, and dedicated to helping others. He faithfully represented the "blue flame"(blue uniform) of the Chinese firefighter, ensuring the peace and safety of the people.
By Inner Mongolia Branch