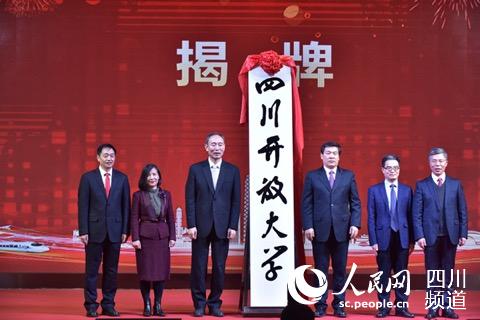 An opening ceremony for Sichuan Open University (Sichuan OU) was held in Chengdu on the morning of 30 December 2020.
After 41 years, Sichuan Radio and TV University (Sichuan RTVU) officially changed its name to Sichuan OU, ushering in a new era of strategic transformation, upgrading, and development.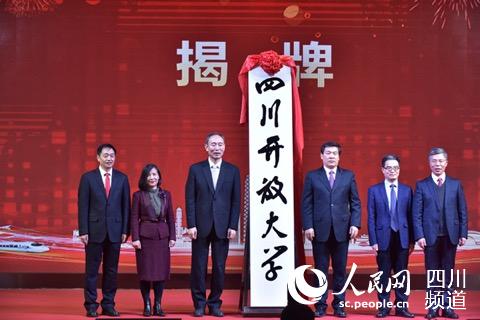 At the opening ceremony of Sichuan RTVU
Luo Qiang, vice governor of Sichuan Provincial People's Government, and Ju Chuanjin, vice president of the Open University of China (OUC), unveiled the name plate of Sichuan OU at the opening ceremony, which was witnessed by Liu Quansheng, deputy secretary general of Sichuan Provincial People's Government, Peng Yi, deputy director of Sichuan Provincial Department of Education, relevant personnel from the General Office of Sichuan Provincial People's Government, and responsible personnel from relevant departments under Sichuan Provincial Department of Education.
Luo Qiang said that Sichuan RTVU has made remarkable achievements in its 41 years of operation and has cultivated more than 1 million graduates, both of which have made important contributions to the economic and social development of the province. The name change has opened a new chapter and introduced a new stage of development for the university. In the future, Sichuan OU will use the name change as an opportunity to deliver education characterised by the features of open education and become one of China's leading open universities.
At the open ceremony, Liu Quansheng read out the Written Reply of Sichuan Provincial People's Government on Approving the Renaming of Sichuan RTVU as Sichuan Open University. After the name change, its affiliations, management system, and existing rights to run degree and non-degree education remain unchanged. The university's main responsibilities include lifelong learning for all in Sichuan province, promote the construction of open education in the province, and explore ways of integrating the development of higher education, vocational education, and continuing education. Sichuan OU should take the opportunity presented by the renaming to accelerate the transformation, development, and upgrading; further enhance its personnel training abilities; improve the quality and efficiency of its education operation; and strive to build a new type of higher learning institution with a mission to promote lifelong education with the support of modern information technology and with "Internet plus" features in order to provide powerful support for building a learning society and a lifelong learning system.
In her speech, Peng Yi said that running an open university well is a new endeavour for educational reform and development, as well as a systematic social project. The Eighth Plenary Session of the 11th Sichuan Provincial Party Committee proposed that it is necessary to give full play to the advantages of online education, do a good job of running open universities, and build a learning society, which has provided fundamental guidance for the future development of Sichuan OU and established a development direction for the university. It is necessary for Sichuan OU to focus on the work of building a high-quality lifelong learning system, coordinate the work of RTVU name changes in cities, counties, and industries, and further improve Sichuan OU's school running system. The university should formulate and improve policies and measures, increase its support and guarantee systems, pull together the efforts of all parties, cultivate a social environment that cares about and supports the development of open universities, and promote the transformation and upgrading of open universities.
In September 2020, the Ministry of Education (MOE) issued the OUC Comprehensive Reform Plan, marking a new stage in the transformation and upgrading of RTVUs and the construction of open universities. At the opening ceremony, Ju Chuanjin, vice president of the OUC, said that the OUC will conscientiously implement the OUC Comprehensive Reform Plan issued by the MOE by working with Sichuan OU and the faculty and students of the OUC system to build major platforms for lifelong and online education and platforms for flexible education and external education. Ju Chuanjin said that the construction of open universities will create both opportunities and challenges. He hopes that, under the guidance of the leading group of Sichuan OU, the faculty and staff of the university will change their mindset, implement new development concepts and strengthen their sense of responsibility. They should have entrepreneurial passion, attach equal importance to degree education and non-degree education, and integrate the development of higher education, vocational education, and continuing education. They should promote the deep integration of modern education technology with education and teaching, bring together large quantities of practical, diverse learning resources; and work hard to improve learners' interest and effectiveness in learning. They should operate and make full use of the Credit Bank and promote curriculum reform, the mutual recognition of credits, and system innovation. Finally, they should vigorously implement international strategies, enhance the international influence of open universities, and make the OUC into a world-class open university with Chinese characteristics. Standing at the starting point of a new journey, the OUC system should make efforts to forge ahead and make innovations around the theme of high-quality development in accordance with the requirements of the Party Group of the MOE.
Sichuan OU has trained 1.15 million undergraduate and junior college degree graduates. With 250,000 on-campus students, Sichuan OU ranks first in size among all provincial open universities in China and is the largest university in Sichuan. At present, Sichuan OU administrates 20 city-level (state and industry-level) RTVUs, 127 county-level RTVU branches, and 199 tutorial centres, as well as 13 city-level community universities, 48 county-level community colleges, and more than 1,200 community study centres, making up a system that covers urban and rural areas across the province.
By OUC News Network, reprinted from www.people.com.cn