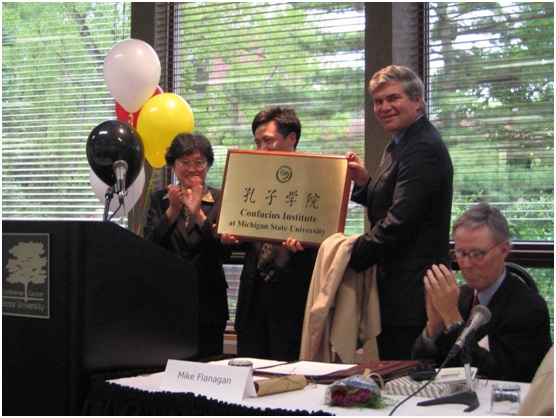 General Information
In May 2006, with the support and guidance of the Confucius Institute Headquarters (Hanban), the Open University of China (OUC) and Michigan State University (MSU) jointly established the world's first online Confucius Institute conducting Chinese teaching via Internet-based means, the Confucius Institute at Michigan State University (CI-MSU in short) .
CI-MSU started enrolled students in June 2006 and is engaged in web-based Chinese language and culture teaching to learners across 22 states in the US and some regions of Australia. To date, it has about 40,000 registered students.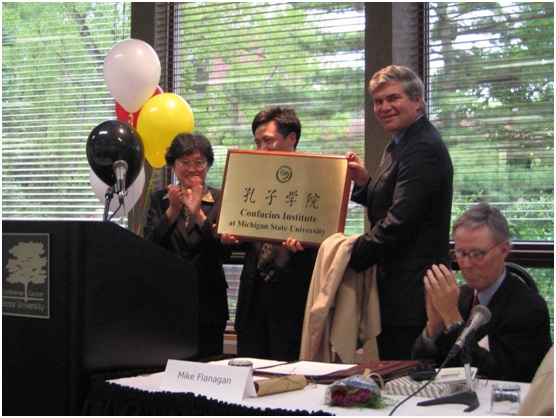 In addition to the advantages of using the Internet to conduct Chinese teaching, its "shop-factory" style operating model also makes it unique among Confucius Institutes around the globe. Within the partnership, the American side is the "shop", responsible for proposing needs and requirements for online Chinese learning and teaching pedagogy according to practical operation and research status, teacher training, and market promotion. Its Chinese counterpart, the OUC, is the "factory", which uses its strengths in domestic teaching resources, human resources, distance teaching, and multimedia courseware research and development to develop multimedia and online Chinese teaching resources based on the curriculum teaching design jointly developed by both sides.
In July 2007, the OUC (formerly known as China Central Radio and Television University) established the China R&D Centre at CI-MSU. Staffed with professional TCSOL teachers, educational technology, and multimedia production personnel, as well as equipped with office venue and facilities, the Centre provides teaching resources and builds learning platforms especially for CI-MSU, while at the same time developing a mechanism integrating online course compilation and the development and construction of learning platforms.
For three consecutive years between 2007 to 2009, CI-MSU was named an "Advanced Confucius Institute" by Confucius Institute Headquarters (Hanban) and was recognised as one of the most invigorated Confucius Institutes worldwide.
In order to solve the shortage of teacher resources at CI-MSU, the OUC launched training classes for TCSOL (teaching Chinese to speakers of other languages) instructors and has so far sent fourteen excellent teachers to work at CI-MSU. In addition, the OUC also held five forums on cultivating international Chinese teachers and two online Chinese teaching forums and workshops, which have been praised by frontline teachers.
Since 2012, the OUC has started to accept international students on the Confucius Institute Scholarship.
In 2014, the OUC established a HSK test centre entrusted by Hanban to provide HSK test services. To date, the OUC HSK test centre has organised examinations for over 1,000 students from Confucius Institutes and international students in China.
In 2016, with the support of the Confucius Institute Headquarters (Hanban), the OUC and MSU renewed the CI-MSU operating agreement.
In 2017, the OUC was accredited to enrol international students for undergraduate degree programmes.
Achievements in Teaching Materials Development for the Confucius Institute
Six multimedia courses, including Chinese Your Way, Exploring Chinese Culture, Character of the Day, and Time to Talk Chinese for Children, have been listed as "China Key Publication Projects for International Promotion" by the Chinese State Administration of Press, Publication, Radio, Film and Television. Chinese Your Way and Zon had been awarded the "Prize for Innovative Multi-Media Courseware" by the Confucius Institute Headquarters (Hanban). Exploring Chinese Culture has been selected by Hanban as a teaching reference package for volunteer instructors teaching abroad. In addition, a series of online Chinese learning courses for adults have been completed, which contain 60 units in 360 teaching hours with options for a comprehensive programme and a short-term accelerated programme.
Confucius Institute Cultural Activity Programmes
Summer camp programme for primary and secondary students: A three-week summer camp programme about Chinese language and culture has been implemented for students in Lansing, Michigan. Such activities enable children and teenagers interested in Chinese to experience Chinese culture and tradition by learning Chinese art and handicrafts, such as paper-cutting, paper folding, calligraphy, and opera.
Visit for Principals: Organise visits to Chinese universities, primary and secondary schools for the directors and principles of school districts, and carry out discussions on educational exchanges between China and the US in order to lay a solid foundation for bilateral cooperation.
Art performance groups: Organise annual Sino-American cultural and educational exchanges and carry out activities in Chinese language, culture, and education.
The Future of the Confucius Institute
The OUC will positively explore new models for spreading international Chinese language education and Chinese culture, strengthen the construction of educational resources and the development of teachers for international Chinese language education, and develop a high-quality online learning platform to provide technical support and services for international Chinese language education to other Confucius Institutes. The OUC will continue to jointly operate the CI-MSU and promote the development of online Confucius Institutes and explore a new model of China study-tour and studies for international students.
Contact Us:
Website: www.education.msu.edu/cimsu
Add: 620 Farm Lane, Room 230, East Lansing,MI,48824 USA
Tel: 517-884-7296
Fax: 517-432-4797
Email: This email address is being protected from spambots. You need JavaScript enabled to view it.