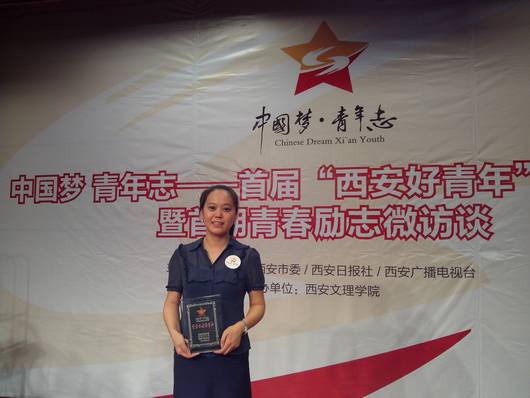 On July 4, 2013, "Chinese Dream • Youth Aspiration" 1st Xi'an Good Youth recognition party was held in Xi'an University of Arts and Science by the Communist Youth League Committee of Xi'an (CYLC). Xi'an RTVU Teacher Han Ying
 became the first person to be honored with the title of "Xi'an Good Youth".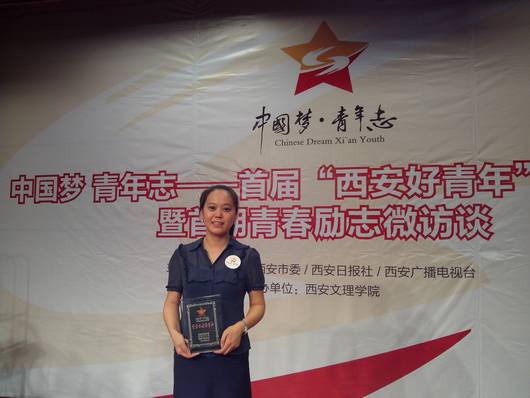 In April, 2013, Xi'an CYLC, Xi'an News Daily, and Xi'an Radio and TV Station jointly launched the "Chinese Dream • Youth Aspiration — Seeking for Neighborhood Good Youth" event. The event took more than two months to locate, set as examples, and publicize a group of youth who show a strong energy, accurately characterize their generation, and represent the modern Xi'an spirit. In total, 100 young people were granted the honor of "Xi'an Good Youth". The winners are all excellent representatives of strong youth from various walks of life. As a group, they exemplify the strong virtue and spirit of modern youth in Xi'an: honesty and trustworthiness, love and dedication in their work, willingness to contribute, ceaseless self-improvement, innovation, and creativity. 
Han Ying, born in January, 1979, is the director of the Business Administration Department, Finance and Economy School, Xi'an RTVU. Han is completely dedicated to teaching and educating her students. She has undertaken the teaching of subjects such as Marketing, Individual and Team Management, International Enterprise Management, Theory of Statistics, and Franchise Management; and was able to teach each subject effectively. In the virtual classroom, she has focused on such teaching methods as case studies, problem solving, and task driven teaching. She has maximized the advantage of online education by providing friendly support for her students in individualized and independent learning. In resource construction, she concentrates on students and creates teaching scenes and independent learning strategies based on the development and needs of students. In 2011, two small courses prepared by her, English I and International Enterprise Management, were awarded with 1st and 2nd prize in Xi'an RTVU's first teaching resource competition. In 2012, also in this same competition, her online course "Franchise Management" won first prize, best Instructional Design Prize, and Best Technical Realization Prize. What's more, she designed the homepage of the Business Administration Specialty all on her own. It  provided course information and teaching resources. Specialty introduction, information on trends related to practicals, occupation skill training course resources, and book information were also integrated into this website. This achievement was awarded Xi'an RTVU's 1st Teaching Management Innovation prize. Han Ying also had the honor of receiving the May Fourth Medal in 2012 from the Xi'an Bureau of Education.