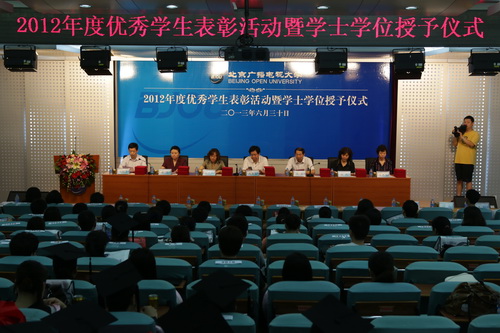 On the morning of Jun. 30, Beijing Open University (BOU) held a grand ceremony to honor Outstanding Students of 2012 and grant bachelor's degrees. The university management team,
 including the Party Committee Secretary Shen Yubao, Deputy Secretary Fu Yuequn, Secretary of the Discipline Inspection Commission Bai Yan, Vice President Jiang Rao and Zhang Jiyong all attended the function.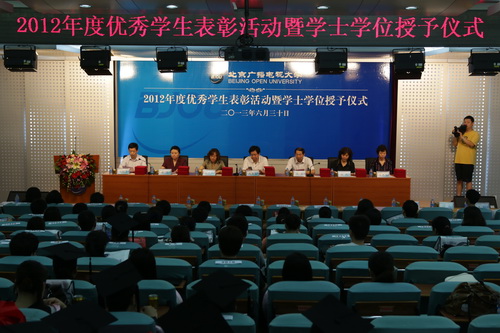 At the ceremony, winners of the 2012 BOU Scholarship, Red Bull Scholarship, Huaxia Bank Scholarship and outstanding student representatives were honored. University leaders and responsible professional teachers granted certificates and "moved the tassel" for those who obtained their bachelor's degrees in 2012. 
Secretary Shen Yubao delivered a welcoming speech at the ceremony. Besides extending his warm congratulations on behalf of BOU to outstanding student representatives and those who have obtained their bachelor's degrees, he also thanked teachers who have been working hard to help students develop into useful people as well as thanking family members who have been supportive of the students' studies. Secretary Shen shared with all participants his personal experience and feelings about studies in pursuing and coordinating the relationship between work, family, life and learning. Mr. Shen had five wishes for the students: Firstly, he expressed the hope that the students could learn to think. He expressed the wish that through thinking, they could better know their own lives, help themselves identify a direction, set up clear aims, maintain their good nature and then accomplish their own goals. Secondly, he wanted students to learn to understand: to promote understanding between family members, friends, colleagues and even in society. Thirdly, he wished that the students would learn to put themselves in others' shoes and try to adjust their view to think and understand all kinds of phenomena and problems existing in the world. Fourthly, he hoped students would be grateful to their parents, family members, friends and society, especially for the happy lives we are enjoying today. Last but not least, he hoped students would learn to live, to experience joy and feel happiness. Mr Shen also spoke about the current changes and transition from Beijing Radio and TV University (BRTVU) to BOU, and introduced to the students the mission and direction of development of the university.
Vice President Zhang Jiyong chaired and summarized the meeting. He encouraged students to keep learning and improve their own competence in their future life and work. He also hoped that graduates would work hard and challenge themselves unceasingly to get to new levels.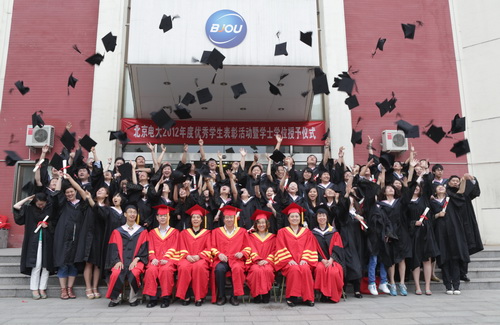 During the activities, the Beijing North Forest Career Assessment Planner was also invited to make a speech on "Planning your Career" to assist students in establishing an awareness of career planning, which won their close attention. In the same day, many family members of the students also participated in the activities. Together with their children they saw the academic achievement of RTVU students and extended their congratulations to the University. The scene was heartwarming. 
In 2012 there were 38 students in total who were awarded the Wuhan Scholarship, 170 the Red Bull Scholarship, 100 the Huaxia Bank Scholarship and 51 students gained Yanjing Beer Financial Aid. Excellent BOU Graduate Student honors were awarded to 164 students, among whom 11 were recognised as Excellent Graduate Students by The Open University of China. There were altogether 16 majors and 1,288 students who were awarded bachelor's degrees. 
By Beijing Open University