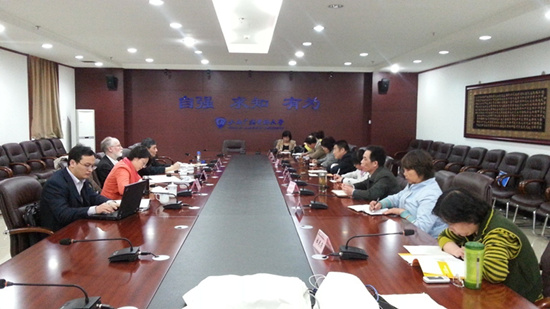 The Open University UK (OUUK), a partner in the "Training for Online Learning Practitioners" project, has sent Dr. Martin Smith to the Open University of China (OUC) to help reform
 the project's courses. Dr. Smith has held workshops with several course groups.
He recently visited Shanxi Radio & TV University (Shanxi RTVU) to speak to representatives of the teaching staff who have participated in the project and hear about their learning experiences.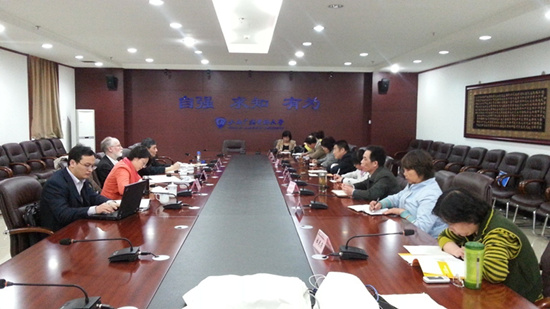 Shanxi RTVU has taken an active part in the project since 2011. Numerous trainees, from university leaders to ordinary teachers, have successfully participated in the learning process. The two sides exchanged in-depth views on the issues below.
Support Services Play a Vital Part in the Online Learning Process
The project uses original English curriculum resources, reading materials and homework assignments since they are more widely available than the Chinese. As a result, the course groups have had to work hard to translate and modify the original courses to make them better suited to Chinese learners. The learning platform also provides notices, user manuals, and other learning information. Online tutors give useful guidance and suggestions to help learners better participate in the teaching process, and encourage them to express their personal opinions. These tactics aim to provide better support services and have received positive feedback from learners.
Dr. Smith is particularly concerned about whether people find it stressful to take online training courses while working full time, and how this affects how long they spend learning each week. Zhang Ailing, dean of the Open Education School directly affiliated with Shanxi RTVU, said that while her courses require a minimum of 10 hours of study per week, she usually spends much more time. She finds it hard to guarantee study time since her job frequently involves activities at other regional RTVUs. Nevertheless, her online tutors continuously motivate her to learn through text messages and phone calls. Other representatives commented that encouragement from fellow trainees also facilitates their online learning. According to Zhang Yaobin, vice president of Shanxi RTVU, since the learning tasks are relatively intense, and the original English materials are a major learning obstacle for non-English majors, online tutors need to "guide students with proper guidance and concern". 
Dr. Smith agreed with this point in particular and reiterated that it is necessary to constantly support and motivate online learners since insufficient face-to-face interaction between tutors and learners may result in dropouts, a phenomenon that distinguishes online learning from traditional face-to-face learning. He also mentioned that the Learner Support course focuses on methods to motivate learners through emotional support and external support and help them cope with pressure.
Controlling the Pace of Learning Has a Significant Influence on Learning Effectiveness
Online learners should take control of the pace of learning into consideration, as it plays a much bigger part in the online learning process than in traditional face-to-face learning. Given that the pace of learning is influenced by a number of objective factors, online tutors tend to allow learners to submit delayed homework assignments. However, this only applies to non-interactive assignments and they will be scored lower than those that are handed in on time. This reduces the pressure of learning and means that learning performance can be judged fairly.
The "Training for Online Learning Practitioners" project provides each learner with only one course at a time. Su Wei, dean of Shanxi RTVU's School of Arts and Law, said that learners can better control the focus and pace of their learning if they only choose one course over a one to two month period. However, the reality is that they have to complete four courses in just one semester. Trainees with full time jobs often find it difficult to accomplish their learning tasks. 
Other representatives also mentioned the control of learning pace and how to deal with late submissions. According to Dr. Smith, learning pace is strictly controlled at the OUUK. In the beginning, learners are given schedules and instructed to complete tasks within the allotted time. In the UK, it is generally assumed that the learner will spend the required time and energy to complete their tasks, since studying is a voluntary process. Although this situation is different in China, the flexible tactics of the tutors have achieved positive results. 
Add Design Tools and Examples to Make Courses More Application-oriented
In terms of course reform, Dr. Smith asked representatives to make suggestions from their own personal perspectives. Wang Ailian, dean of Shanxi RTVU's School of Agroforestry & Medicine, said that she has already completed three courses. "I think both Learner Support and Tutoring Online have a good teaching system and knowledge structure. However, I think Course Design for Online Learning should be more application-oriented. I would like to see more course design tools and examples."
Dr. Smith affirmed that Ms. Wang's concerns are the focus of course reform, since many online tutors have raised this issue in the past. Course design tools and examples that are widely used by the OUUK, for example, module maps, will be added to enrich course resources and make Course Design for Online Learning more application-oriented. He then shared the OUUK's practical experience in the field of online course design.
The representatives also talked about the following points with Dr. Smith:
1. Win-win Cooperation: The OUUK is the cradle of open education, while the OUC has played a pioneering role in advocating open education in China. Their cooperation and promotion of the "Training for Online Learning Practitioners" project will definitely benefit online learners.
2. Changing Roles: This training process provides a perfect opportunity for online learning practitioners to experience online learning for themselves. Zhang Yaobin said: "With the help of this training project we can gain a true understanding of the needs of online learners and provide them with better services."
3. Reflections on the Learning Process: Trainees can fully comprehend the specific learning difficulties of distance education through first-hand online learning experiences. As a result, they now know that that online learners need better course design, teaching atmosphere and support services compared with traditional learners. 
By Wang Yi, Mu Xingyan, the OUC