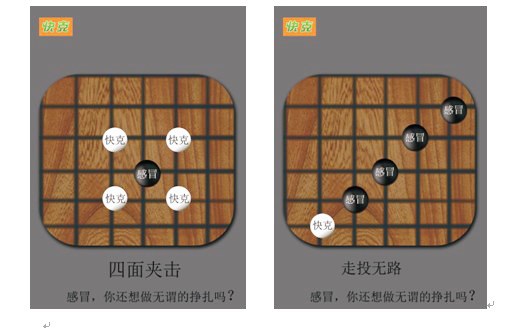 Liang Xiaohui, from the School of Humanities of Guangzhou RTVU, who enrolled in the autumn of 2010 and majors in advertising design and production, wins the "Academy Award" in the 10th Chinese University Students' Advertising Art Festival. Her winning work, Kuaikeyaoye — Chessboard, is regarded as an innovative design and won the bronze medal
. More than 3,000 entries from universities and colleges nationwide competed in this competition, and 18 were selected for gold, silver, or bronze awards.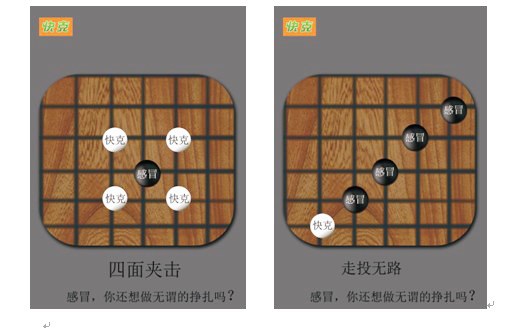 According to Liang Xiaohui's introduction, Kuaikeyaoye — Chessboard illustrates Kuaike's efficacy by using a design based on two variations of the game "Go". People were impressed with her vivid, innovative, and simple design. In addition, the game of "Go" is closely linked to Chinese culture. Thanks to its unique charm, people are readily drawn to this advertisement. The ad features the slogans "四面夹击,走投无路"(Trapped with no escape) and "病毒,你还想做无谓的挣扎吗?"(Virus, stop these useless struggles!), which are an entertaining way to highlight Kuaike's efficacy. 
Qiu Chunxiao, Liang Xiaohui's tutor, points out that the placement of Kuaike on the playing board is meant to highlight its effectiveness. It also subtly hints at the wisdom and energy of the company employees. Qiu Chunxiao also praises the entry as a cultural symbol which appeals to many. According to traditional Chinese culture, "棋"(chess) from "琴棋书画"(chess, musical instruments, painting and calligraphy) refers to the game of "Go" in its different variations and is very popular in China among ordinary people. The inclusion of these cultural elements resonates with many people and associates the medicine with Chinese culture. In addition, the slogans are also easy to understand, thought-provoking, and accurate.
Other winning works from advertising design major of Guangzhou RTVU in this competition are: Tencent Weibo — Washroom, Finding Shoes, Raining, and Qidukongjian of Heng'an International Group — Unscrupulous Comfort from Zhang Huiwen, who enrolled in the spring of 2008, and Sympathy, Work, Love from Kang Zixi and Zhou Peng'an, winners of the Excellence Award, who enrolled in the autumn of 2010, and Image of RC Pharmacy from Ye Shuang, the Entry Award winner, who enrolled in the autumn of 2009.
By Guangzhou RTVU