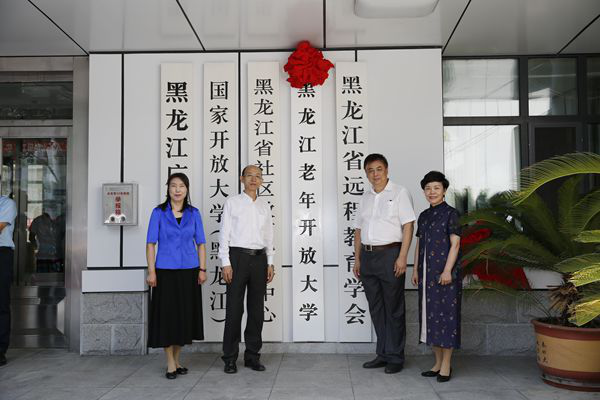 An unveiling ceremony of Heilongjiang Open University for Older Adults was held recently at Heilongjiang Radio and TV University (Heilongjiang RTVU). Wang Shicheng, deputy director of Heilongjiang Civil Affairs Department; Ding Zhexue, deputy inspector of Heilongjiang Education Department; Gao Wenwu, section chief of the Social Security Department of the Provincial Finance Department;
Lv Qiaofeng, deputy secretary of the Party Committee and president of Heilongjiang RTVU; Wang Chuntao, deputy secretary of Heilongjiang RTVU; Wu Jinqiu, vice president of Heilongjiang RTVU; and Wang Yanbai, secretary of the Discipline Commission of Heilongjiang RTVU, attended the event. Relevant comrades in charge of bodies including the provincial Education Department and Civil Affairs Department, the civil affairs bureau and education bureau at the prefecture and municipal levels, and Heilongjiang RTVU attended the opening ceremony. Wang Chuntao presided over the ceremony and delivered a speech.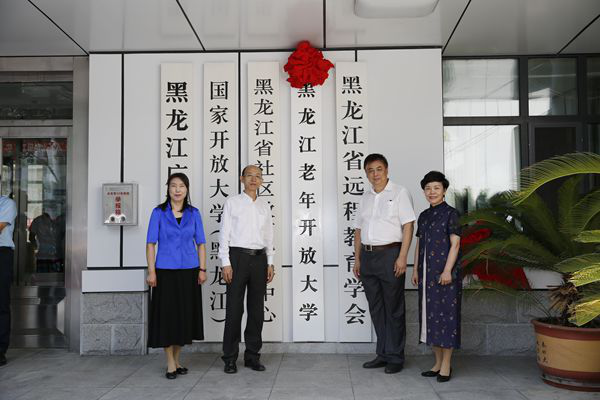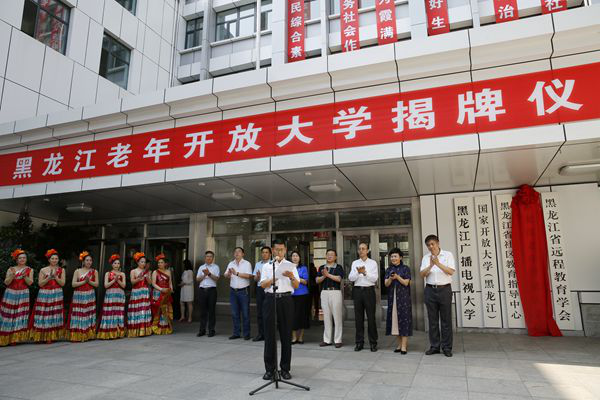 The ceremony featured a performance by the choir of Heilongjiang Open University for Older Adults, who also performed talent and art shows. After the show, Wang Shicheng, Ding Zhexue, Lv Qiaofeng, and Wu Jinqiu jointly unveiled Heilongjiang Open University for the Elderly.

The establishment of Heilongjiang Open University for Older Adults by Heilongjiang RTVU, part of the university's drive to uphold its social responsibility and serve the construction of a learning-oriented society, is an important measure to implement the spirit of documents such as the State Council's Plan for the Development of Elderly Education (2016-2020) and Views on Further Promoting the Development of Community Education by the Ministry of Education. It also aims to alleviate the "difficulties created by the shortage of educational resources for the elderly," meet the growing desire for learning among senior citizens, and expand the coverage of education for the elderly. In the future, Heilongjiang RTVU will use the second campus of Heilongjiang RTVU to build a new centre of the open university for the elderly and community education, so as to provide more extensive learning places and more thoughtful learning services for the elderly. Heilongjiang Open University for Older Adults will target the whole province and become a new type of university for the elderly that provides diverse, individualised learning and training services for the elderly and elderly education practitioners, and which carries out on-the-spot learning and Internet learning at the same time.

Heilongjiang Economic News and China News Network (Heilongjiang Branch) reported on the unveiling ceremony.     

By Yue Qiang,OUC