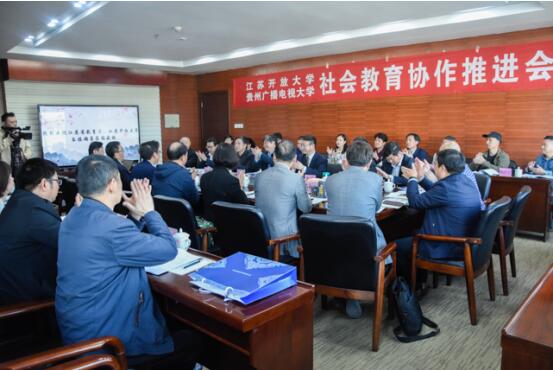 In order to further implement the spirit of the Document by Jiangsu Open University on the Development of the East and West Cooperation to Promote Social Education Work and to promote cooperation between Jiangsu Open University and Guizhou Radio and TV University (Guizhou RTVU) in social education, on 10 April 2019, Jiangsu Open University and Guizhou RTVU Social Education Collaboration and Promotion Conference was held in Guiyang.
Luo Houli, researcher at the social education department of Education Department of Jiangsu province, Wu Zhongning, vice President of Jiangsu Open University, Wu Jin, former vice President of Jiangsu Open University, Wang Aihua, party secretary of Guizhou RTVU, Li Wan, vice secretary of the Party Committee and president of Guizhou RTVU, attended the meeting. The meeting was presided over by Qian Qingsheng, Party Committee member and vice president of Guizhou RTVU. More than 30 people from the two parties attended the meeting, including leaders of the university, leaders of community education, and heads of relevant departments from the two universities.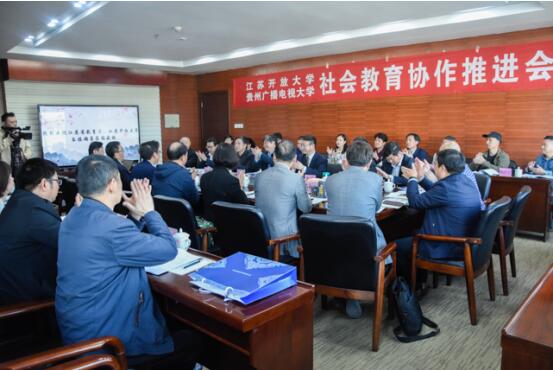 In his welcome speech, Wang Aihua pointed out that Guizhou RTVU has made some achievements in continuing education, vocational education, and community education. However, the development of the system of continuing education and lifelong learning is still lagging behind in China. As one of the first group of provincial open university pilot construction units as part of the national reform of the educational system, Jiangsu Open University focuses on serving the people for lifelong learning and building a learning society, creates a self-learning platform of "anyone can learn anytime and anywhere", and builds a "bridge" to lifelong learning. It provides a learnable, credible, and feasible "Jiangsu experience" for other provinces to build an open university with Chinese characteristics and a lifelong education system. On this occasion, the delegation from Jiangsu Open University traveled thousands of miles to Guizhou RTVU to pass on their experience. From the cooperation between provincial schools to the pairing of branch schools, Jiangsu Open University and Guizhou RTVU have established a long-term mechanism of helping and supporting each other. Wang Aihua believes that this will play an important and positive role in the development of community education, education for the elderly, and the construction of lifelong education system with Guizhou characteristics.

In his speech, Luo Houli put forward three requirements. Firstly, cooperation between the two universities should be based on mutual learning and win-win cooperation. Cooperation should be carried out in pairs. Secondly, the two universities should create brand projects with definite influence across the whole country by selecting and pairing projects that fit both sides. Thirdly, the cooperation should form a long-term and effective mechanism.

In his speech, Wu Zhongning introduced the current situation at Jiangsu Open University and pointed out that during the next step, it is necessary to give full play to the high-quality resources of both sides and actively explore a cooperation model for targeted services such as personnel exchanges, project research, and cross-regional teacher training in order to create a new form of regional social and educational development. It is hoped that through the unremitting efforts of both sides, it will be possible to create a new model and experience of east-west cooperation, make the cooperation solid and vigorous, jointly promote community education, vocational education, and continuing education in the two provinces, and make greater contributions to the construction of a learning society.

During the meeting, Suzhou RTVU and Tongren RTVU, which have already carried out pairing assistance work, discussed their experience of pairing assistance for community education. Tan Yongxiang, vice president of Yangzhou RTVU, and Jiang Mingfang, secretary general of the Agricultural Committee of China Association from the School of Community Education and Management of Jiangsu Open University, shared their experiences of "village revitalisation".
Based on multiple rounds of deliberation and communication before the meeting, Jiangsu Open University and Guizhou RTVU signed a framework agreement for inter-university cooperation. At the meeting, the four pairing universities were selected and settled and framework agreements on pairing assistance were signed.

After the meeting, leaders from the pairing units of Jiangsu Open University visited the pairing branches of Guizhou province for field investigation and research. Based on their respective development conditions, they communicated with each other on the details of cooperation and formed a supplementary agreement to further implement the cooperation content of the framework agreement.

By Guizhou RTVU