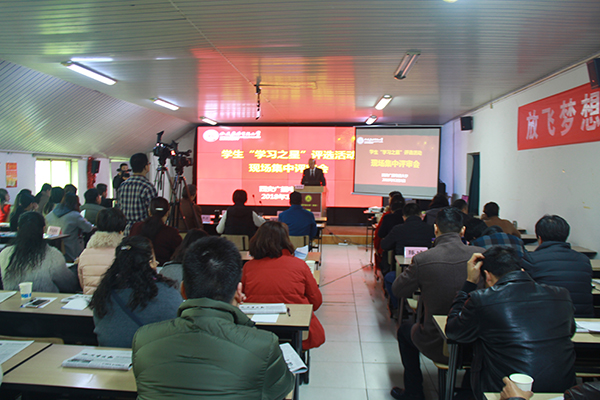 "I was very unhappy before I began studying at Xi'an Radio & TV University (Xi'an RTVU). At that time, I had been working for many years, and had no time to spare for studying. But after entering Xi'an RTVU, thanks to its customised setup for working students, which integrates instruction via mobile terminal, face-to-face teaching, and independent study, my attitude changed." These words are from a speech given by Wan Ming, a student named a "Learning Star" by Xi'an RTVU. His speech received loud applause, reflecting overall approval of the new teaching system.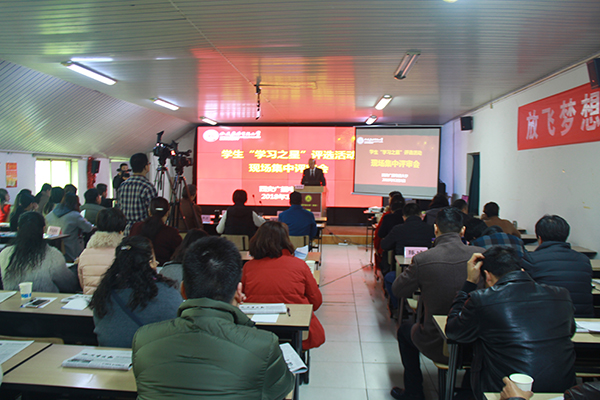 On 1 December, 2018, Xi'an RTVU's "Learning Star 2018" selection took place, and 19 students gave presentations about how their attitudes to studying had changed, how to carry out online study, what they had gained and experienced, and so on.

The selection was conducted by a variety of Xi'an RTVU judges, including leaders, supervisors, students, faculty, and branch presidents. Zhao Liling, deputy secretary of the Xi'an RTVU CPC committee and president of Xi'an RTVU, attended the activity and delivered a speech.

Han Wei recently received a promotion, and happily shared his experience. "I have never regretted entering Xi'an RTVU. It's so convenient to be able to study even when I'm waiting for a ride or eating. Through my studies at Xi'an RTVU, I have been promoted from an ordinary member of staff to a manager, and have become a model for my wife and child. Every evening, we study together, and I enjoy a harmonious and happy life."

Liu Qijun, now a Chinese teacher at a primary school in Gaoling, couldn't help but shed tears when recalling her past, "I was distraught when I had to study hard while others had leisurely weekends; when I had to go to class in Xi'an by train in a storm with my 3-year-old; when I saw the doubt in the eyes of my colleagues. However, all that became worthwhile after I was offered the primary-school job I had been longing for." Many teachers and students were touched, and wiped away secret tears.

Lin Yajing, a teacher in a kindergarten affiliated with a university, was excited, "With what I learned about preschool education, I was able to help little David from Nigeria fall in love with Chinese food and feel comfortable in Chinese class. I was so excited, and would like to show my gratitude to Xi'an RTVU."

19 students from 15 Xi'an RTVU teaching units gave speeches, conveying how to make use of their spare time to study using two platforms and one terminal; how to take part in Xi'an RTVU classes and live online classes; how to use the learning resources; and what they had gotten from their studies.

Vivid examples showed how the students had developed and progressed, and the speeches inspired both applause and tears. The judges interacted warmly with each student, and gave them constructive suggestions for their further studies.

Professor Zhang Wenke of Xi'an Jiaotong University, representing the judges, commented on the activity after it had ended, expressing appreciation of the performances of the students and the active involvement of the student judges. He expressed the hope that in the future an organic combination of online and offline learning would become more important to the students, as well as the use of teaching materials in online learning. He also stated the importance of clarity in one's learning objectives, adapting to new social requirements, and serving social progress.

Zhao Liling gave the closing speech, and said that China now has the goal of building a society of generalized prosperity, with continuing education available to all. Learning is basic to survival, life and work, and students should adapt to the pace and trends of national development, striving to surpass themselves while serving society.

She stressed that the essence of education is individual cultivation. Teachers should focus on ethics, follow the rules of education, and cultivate the thinking and creativity of their students, while students should take service of their country and society as the purpose of learning, be rigorous and scientific in their studies, and constantly enhance the scope of their knowledge and personal skills.

This selection was part of a series of campus cultural events at Xi 'an RTVU that included a "Teacher Show", "Student Show", "Internet Skills Contest", and "My Learning Story" presentation. Xi'an RTVU created a detailed plan, dividing the activity into initial evaluation, group presentation, final evaluation, and awards. What's more, a management group was specially set up. Later, Xi'an RTVU will select several individuals and groups to receive awards.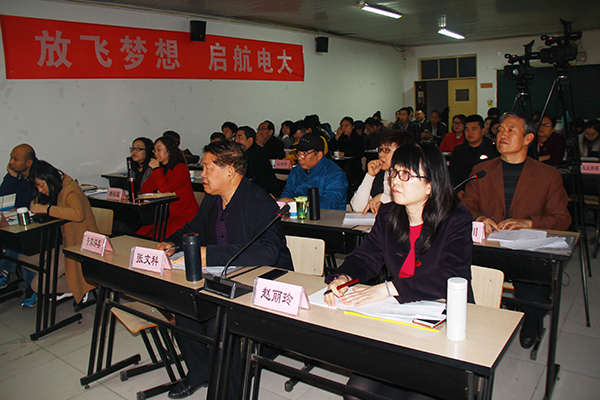 By Li Xinran, Zhang Shu and Niu Shiyu, Xi'an RTVU