From 27 to 28 December 2018, Guangzhou Radio and TV University (Guangzhou RTVU) held a 2018 Open Education Enrolment Meeting with the theme of "Grasping Quality, Realising True Development, Emphasising Connotation, and Promoting Openness."
President Xiong Jun, vice secretary of the Party Committee Chen Xueman, and vice president Sun Bin gave speeches at the meeting. A total of 200 people, including persons in charge of relevant departments at the university, leaders responsible for enrolment in the branch schools and workstations, and other relevant personnel, attended the meeting.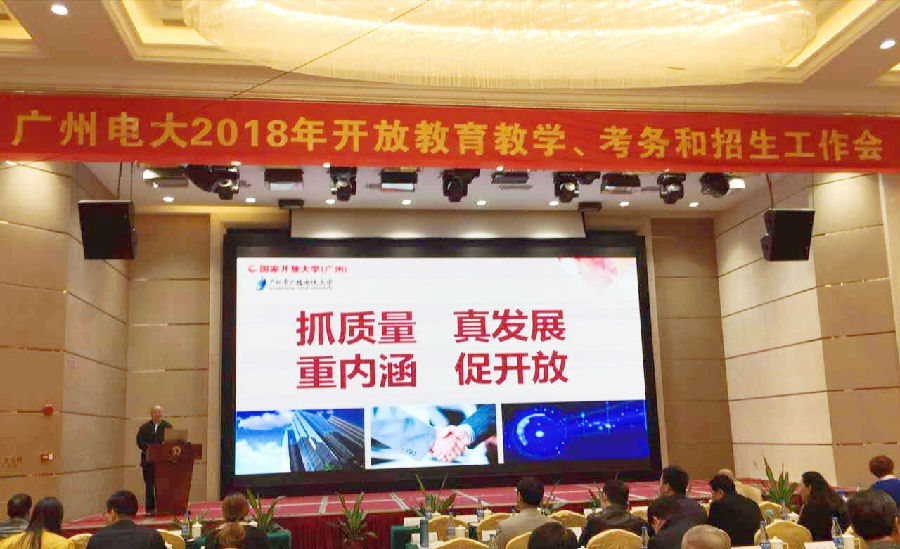 Sun Bin emphasised that, at present, the number of students enrolled in degree education in the system is 170,000. With this in mind, the enrolment work of member units in the system must adhere to the rules and stick to the bottom line. Each unit should clearly understand the Open University of China's (OUC) requirements for quality construction projects; enhance their school-running strength, potential for project development, core competitiveness, and brand influence; strive to become a benchmark for continuing education and a model of online learning; and work hard to create an OUC brand.

In his concluding remarks, Xiong Jun said that he hopes that all units will accurately understand and grasp the spirit of the report of the 19th National Congress of the Communist Party of China, the National Education Conference, and the speech made by General Secretary Xi Jinping's speech while inspecting Guangdong. They must establish a consciousness of "high-quality development," deal with the relationship between scale, structure, quality, and efficiency, explore and establish a "quality assurance mechanism for education and teaching basing on large-scale open education samples," and constantly improve teaching quality and service level. Xiong Jun stressed that the university is committed to continuously optimising management, services, and other work, cooperating with all units within the system to help the academic and non-degree education in the system develop in an orderly and coordinated manner, and striving to build an area of strong continuing education in the Great Bay area of Guangdong, Hong Kong, and Macao.
In her speech, Chen Xueman demanded that all units, in line with the purpose of providing people with satisfactory education, unite efforts within the system, make great efforts to recruit students, and jointly contribute to the system construction of Guangzhou RTVU, in particular, to the development of lifelong education in Guangzhou.

The meeting also reviewed and summarised the general situation of the university's enrolment work in autumn 2018 and conducted special professional training on the planning of and application for majors, the requirements for the examination and approval of student data, and the standards for the operation and use of the enrolment system platform.

By Guangzhou RTVU