On 19 October 2018, the "Educational Enhancement Project for Rural Cadres" based on the Ministry of Education's "One College Student Per Village Programme" was officially launched across Shanxi province. The launching ceremony was held at Shanxi Radio & TV University (Shanxi RTVU) and ceremonies for the sub-venues were held at RTVU branch schools at the municipal level.
Attending personnel at the main venue included Lin Yu, vice president of the Open University of China (OUC); Zhang Yaobin, secretary of the Party committee; Jiang Hai, vice secretary of the Party committee and vice president; Liu Chunai, secretary of the discipline committee; Niu Bailin and Wu Bin, vice presidents of Shanxi RTVU; relevant personnel from Shanxi Education Department and the OUC; and staff from Shanxi RTVU. The ceremonies at the sub-venues were attended by faculty and staff as well as responsible personnel at the branch schools and RTVU tutorial centres at the county level. The launch ceremony was presided over by Li Chen, president of Shanxi RTVU.

OUC vice president Lin Yu indicated that this project is an important response to the state strategy of rural revitalisation and poverty alleviation. It also serves the need of rural cadres for educational enhancement. Lin said the OUC shall do its best to support the "Educational Enhancement Project for Rural Cadres" in terms of enrolment, teaching, majors, curriculum, assessments, and management.

Shanxi RTVU vice president Niu Bailin pointed out that several issues should be considered in operating the project. First, teaching goals should be specified in order to ensure high-quality teaching. Second, every single link of the teaching process should be well implemented. Third, it is necessary to strengthen teaching management to guarantee smooth operation. He stressed that this project should be treated as a new breakthrough in teaching reform within the RTVU system and an opportunity to explore channels and methods and accumulate experience in teaching reform.

Lin Yu donated "O Learning Pads" to Shanxi RTVU tutorial centres at the provincial, municipal, and county levels on behalf of the OUC. The OUC Press also donated digital learning resource packages to the learners.

Zhang Yaobin stressed that sufficient importance should be attached to this project and a sense of responsibility cultivated in order to seize the historic opportunity of this project. The RTVU's advantages should be exerted. He said anything could be achieved with the collective strength and intelligence.

Li Chen raised four specific requirements for implementing the conference spirit and the project as follows. First, the management of the project should be strengthened. Second, scientific research should be intensified. Third, the teaching model should be innovated. Fourth, the quality should be improved. He said that "Educational Enhancement Project for Rural Cadres" is a great project implemented by the provincial committee and that the entire faculty and staff of the Shanxi RTVU system should increase their consciousness and shoulder their responsibility and mission to work hard to implement every process of the project in order to achieve success and brand influence.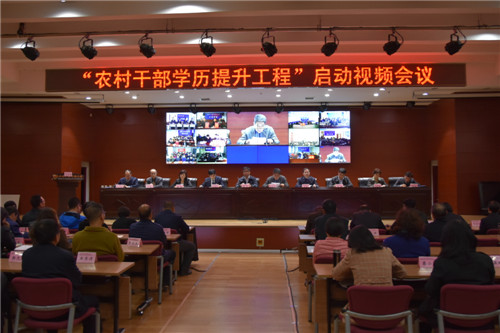 By Shanxi RTVU