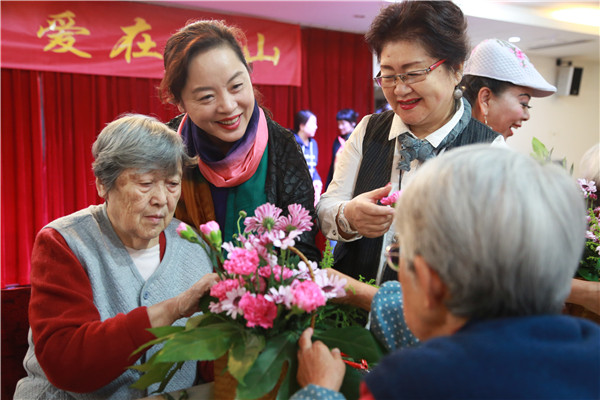 Double Ninth Festival is a traditional Chinese festival that takes place in autumn. In order to highlight the traditional Chinese virtue of respecting and loving older people, Qingdao Radio and TV University (Qingdao RTVU), together with volunteers from the Culture and Radio New Bureau Community in northern Qingdao, Yiwanbishui Science Development Co. Ltd., and Haiyun Art School, visited Fushan Apartment for the Elderly. They celebrated the festival with the older people, blessing them with kinds of cultural activities.
Under the guidance of Fu Guixia, a part-time teacher at Qingdao RTVU and vice president of Qingdao Flowers and Plants Association, the elderly made ingenious flower arrangements. The fragrant flowers made the elders smile.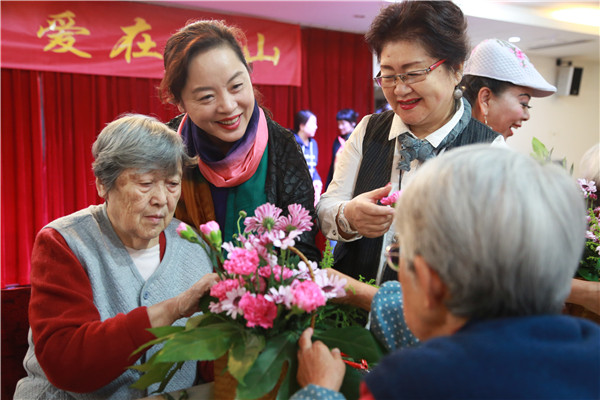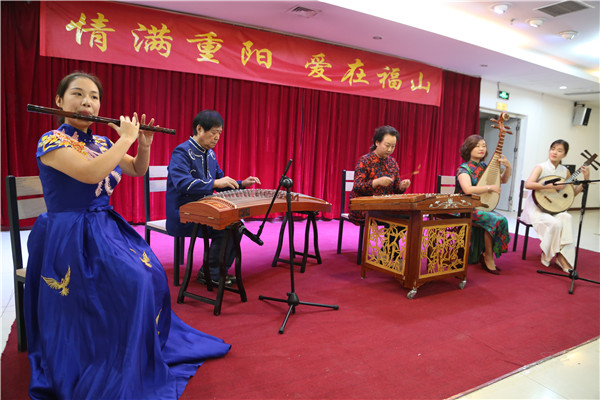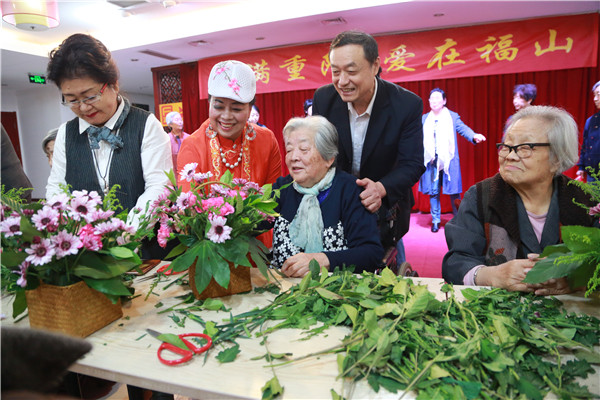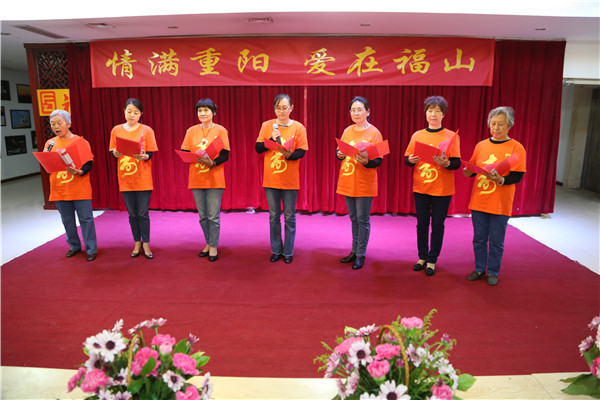 Chen Xiu, a "Qingdao Outstanding Senior Citizen", and Hu Jie, a famous anchor person in Qingdao and president of Qingdao Golden Butterfly Art School, hosted a performance together.

The teachers presented brilliant programmes. Folk music teachers played the folk song Jasmine Flower and the dance teacher did a vivid performance of Colourful Clouds Chasing the Moon.

It's never too old to learn. Teachers and students in the poetry class at the elderly university recited their own poem Celebrating Double Ninth Festival. Through their graceful and powerful recitation, they demonstrated a picture of enjoying a pleasant life and praising the new era, and expressed a faithful blessing for the festival.
Volunteers from the Culture and Radio New Bureau Community also did performances. They expressed love for their homeland and their yearning for a beautiful life through solo performances of Greenhouse Girl, Qingdao, and I love you China. Wang Yabo, a volunteer aged just seven and a half, sang the Peking opera song Farewell My Concubine. Wang Aishu from Qingdao, the judge of Starlight Broadway (a talent show performance in CCTV) and image ambassador for many public groups, raised the enthusiasm of the audience and pride of Qingdao citizens with the song Blue Sky Aunt Praises Qingdao.

Brilliant shows, elegant songs, and beautiful dances enriched the life of elderly people and made them happy.
In addition, paintings and calligraphy works, food, and medical material were also donated to the Fushan Apartment for the Elderly. These activities brought joy to the elders, making them feel warm and comfortable. The importance of filial piety was highlighted, the virtue of respecting elders was carried on, and the idea of helping elders was strengthened, all helping to build a harmonious society.
By Qingdao RTVU