On 27 June 2010, Zhejiang Radio and TV University (ZJRTVU) held a ceremony to celebrate the establishment of its scholarship fund and its first awards. Mr. Jiang Zhou, an 81-year old retired cadre received a special scholarship from Mr. Fang Zhigang, president of ZJRTVU, on completing his undergraduate study in business English.
ZJRTVU'scholarship fund is an
important programme of the 30th anniversary of the ZJRTVU. The initial donation of 5 million RMB was given by the RTVUs at provincial, municipal and county level, as well as by Shengda Group and will be allocated over the next three years. More than1,200 students from RTVUs all over the province have been awarded the scholarship, with some 130 students receiving a subsidy and nearly 140 teachers being awarded a teaching grant.
Mr. Jiang Shengxiang, deputy director of the education department in Zhejiang Province, attended the ceremony and gave a speech. He acknowledged that the setting-up of the scholarship demonstrated that the RTVUs had made significant efforts to make use of social resources, while in the process of upgrading. The fund will help to provide fairer education opportunities, eliminate differences and better serve teachers and students. It is also a creative student-oriented measure to encourage continued education. Additionally, it will increase the solidarity and sense of belonging of the students, promote the image of RTVUs and strengthen their social influence.
Mr. Fang Zhigang, Party secretary of ZJRTVU, also gave a speech. He voiced his hopes that students in receipt of the scholarship would make the most of this opportunity by continuing to contribute to university life, as well as society. He expressed his hope that others would learn from their example and that more students would make the successful transition from the academic to professional world.
Mr. Jiang Zhou receiving graduation certificate and scholarship from President Fang Zhiguang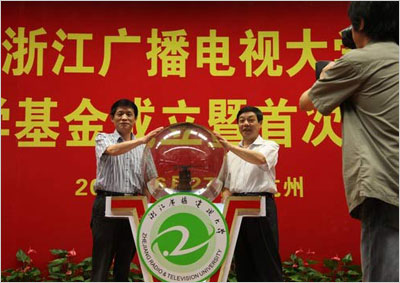 At the ceremony, Mr. Jiang Shengxiang and Mr. Fang Zhiguang jointly launched the ZJRTVU scholarship fund by presenting the certificates, scholarships, subsidies and teaching grants to the winners.
The ceremony was also attended by journalists from Xinhua online, Zhejiang Daily, Zhejiang TV Station, Education Information Newspaper, Hangzhou Daily, Youth Daily and Business Daily.
By Zhejiang Radio and TV University