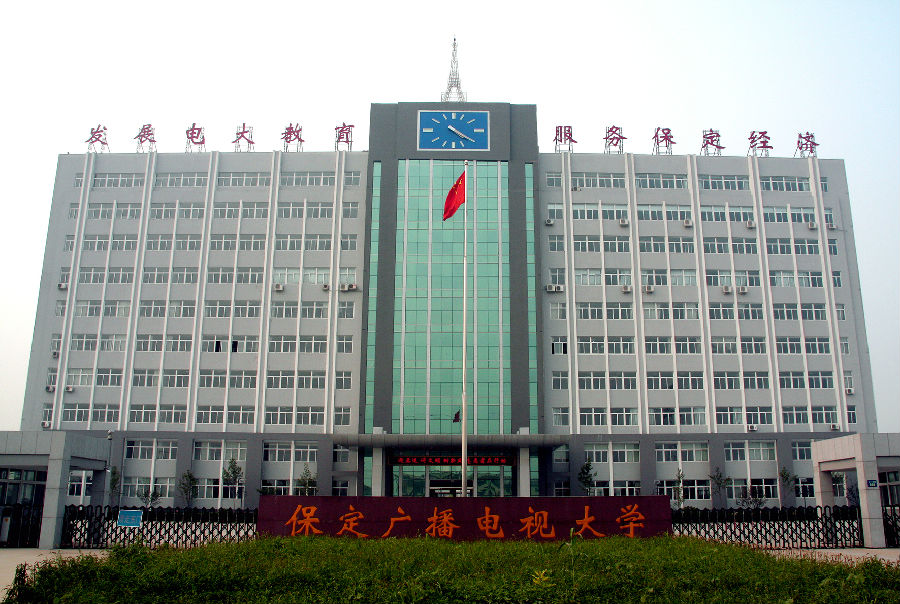 With the coordinated development of Beijing-Tianjin-Hebei and the continuing construction of the Xiong'an New District in Baoding, known as a "key strategic zone" and the "south gate of the Capital of China", a historic renewal has been initiated. Over the past 39 years, the development of Baoding Radio and TV University (Baoding RTVU) has kept pace with the economic and social development of Baoding.
In recent years especially, Baoding RTVU has achieved excellent results in all aspects of its operations, and gained recognition from both the Party and the province. Its adult academic-education programmes have enrolled more than 10,000 students every year for seven consecutive years, ranking 1st in the province, accounting for nearly one-third of provincial enrollment, and even gaining national recognition among institutes of open education. Zhou Guibin, Party secretary of the Baoding RTVU Party Committee, says that "the most important aspect of the development of Baoding RTVU is keeping abreast of the economic and social development of Baoding."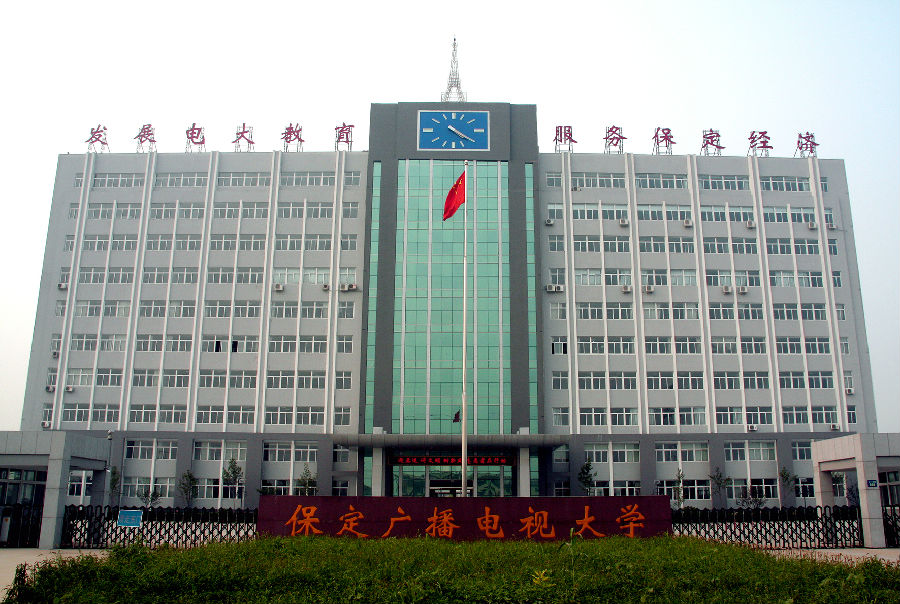 With the growth of the school, how to optimise teaching, management and services for more than 30,000 students has become an issue. Therefore, Baoding RTVU has been focusing on team building, process management, support services and system construction, highlighting the management of teachers and construction of resources to strengthen training.

Focus on team building and improve teaching

Teacher training comes first at Baoding RTVU, and is complemented by teaching competitions that enhance skills. Teachers there have won numerous local and even province-level awards.

According to Zhou Guibin, Baoding RTVU has established a long-term mechanism for teacher training through activities such as "learning, growing stronger, consolidating skills, and promoting development". Through training, skills competitions, exchanges and seminars, among other activities, Baoding RTVU has emphasised linking learning and work and keeping training records as a basis for future evaluation. At the same time, teaching staff of the city and county-level RTVUs have carried out regular exchanges, established teams, designated team leaders, and carried out resource sharing. In addition to carrying out teaching reforms, Baoding RTVU has provided guidance to the young teachers on each team in terms of teaching method and research. At least three teaching and research exchanges will be held each school year to enable new teachers to benefit from the experience of their seniors.

For teacher assessment, Baoding RTVU undertakes strict annual evaluations, with awards given to the top performers, as well as county-level RTVUs that have made outstanding contributions to teacher training. Meanwhile, those with low ratings will have their positions or employment levels adjusted appropriately.

Take effective measures and consolidate school operations

Baoding RTVU has also undertaken reforms to its enrollment system, with good results for seven consecutive years. For example, Laishui RTVU has employed more than 40 students and graduates to promote admissions, using existing students to attract freshmen, while Zhuozhou RTVU has two enrollment months each year, "selecting" instead of "seeking" students for enrolment, which has led to the creation of a virtuous circle. Anguo RTVU and Quyang RTVU have focused on management, and strengthening external connections, to establish a relatively stable student base. Among the top 20 county-level RTVUs in Hebei Province in 2017, 11 were from Baoding. 2 county-level RTVUs (Laishui and Anguo) enrolled more than 1,000 students, and 12 county-level RTVUs more than 500.

Through its enrolment-responsibility system, all Baoding RTVU staff take part in enrolment, and regular announcements of enrolment progress and rankings are made, with commendations given to the leading county-level RTVUs. Baoding RTVU leaders are each assigned 3-4 county-level RTVUs for enrollment monitoring, the results of which are presented at regional conferences, where support services are provided, and exchanges among county-level RTVUs are held.
In addition to publicising enrolment and enhancing its profile, Baoding RTVU has done well in terms of linking current with prospective students, promoting word of mouth, giving freshmen assistance in their first semester, and keeping record of their progress. The university has also set up a one-stop service hall for demonstration purposes, using a multimedia self-service inquiry machine to help make responses to queries more efficient.

Focus on system construction and consolidate development

Baoding RTVU emphasises system building, management standardisation, quality of service, coordination of communication, inspection & supervision, and linking modernisation with new construction.

Baoding RTVU has carried out a comprehensive evaluation of county-level RTVUs, and organised meetings and dispatched teams to provide them with guidance. It has also paid nearly RMB 1 million for video and private-network links to connect it to the county-level RTVUs, providing them servers for free along with system maintenance and technical guidance. It has worked to gain support for them from local governments. The Baoding Municipal Party Committee and its municipal government fully support the development of RTVUs, and the education departments of the 21 Baoding city regions have released documents to boost the enrolment and development of the RTVUs, leading to significant improvements in management and teaching.

Baoding RTVU believes in harmonious relations. Presidents of three county-level RTVUs (Zhuozhou RTVU, Anguo RTVU, and Tangxian RTVU) have recently retired, and Baoding RTVU invited the old and new presidents to a symposium to recall the past, look toward the future, and establish warm relations. It also awarded the "Radio and TV University Educator 30th Anniversary Prize" to former Zhuozhou RTVU president Zhu Songlin.

Strengthen resource construction and support services

Baoding RTVU has always stressed the importance of using information technology to modernize teaching and management, and support all the work the school undertakes.

At Baoding RTVU, this reporter saw spacious and bright facilities furnished with computers and linked to the internet, including a 70-inch touch-enabled teaching machine that functions as a computer, TV and demonstration station, and a hall for two-way video recording, promoting the development and sharing of teaching resources.
The leader in charge of IT told the reporter that Baoding RTVU has established an IT system covering the entire university. It has built a remote HD video system and a multi-function conference room that integrates conferences, lectures and training, saving time and money. The system has also led to changes to accounting, student notifications, test-notice printing, queries, audio and video data management, student-information management, and other systems, reducing labor costs and enhancing efficiency. At the same time, to enhance links between Baoding RTVU and its affiliated county-level RTVUs, as well as to provide one-stop service for teachers and students, Baoding RTVU has built a digital campus: a wireless local-area network offering full coverage of the campus. It has also carried out enhancements to the multimedia inquiry machine, designed and produced a "student home", installed 110 square meters of outdoor screen and 16 square meters of high-definition colour LED to convey test information, teaching arrangements, and other notices and announcements.

Baoding RTVU has always considered service to society one of its responsibilities. According to Zhou Guibin, "Baoding RTVU graduates are high-quality talent well prepared to serve the community." One of these, Liu Hong'an ("Deep-Fried Dough Sticks Brother"), was recognised by general secretary Xi Jinping for his contributions to commerce and his moral uprightness, while Zhang Guoqiao of Baoding RTVU was named a National Model Worker and outstanding Communist Party member. He attended the 9th Hebei Province Party congress as a CPC representative. Ding Shuai of the Baoding RTVU has won several provincial and municipal innovation competitions for entrepreneurs, and third prize in the National Patent and Grassroots Technological Innovation contests of the Ministry of Public Security. After the founding of Xiong'an New District, Baoding RTVU immediately formulated and released the document Specific Measures Supporting the Development of Xiong'an New District, and a labour-division list. It has also provided business consultation and training to Xiong, An'xin and Rong Counties, enhancing its ability to serve the economic and social development of these regions.

Promote community education and serve the development of Baoding

Baoding RTVU has built an activity centre and established a volunteer community-education team to meet the diverse needs of community residents.

At the end of 2017, 25 districts of Baoding City were relying on RTVUs or schools for community education, establishing a two-level community-education network at the city and county level. The online "Baoding Lifelong Learning Network" has been launched, offering more than 10,000 free courses, and activity venues such as the Public Welfare Lecture Hall of Xushui Community Education College, the National Studies Classroom of Quyang Community Education College, and the Music Classroom of Li County Community Education College have been built. Together with the Baoding Social Development Institute, Baoding RTVU has founded the Baoding Community Education Development Research Centre. It has built a national-level community-education experimental area (Lianchi District); a provincial-level community-education experimental area (Jingxiu District); five provincial-level community-education experimental bases; eight municipal-level community-education activity centres; and launched the "i-Maker Education Lab". Among these, Xigao Community in Lianchi District, as the provincial community-education experimental base, has invested RMB 3 million each year (RMB 1,430 per capita) in community education, achieving both material and spiritual benefits, and gaining recognition from People's Daily and other media.

Baoding RTVU has held three lifelong-learning weeks, and organised more than ten series of community-education activities such as "Future Talent Lecture" and "Family Education Forum". These have been well received by residents. The "Parent Training Project" in Xushui District was awarded the 2014 National Lifelong Learning Activity prize.

Baoding RTVU will launch a "Community Education Lecture Hall" on topics covering mental health, family education, Chinese studies, and tea culture. It is also actively expanding community education through an "alliance development" model, and brought in eight companies to assist with community-education career development. According to Zhou Guibin, "My experience has shown me that in large, fast-growing cities it is unrealistic for the city to rely only on ordinary colleges and universities for training. Further support can be provided by the RTVUs, especially through modern distance education."

In the future, Baoding RTVU will work to study and implement the spirit of the 19th CPC National Congress, and orient itself toward problem-solving and enhancing its work style, making itself a centre of lifelong education in Baoding City and contributing to the great rejuvenation of the Chinese dream.
By OUC