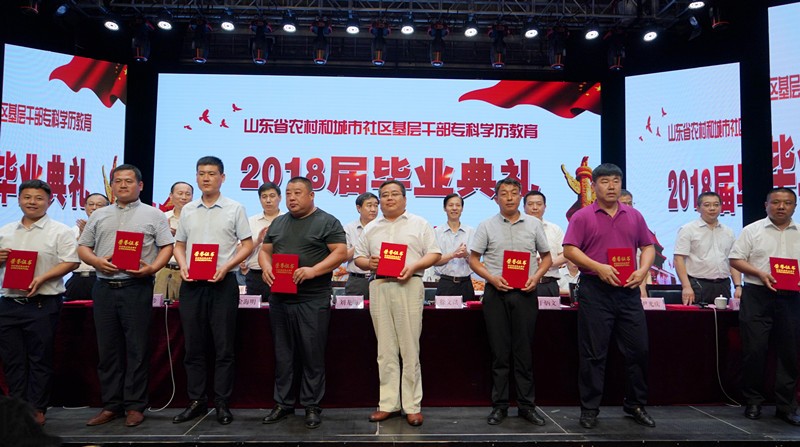 On the morning of 10th July 2018, a graduation ceremony for grassroots cadres in Shandong rural and urban areas was held at Shandong Radio and TV University (Shandong RTVU).
Leaders from Shandong RTVU, principals from the modern distance education centre of the Organization Department of Shandong Provincial Party Committee, and investigators from Shandong Education Department were all present at the ceremony. Leaders from eight cities and 34 counties that were among the first to carry out academic education work also participated in the ceremony.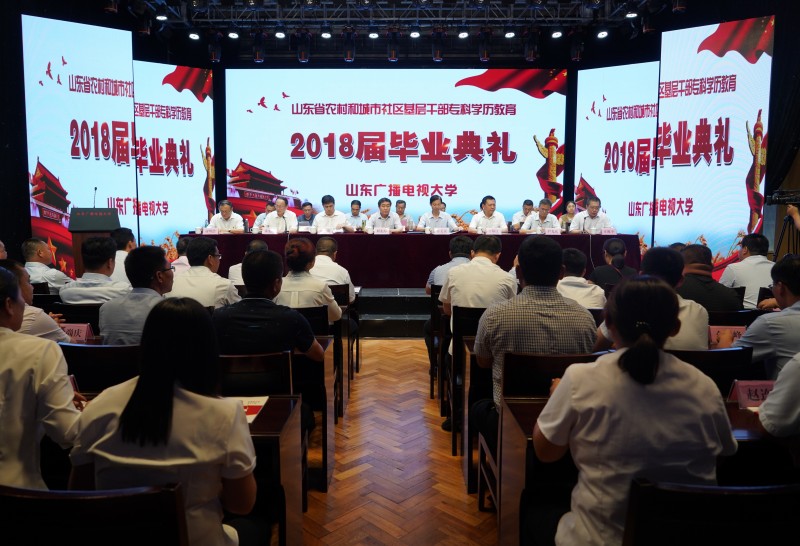 At the ceremony, Xu Wenmou issued graduation certificates to the outstanding graduates. Zhu Xianzhen read the decision of honouring the 2018 outstanding graduates and leaders awarded certificates of honour to the outstanding graduates.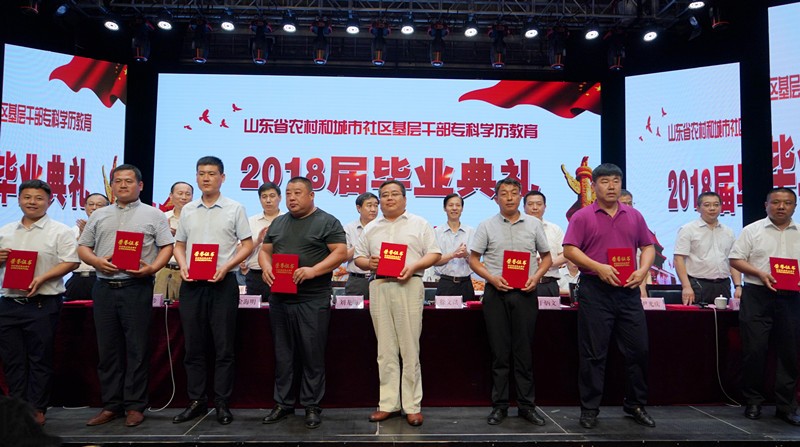 Xu Wenmou commented that since the academic education of grassroots cadres in Shandong Province was carried out in 2015, with the leadership of each organisation department and education authorities and with the joint effort of the RTVU system, it has always insisted on running the school with a socialist orientation, grasp the foundation of cultivation quality, continuously improved education and teaching methods, intensified teaching management, and achieved remarkable results. The students are highly disciplined, hardworking, and deeply practical.
Xu Wenmou offered his congratulations to all the graduates via four sentences. Firstly, remember your original intention. They should keep seeking happiness for the Chinese people and remember to revitalise the Chinese nation. Secondly, knowledge and action should go hand in hand. They should apply their knowledge in practice in rural areas and in urban primary levels, and strive to be the vanguard of the revitalisation of villages and create the model villages in Shandong. Thirdly, you are never too old to learn. They should view their three-year study as a new start, never stop, learn by doing, and continuously improve their political and professional competencies. Fourthly, they should remember their alma mater. He hopes that the graduates will be the bridge between rural committees and Shandong RTVU, and contribute their wisdom and power to the reform and development of the alma mater.

Yuan Jianguo, president of Pingyuan Radio and TV University in Dezhou City; Wang Hongqi, representative of Provincial People's Congress and alternate member of Feixian county Party committee in Liyi city; and outstanding graduate, Zou Jianmei, prominent teacher at ShandongRTVU and associate editor of the E-Commerce in Rural Areas course delivered speeches in the ceremony.
By Shandong RTVU