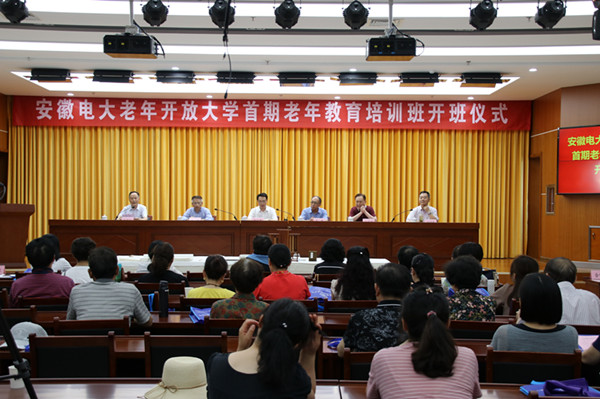 On 12 June, 2018, a class at the Open University for the Elderly of Anhui Radio and Television University (Anhui RTVU), the first of the kind, took place in the Anhui Distance Education Building. More than 120 students were enrolled in it.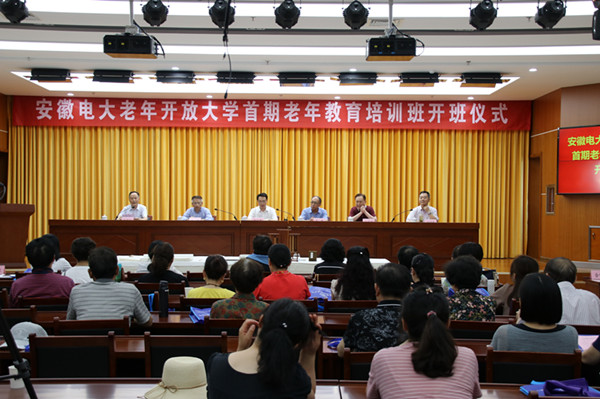 Three classes, in calligraphy, Chinese traditional painting, and choir, are the first offerings for older students at the Anhui RTVU's Open University for the Elderly. The university has carefully prepared its teaching facilities, and selected accomplished teachers with extensive teaching experience. Each class is also equipped with a full-time counselor. The training is carried out via online learning, offline guidance, and lectures.
Anhui RTVU intends to make full use of the advantages of modern distance education, and establish 16 sub-centres of the Open University for the Elderly at its prefecture-level branches, improve the university's online platform, integrate and expand its education resources, and set up an education alliance to provide guidance services, including planning, course recommendations, counselling, and interactive experiences, to enhance distance and personalized learning for seniors, enriching their lives and creating a high-level university with wide coverage that contributes to the construction of a life-long education system.
Wu Xue, chairman of the Anhui Literary Federation and vice chairman of the Anhui Calligraphers' Association, attended the ceremony, and said that the new university would make full use of the extensive resources of the Federation of Literature and Art in the province and promote art education for the elderly.
Zheng Hanhua, party secretary and president of the Party Committee of Anhui RTVU, pointed out in his speech that as an institutional member of the Third Age Education Alliance of national colleges and universities, Anhui RTVU will treat the construction of the Open University for the Elderly as an important part of its development, take an active role in organising education for seniors, guide research into community education in Anhui province, promote community-education pilot projects throughout the provincial RTVU system, build a lifelong-learning network for Anhui, develop a network for its Open University for the Elderly, integrate online and offline teaching of the elderly, and contribute to the construction of a life-long education system in the province.
Those present at the opening ceremony included Sun Bangkun, deputy general manager of the Anhui Performing Arts Group; Zhu Tong, head of the vocational and adult-education division of the Anhui Education Department; Fang Runsheng, deputy secretary of the Anhui Vocational and Adult Society; Wang Daohe, a member of the Anhui RTVU party committee and the secretary of the Discipline Commission; and others. All trainees, teachers, and department heads from the university attended, and it was presided by Wang Daohe. After the ceremony, Wu Xue wielded his brush, wrote the words "Yishuyannian" and "Youmuchenghuai" in elegant calligraphy, and gave a lecture on the subject.

 
By Anhui RTVU