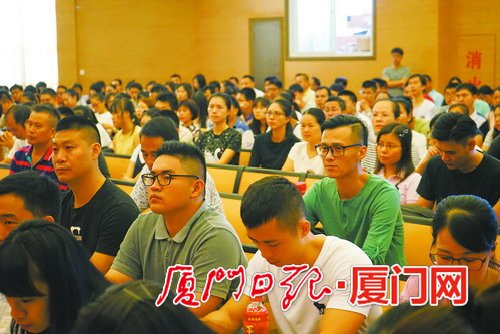 The Xiamen Federation of Trade Unions and Xiamen Bureau of Education recently held the 2017 "Boosting Education and Ability Programme for Migrant Workers to Help Realise Their Dream of Pursuing Further Education." The opening ceremony was held at Xiamen City University. The inaugural batch of more than 1,000 workers attended the university's opening ceremony.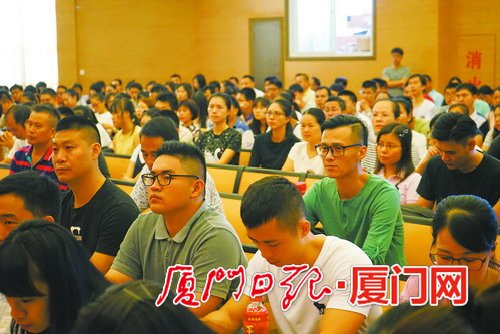 The class was one of several beneficial programmes the Xiamen Federation of Trade Unions organised for staff. Xiamen RTVU enrolled students, and leveraged preferential policies, tuition subsidies, and teaching resources to augment workers' abilities and academic degrees. Xiamen RTVU is enhancing workers' level of education and technical skills, better serving the economic development and social transformation of Xiamen, and upgrading local industrial infrastructure.
Workers self-select majors
The programme is divided into two categories: undergraduate and junior college. Students may select their own major, and there is no limit on the number of enrollment in each major. There are currently 14 junior college majors, including Tourism, Business Administration, Accounting, Social Work (including a specialty in the elderly), Advertisement (Design and Production), Pre-school Education, Law (Rural Law Affairs), Urban Rail Transport Business Management, and Digital Control Technology. There are currently eight undergraduate majors, including Social Work, Pre-school Education, Civil Engineering (Construction Management), and Logistics Management.
Students who have graduated senior high school, vocational school, secondary vocational school, and above can apply for junior college degree programmes. Those who have obtained a junior college degree may apply for a college degree programme.
Ding Songbai, the director of Xiamen Federation of Trade Unions' Publicity Department, told reporters that the Xiamen Federation of Trade Unions carried out the plan this year with financial support from trade unions at all levels. Xiamen Federation of Trade Unions will provide a subsidy of RMB 3,000 for each worker that completes their studies. Meanwhile, Xiamen RTVU and trade unions will also provide subsidies based on student-workers' present situations. The subsidies relieve their tuition burden, and inspire enthusiasm for learning.
Adopting open teaching
According to Cao Xiaoyun, the deputy director of Xiamen RTVU's Open Education Department, more than 1,000 qualified workers applied to the college. The university will adopt an open teaching model, and use an "online+offline" learning model. Besides daily instruction via online videos, workers can make use of weekend and evening face-to-face learning with tutors.
Lin Rongjie, a worker at Wucun Street Division, applied for a college degree in Social Management. He had graduated just over a year ago, and wanted to learn more professional knowledge related to his position. The programme catered to his needs perfectly. "I graduated from Xiamen City University, with a major in Animation Design. Now, I am majoring in Social Management. I hope this additional skill will increase my capacity, and chances. Besides, I only have to spend half of the normal tuition, saving me a huge amount of money."
Ms. Tan has been working as a purchaser in Lida Xinguang Electronics Ltd for six years. She is also mother to a two year-old. She received only a secondary vocational degree, and so she is now applying to study human resources at the junior college level. "I found the subsidies beneficial in that they allow me to study in my spare time."
By Jiang Haiping, Xiamen Daily