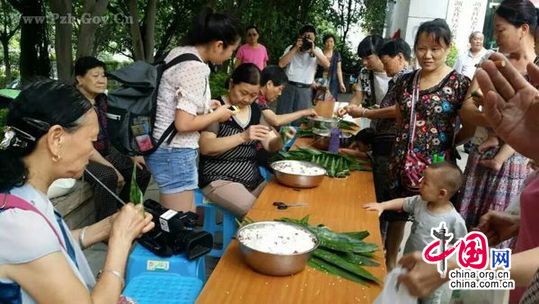 To promote a happy, harmonious, and civilized festival atmosphere, and to fully explore the profoundness of the Chinese Dragon Boat Festival, Panzhihua Radio and TV University held a "Hundred-Family" gourmet cooking exchange activity in its Huguang Community Study Centre on June 3rd, 2016.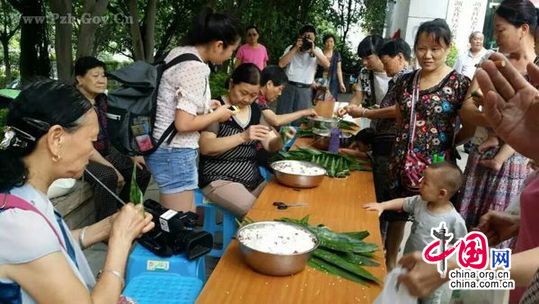 The activity was composed of three parts: "Dragon Boat Art Show", "Zongzi Wrapping Contest", and "Hundred-Family Banquet" cooking exchange. These activities enabled the local residents to learn about the origins and legends associated with the Dragon Boat Festival and feel the patriotic spirit of the famous poet Qu Yuan, as well as guide them in appreciating the majestic culture embodied by Chinese traditional festivals. The Zongzi and dumpling wrapping contests were so exiting that they were marked by spontaneous bursts of applause from the audience. Residents, volunteers, and network learners each cooked one or two special dishes to present in the "Hundred-Banquet" exhibition, attracting lots of residents interested in tasting the various dishes on site, making the activity not only an exchange of cooking skills but also a representation of happy life.
The activity encouraged a community spirit among residents and helped them to understand and love traditional Chinese festivals so as to celebrate such significant holidays, creating a civilized, progressive, and harmonious atmosphere promoting neighborly and harmonious communities.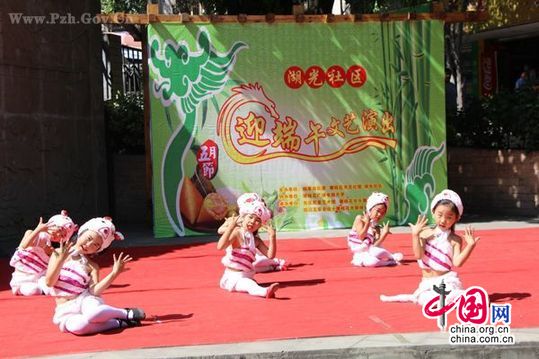 By Yuan Xiao, Yan Jingzhen, www.china.org.cn