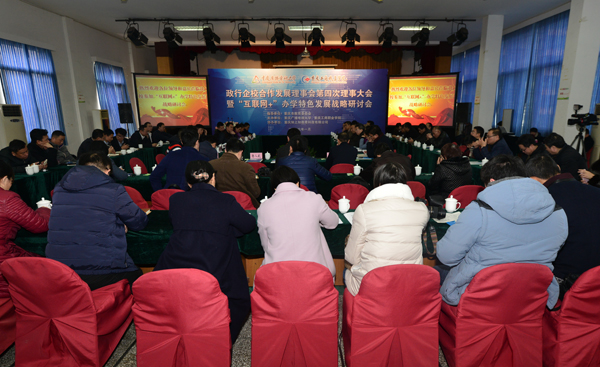 On January 15, 2016, Chongqing Radio and TV University (Chongqing RTVU) held the 4th Politics, Administration, Enterprise, and University Cooperation Development Council Conference & Development Strategy Seminar on School Running with "Internet+" Features. Many industry elites were invited to discuss how to run schools with "Internet+" features.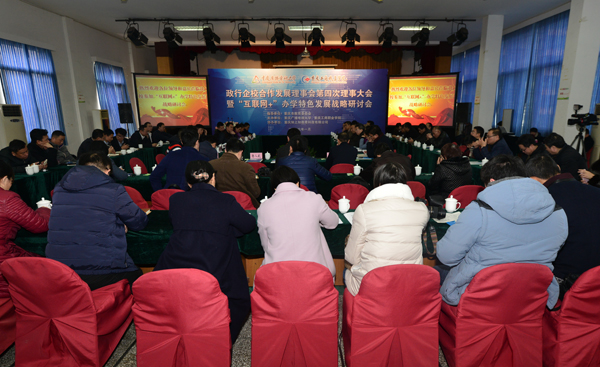 The elites put forward their suggestions on how to summarize "Internet+" educational features, how to explore the "integrated and diversified" school system, and how to realize the integration of "distance education" and "vocational education". 
According to Deputy Director of Chongqing Economic and Digitization Committee Ju Yan, as regards Internet utilization, we must have the courage to make breakthroughs in ourselves, reform the system, and put ourselves in the counterpart position. He argued that for "Internet+" education, we should pay more attention to learner development, reforms in "Internet+" teaching methods, and the collection of excellent resources and money. 
President and Chief Editor of Hualong Group Website Li Chunyan talked about the Internet platform, pointing out that Chongqing RTVU has good Internet support, broad education value, as well as the practical education diploma platform. These factors have laid a good foundation for school management integrating "Internet+" features. She also proposed new interpretations on "Internet+"-based business model innovation, rural online education, and social public welfare. 
Director of Open Education Southwest region Ding Xuesong hoped that both sides could make a breakthrough in system and mechanism innovation; explore a learning type cooperation model among politics, administration, enterprises, and universities; and build up discipline groups with "Internet+" features.
The participants discussed how the universities can cultivate learners by leveraging "Internet+" education to promote strategic transformation during the 13th "Five-Year Plan". 
The university plans to proceed with supply reform in the way of "Internet+" thinking and make innovations in education service, product contents and forms; explore and lead changes in education on the demand side; strengthen the competitiveness of learner development, and make improvements in school running that add value. 
Deputy General Manager of Chongqing Unicom Wang Jiangli discussed the direction and trend of "Internet+", explaining that in the era of "Internet+" education, we should learn to make use of the advantages of "Internet+", and advantages in capital, technology, and other means to spur development and achieve win-win results. 
Deputy General Manager of Beijing FIFEducation (For Ideal Future) Chen Hongbin focused on online and offline learning, online education platform, innovation and entrepreneurship, as well as cooperation in running schools. In view of the "Internet+" school running features and the advantage of enterprises, the company expressed its intent to cooperate with the university. 
Director of Chongqing RTVU Development Planning Division Nan Xuguang said that the university sees implementation of "Internet+" school running features as one of the three major strategic tasks, hoping to make "Internet+" become the impetus for promoting reform and innovation in education and teaching; striving to make innovations in the school running system and mechanism; exploring new modes of school running; responding to demands in this era for cultivating learners with professional core abilities, modern business abilities, network application abilities, and training high quality talent with a strong innovative and entrepreneurial spirit. The university will abide by the rule of "Internet+" and promote the ability and level of each education supply link, such as professional curriculum setting, faculty construction, internship and practical training conditions, university-enterprise cooperation relationship building, and quality guarantee of learner development; promote the digital, intelligent, online, virtualized, and coordinated level of vocational education products and services. 
Director of Chongqing Division of Higher Education of Municipal Department of Education Jiang Houqiang said that the aim of education is to cultivate talent. With the increasingly rapid development of Internet technology, he said that we need to have a careful study on "Internet+" products, so as to enable "Internet+" to better serve education. 
About 50 people attended the conference, including President of Yesky Li Zhigao, General Manager of Jiulongpo branch of China Mobile Yang Yi, General Manager of Nanjing Electronics 55 Institute Yu Yunfeng, Assistant to General Manager of Chongqing branch of Tencent He Qiao, and heads from relevant government functional departments in Jiulongpo District and Dadukou District.
Party Secretary of Chongqing RTVU Guo Qing elaborated on the school development strategy. President of Chongqing RTVU Li Guo delivered a working report to the 2015 Politics, Administration, Enterprise, and University Cooperation Development Council.
 By Chongqing RTVU