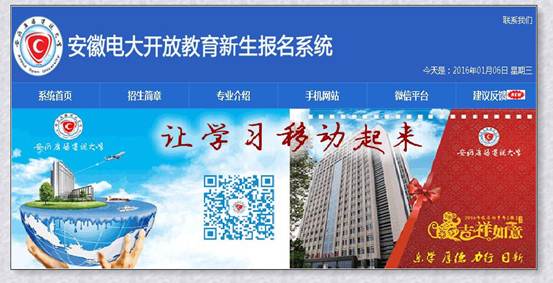 Anhui Radio and Television University (Anhui RTVU) kicked off its Spring 2016 open education enrollment a few days ago. Spring enrollment for open education, taking place on Anhui RTVU's online registration system located at http://bm.ahtvu.ah.cn, will remain open until March 10.Registration is open to all applicants across the province and around the clock, with Anhui RTVU providing comprehensive recruitment services throughout the entire process.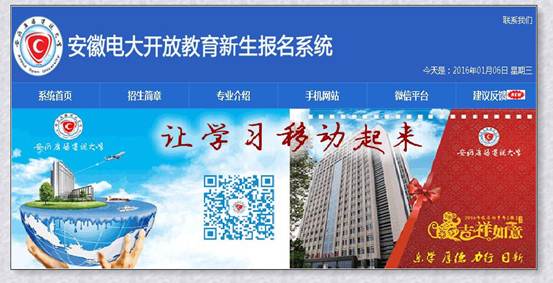 Anhui RTVU piloted its online registration system during enrollment at the provincial RTVU Open Education School in the autumn of 2014 and at 12 branches in the spring of 2015. Online enrollment extended to 18 branches across the province in the autumn of 2015. The excellent results mean learners from across Anhui Province can conveniently enroll in a local open education programme close to their work or home.
Autumn 2015 admissions tested the online registration system, delivering satisfactory results. During the six months between March and September 2015, visits to the system's homepage grew to more than 60,000, with 1,600 users registering via the system. More than 700 people were officially admitted to the OUC, with online registration and admission numbers in Hefei, Bengbu, Suzhou, Bozhou, Huangshan, Chizhou, and the provincial RTVU Open Education School ranking at the top. The system earned praise from the majority of students and enrollment management staff.
During Spring 2016 enrollment, more than 30 junior college programmes,including finance, law, and primary school education, will open to individuals across the province with educational degrees of or above senior high school, vocational high school, technical secondary school, and technical school. More than 20 undergraduate programmes, including finance, law, and social work, will open to individuals with senior junior college diplomas(including junior college diplomas) or above, as long as those degrees are in the same or a similar series of majors and are earned through the national education system. In addition, Spring 2016 enrollment also includes the "Assistance Plan" for industrial workers and the "One College Student Per Village Programme" for rural areas.
During enrollment, students across the province can not only visit their local RTVU for admissions consultation and registration, which enhance open education conveniences by allowing learning at "anytime, anywhere, and by anyone," but also complete one-stop online registration through their province's affiliated open education online registration system.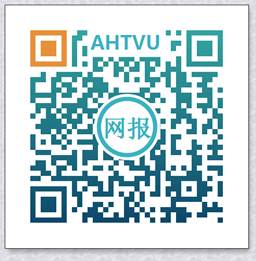 The QR code for Anhui RTVU's online registration system -Scan it with your mobile phone to begin a new learning journey!
By Li Ru, Anhui RTVU