Recently, the OUC Publishing House has joined hands with the British publishing company Routledge in making a simultaneous global recommendation for Sir John Daniel's new book Mega-Schools, Technology and Teachers: Achieving Education for All.
Sir John shows us in this book how to use distance education to popularise and expand school education to achieve education for all, shares with
readers the practice, experience and lessons in advancing education for all by way of distance education all over the world, and makes an analysis of the potential value and significance of distance education from the perspective of making the school education universal and popular.
Nearly one third of the book focuses on introducing readers to case studies of innovatory educational systems and modes with modern information technology and distance education from all over the world. Readers can review every corner of the world with Sir John Daniel, learning and examining the practices of educational reform and innovation in different countries, to share valuable successful experiences and to learn lessons on what works and what does not.
On the occasion of the promulgation of the National Outline for Long- and Mid-term Educational Reform and Development (2010-2020), the contents of Sir John's book coincides with the idea of the Outline in promoting urban-rural education integration and realising a balanced educational development.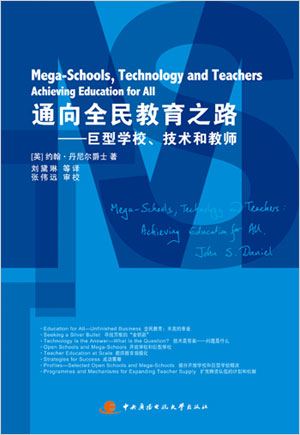 Introduction to the Writer:
The writer, Sir John Daniel, is a well-known expert in the field of international distance education. He successively obtained Bachelor's Degree in Metallurgy at Oxford University; Doctor's Degree in Metallurgy and degree in Educational Technology at Paris University. He had worked as Assistant Director-General for Education of UNESCO (United Nations Educational, Scientific and Cultural Organisation). He is an outstanding leader, policy maker, and administrative head in the Western society of higher education, as well as a practitioner and theoretical researcher in the international open and distance education. He had worked for the Canadian society of higher education for a long time. He acted successively as Vice-President of Athabasca University, Vice-rector of Concordia University, President of Laurentian University of Canada, President of International Council for Distance Education, Vice-Chancellor with full-time executive responsibility of the Open University of UK, President of the Commonwealth of Learning. He was knighted the honorary title Sir John Daniel by the Queen of UK in 1994.
Book Review from the World Bank:

The global movement towards Education For All has put initiatives seeking to provide all children with access to a quality education higher on the agenda in more countries than ever before. But what do we do when quality doesn't scale quickly or inexpensively enough to meet the exploding demands for education in many developing countries? In seeking to provide answers to this vexing question, Sir John Daniel challenges some of the conventional wisdom and approaches about what doesn't work in education—and what does. In many places, conventional classroom-centric models of education don't work very well, especially for poor students in poor countries—and even where they do, they often can't be successfully scaled up or adapted to the particular needs of teachers and students. Technology can play a key role here, he argues, but only where we are willing to abandon 'business as usual' and consider educational opportunities beyond those offered through conventional formal schooling. 'Mega-Schools, Technology and Teachers' is recommended reading for those looking to separate the hope from the hype about the real potential benefits of the cost-effective application of information and communication technologies to some of the seemingly intractable challenges facing many of our education systems around the world.
— The World Bank