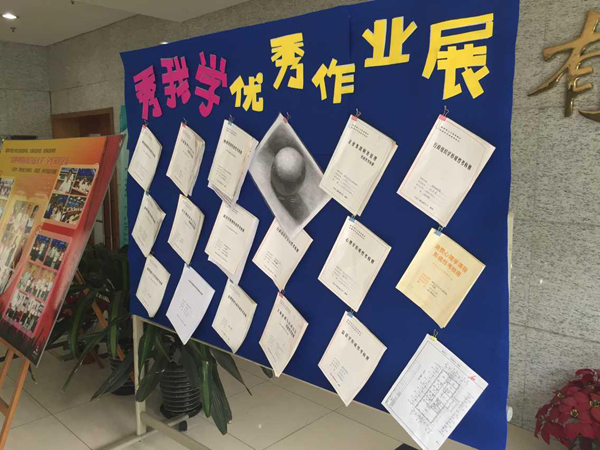 In order to stimulate students' enthusiasm for learning, create a sound learning atmosphere, form good personal learning habits, demonstrate online and offline learning, trace periodic achievements, and set up both a typical and exemplary model, the Open University of China's (OUC) Beijing Experimental School held an activity series entitled, "2015 Show My Works". The topic of this activity is "Post My Homework," showcasing students' excellent homework.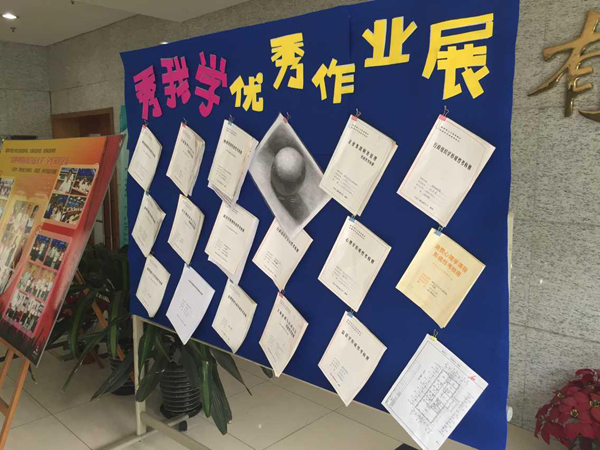 Both paper assignments and online homework were selected for exhibition. Some works were self-recommended by the students and some by head teachers or subject teachers. Among the works, the number of paper assignments from each course was limited to 2-5 pieces. For these works, neat writing and formatting were required, and the average score could be no less than 85 points. The online homework included assignments from the OUC online learning network and learning activities. For these works, minimum requirements included no less than 10 logins, 10 hours on the site, five effective posts, and an average score of 85 points.
Selection for the show was a two-part process. The first phase of selection took place from July 10th-20th, while the second phase was scheduled for  teachers' training during the new semester and the opening ceremony for incoming freshmen. The students' excellent works will be publicly displayed in various formats: posted on campus corridor walls, an exhibition board, the OUC Experimental School's public WeChat platform, iPads, and laptops. To date, 27 paper assignments have been highlighted and online works from both the Private Wealth Management and English I courses were displayed during the first phase.
This activity is an effective means to engage students in the course learning process, develop positive learning behavior, and allow for formative assessments. Through comparing learning achievements, the overall learning atmosphere has been intensified. This not only promotes the creation of a sound learning atmosphere, but also strengthens the OUC's monitoring and supervision of students' quality of learning, effectively promoting the creation of a campus culture at the Experimental School.
                                                                          By Wang Guan, Beijing Experimental School