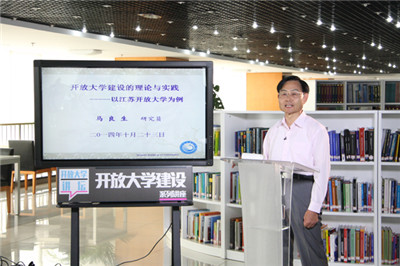 On October 23, 2014, the OUC's "Open University Forum: Open University Construction" lecture series was officially launched, with the first lecture given by former vice president of Jiangsu Open University Researcher Ma Liangsheng. Vice Party Secretary of the OUC Zhang Hui hosted and addressed the event.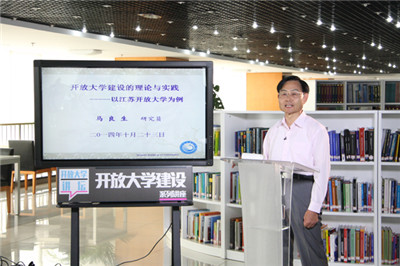 With the topic of "The Theory and Practice of Open University Construction", Ma Liangsheng focused on the two questions of why it is necessary to construct an open university, and how to construct an open university from three aspects, including "realizing the government's target projects", "learning from  international experience" and "building Jiangsu Open University". At the same time, he started a theoretical discussion of what kind of open university should be constructed. The lecture introduced the results obtained in the construction of Jiangsu Open University so far, such as the construction background, government focus, the construction scheme, the preparation of conditions, construction targets, construction progress, official approval, formal establishment, system construction and real-time operation. At the end of the lecture, Ma Liangsheng interacted with the audience. 
In order to explore the theory, model and considerations surrounding the construction of open universities under the new development environment and share practical experience, the series of lectures will invite leaders and policy makers from throughout the OUC system to give lectures on more than 10 topics, such as theory and practice, top-level design, teaching models, dislocation development, quality, resource construction, internationalism, the school system, special education and scientific research. The lecture recordings will be uploaded to the "Open University Forum" column on the OUC library website. 
The second event of the series will invite the president of Tianjin Branch Feng Xuefei to give a lecture on the topic "Open University Construction: Problems and Considerations on Top-Level Design" on October 30. 
Since 2008, the "Open University Forum" has organized 86 lectures and has become an important platform and channel for communicating and broadcasting knowledge. The online videos provided after the lectures have finished have also become an important way for universities to provide information services to teachers and students, which has attracted attention throughout the system. 
By Qi Wei, the OUC