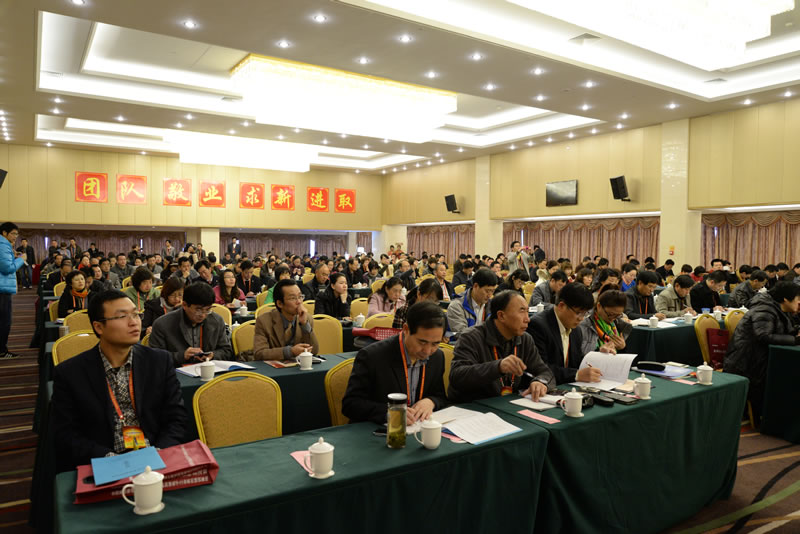 The practice training meeting for community education sponsored by MOE Research & Training Centre for Community Education was held in Meishan,
 of Quanzhou city in Fujian province, from the 20th to the 23rd of December 2013. Vice President of the OUC Zhang Shaogang, President of Fujian RTVU Ye Wenhua, Vice President
of Fujian RTVU Shen Guanghui, and Member of the Standing Committee of Fujian Provincial People's Congress and Vice President of Fujian Institute of Socialism Chen Yi'an, all attended the meeting.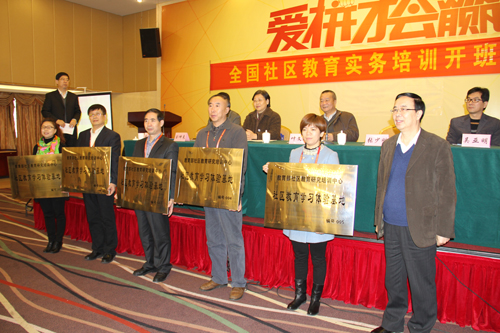 Vice President of the OUC Zhang Shaogang authorizing the first experiential learning base for national community education

Zhang Shaogang delivered the keynote speech entitled "Creative Design in Experiential Learning of i-Test Community Education". He asserted that large improvements in social development are marked by the change from a commodity economy to a service economy and then to an experiential economy. During the great changes that come with the vigorous development of community education in towns and counties, we should understand how important these advancements in creative learning and experiential learning are, and open our minds to promote this teaching model of community education, opening up new frontiers.  
He pointed out that experiential instructional design should replace the external input teaching method, which mainly focuses on knowledge transmission according to traditional teaching methods, and to adopt teaching methods based on stimulating the learners' minds to create new learning pathways, on internal learning experience to acquiring new knowledge, and emphasizing learners' initiative, their personal learning process, learning about the application and practicality of education and having clear objectives. He also clearly enumerated the benefits of the i-Test teaching model, in which families in a community are considered as units. He also went on to explain the i-Test's ideological content, meaning, effect, the construction and development progress of the i-Test teaching model, and the project design and characteristics of the i-Test area. He emphasized that community education could help to replace the old parochial education which was available only on campus and in classes. Through the combination of multiple education methods and emphasizing the full interaction of the family, students, parents, and teachers, an education system that fully integrates family, school, and society can be achieved.  
Shen Guanghui thoroughly elaborated the creative development process behind this community education model as it relates to such aspects as idea innovation, teaching content innovation, innovation in ways and means, innovation in carrier and platform, and characteristic innovation. Chen Yi'an introduced the lifelong education legislation and the current state of its implementation and features unique to its creative development in Fujian province in the report "Only By Depending on Lifelong Learning Could Humans March toward the Bright Future". Professor Liu Bokui of the Jiading branch campus of Shanghai Open University gave special lectures focusing on the three aspects of: "Practical Working Ability Requirements and Training for Education Staff in Grassroots Communities", "How to Set Educational Projects in Local Communities", and "Structure Design for Educational Projects in Local Communities"; which helped to broaden the mental scope of the education staffs' minds. The Meishan Experimental College of Fujian RTVU shared experience and progress obtained from the experimental project design for community education centred on the base construction for experiential learning of "Creative Design". 
The meeting also included a ceremony for the inauguration of the experiential learning base for the first national community education programme. Zhang Shaogang awarded the certificate to Zhongguancun Insititute of Beijing, Qingtao Community University, Rizhao RTVU, Qiqihar RTVU, and the Meishan Experimental College of Fujian RTVU.
Representatives also visited an exhibition of award-winning artistic tea sets designed for the 2013 "Tea Art Cup" national design competition, and of that of Chinese Universities and Colleges Design Competition, Rongzhong Village cultural exhibition hall, and the tea art exhibition hall of the aristocracy. They also conducted on-the-spot investigations of "Creative Design Experiential Museum", Century Village—Chinese Rural Alibaba, and "Fujian Cuisine Experiential Base", and went all the way to Xiamen to learn from the advanced experience in community education of the national community education model district at Siming District, Xiamen City, to observe the community centre of Lianqian residential district of Siming district, the care centre of Qianpunan community, neighborhood committee of Qianpubei community, and the public school in Binghai public district. 
More than 230 representatives from 22 provinces (cities), and 120 entities including national community education experiment districts, model districts, education bureaus all over the country, radio and TV universities (open universities), experimental centres of community education, experiential learning bases, community schools, workstations, and grassroots communities in Nan'an city of Fujian province took part in the training meeting.
By Meng Jia, MOE Research & Training Centre for Community Education