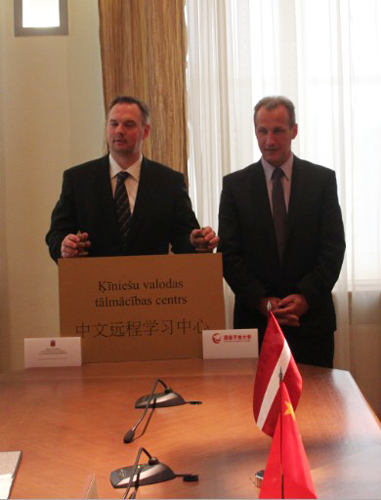 On May 28, 2013, leaders from the OUC and Riga City Council's Education, Culture and Sports Department signed a cooperation agreement at Riga City Hall.
 The two sides also attended the unveiling of the first Chinese distance learning center in the Baltic region, of which they are co-founders. Riga City Executive Juris Radzevičs gave a speech at the ceremony.
According to the agreement, the two sides will cooperate on Chinese distance learning for adults and teenagers, based on the newly built Chinese distance learning center and the OUC's MyEChinese distance teaching platform, course resources and cloud classroom. In addition, the OUC will provide practical opportunities and work-study programmes for overseas students, in order to better combine language teaching with cultural experiences. The agreement also states that the two sides should make full use of the new Chinese distance learning center to promote cooperation projects with other Baltic and Nordic countries. Finally, the agreement calls for cooperation in the areas of teacher training, ICT for educational application, community education, and cultural exchanges.
One of the three Baltic states, Latvia is home to rich cultural and tourism resources. Riga, which lies on the Gulf of Riga, is the capital city and major political, economic and cultural centre of Latvia. It is also one of Beijing's "friendship cities". The role of the Riga City Council's Education, Culture and Sports Department is to implement policies in the fields of education, culture and sport and monitor the operations of educational, cultural, sports and leisure institutions under the jurisdiction of the Riga City Council.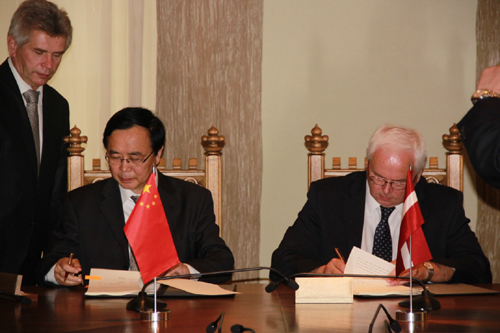 Zhang Shaogang, deputy secretary of the OUC Party Committee, signs an agreement with Guntis Helmanis, director of Riga City Council's Education, Culture and Sports Department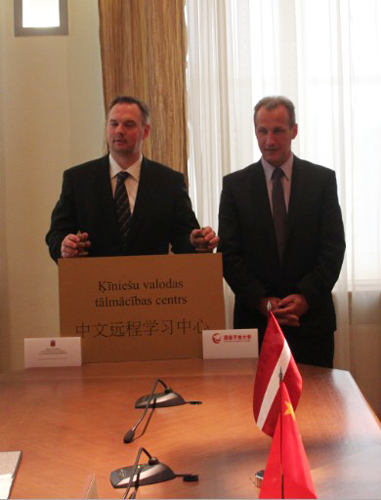 Riga City Executive Juris Radzevičs (left) gives a speech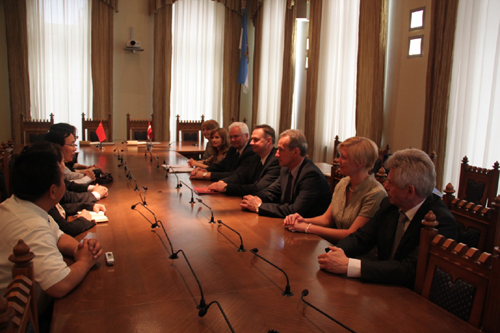 Riga City Executive Juris Radzevičs (fourth from right) gives a welcome speech to the OUC delegates
The two sides at the unveiling