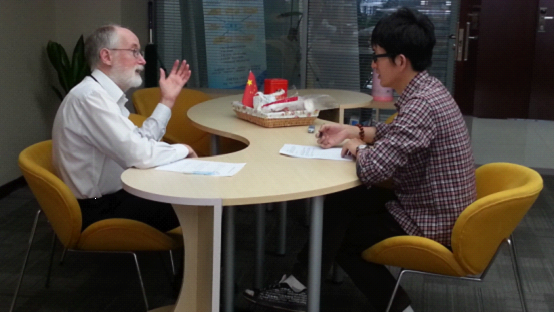 With the rapid development of online learning in China, online learning practitioners are having to acquire a wider range of skills and qualities. The Open University, UK (OUUK),
 a partner in the "Training for Online Learning Practitioners" project, sent Dr. Martin Smith to the Open University of China (OUC) for one month to help reform the project's courses. Our reporter was honored to have the opportunity to interview Dr. Smith.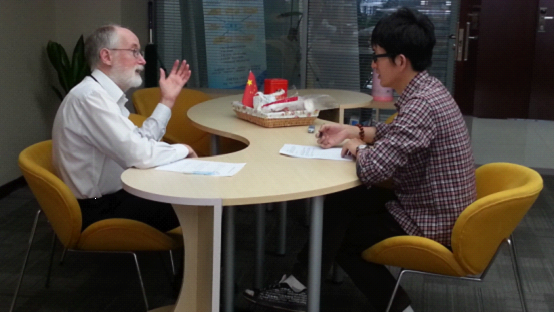 Reporter:
The OUC and the OUUK have a long history of cooperation. What do you believe is the biggest difference between the two universities?
Martin Smith:
First of all, I have to acknowledge that your university uploads many more courses to your online platform every semester than we do, and that you have a large quantity of study guides and plans. It is safe to say that you possess a solid basis of high-quality online teaching resources.
There are a number of differences between the online courses. The most striking difference is that your students don't like to ask online tutors for help. In Britain, our students are more likely to seek help from online tutors. The online tutors can provide useful suggestions and guidance about what and how to learn. I think this is a very big difference.   
Reporter:
I'm sure you are aware that the Chinese government is a big advocate of a learning-oriented society and lifelong learning. How do you view the future of the OUC?
Martin Smith:
Your students should have the same qualities as those who attend conventional universities. However, many have stronger motivation to learn, so they are able to better allocate time and study even harder. Open universities should provide them with the opportunity to give full play to this quality so that they can get a degree and find a better job.
Our university has carried out a great deal of well-received research in many fields, particularly in special education and online learning, and as a result has attained a high degree of social acceptance. Although at present the OUC does not enjoy the same level of social acceptance, I believe that in the coming years your graduates will be just as sought after as those from well-known universities. This is where our university was 40 years ago. 
Reporter:
We are living in an age characterized by leisure, study and a mobile lifestyle. People are used to using mobile phones and iPad in their everyday lives. How do you view mobile learning against this backdrop?
Martin Smith:
It depends on the ways you use portable devices and the things you learn from them. I don't think most users use their devices to search for specific content; rather, they just browse the things that interest them. If you want to provide detailed information, you have to add a hyperlink. Learners today have a limited attention span, so three minute "mini-lectures" work well. Many courses still need to be re-developed in light of these changes.
Reporter:
Many of the courses offered by your university attract large numbers of people. As an expert in the field of mobile learning, do you have any advice for our online learning tutors?
Martin Smith:
We are using learning resources to encourage imagination among online tutors, so as to create more and better learning activities. These courses should teach tutors how to stimulate and maintain the learner's interest. As you know, learners no longer want to sit through tedious video courses, so mini-lectures have emerged in response to their specific needs. In addition, these mini-lectures should include unique content, such as discussions about current affairs between tutors and learners.
Online teaching is naturally different from face-to-face teaching, so we introduced a three-week online course that includes how to maintain students' learning interest and how to promote cooperation between tutors and students. In this way, tutors can get to know the characteristics of online teaching and the aspects where they can improve. Online learners also need to adapt their learning style.
Online learning is an unusual way to learn. Students can study online and access feedback on learning results, then communicate with the necessary tutors to help them master difficult elements. At our university, we also provide materials for tutors and students to help them better understand each other and successfully complete the necessary teaching and learning process.  
A Profile of Martin Smith
Martin joined the OUUK in 2001 after 10 years at the University of Huddersfield where he was the Director for Higher National Studies in the School of Computing and Mathematics. Prior to this he had taught at all levels of the UK education system. At the OUUK he was a Staff Tutor responsible for the academic management of all of the Associate Lecturers delivering Maths and Computing modules in the South East of Britain. In addition, he was both a chair and a member of teams working on the development of new modules and modules in presentation.
In 2009 he moved to the Institute of Educational Technology (IET) and is now the Programme Director (Teaching) in IET responsible for the MA Online and Distance Education suite of modules. His most recent research has been on eBooks and mobile learning with a particular focus on how academic staff embed new tools and approaches into their own practice. He also advises and supports other faculties within the university in the use of asynchronous and synchronous tools for learning and student support.