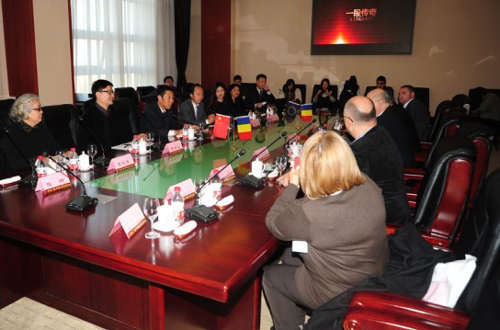 On November 6, 2012, an economic and trade delegation led by Radu Zaharia, general director of the Trade and International Relations, Romanian Ministry of Economy, Trade and Business
Environment, visited the Open University of China's (OUC) conference center. The delegation was accompanied by Augustin Iosifescu
, economic minister counselor to the Romanian Embassy in China. Liu Chen, assistant president of the OUC, received the delegates.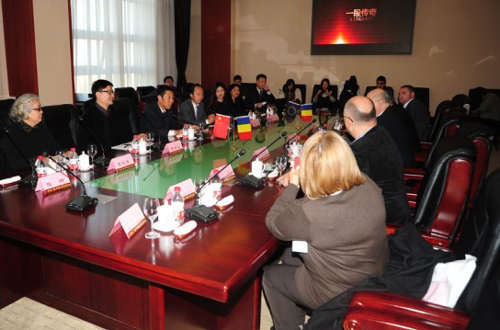 Professor Liu Chen said that Romanian Cultural Experience based in the OUC's conference center has become an important platform for cultural, economic and trade exchange between the two countries. He added that the OUC would cooperate with Romanian organizations and departments to develop a sommelier training programme and that the project manager on the Chinese side would be sent to Romania next year for further training and introduction to related resources. The project is expected to deepen the cooperation between China and Romania in the fields of continuing education and vocational training.

Radu Zaharia said that the new Romanian government attaches a great deal of importance to exchange and cooperation with China in the fields of culture, trade, economy and education. Furthermore, he extended a sincere welcome to the OUC project manager, inviting her to visit Romania and observe the sommelier training process, and explore other potential opportunities for cooperation between the two countries.

The two sides agreed that the cooperation would promote the development of vocational and application-based training at the OUC, helping the university to realize its potential as a provider of lifelong education services. In addition, the introduction to wine culture provided by the Romanian Cultural Experience has built a firm foundation for the formation of an industrial park focused on regional wine culture.
By Chen Na, the OUC