On 8 July 2021, Professor Shahbaz Khan, the new Resident Representative in the Beijing office of the United Nations Educational, Scientific and Cultural Organization (UNESCO) in China, visited the Open University of China (OUC) with his delegation. Professor Khan gave high praise to the OUC's achievements in using information technology to continue offering equitable access to education during Covid-19. On 21 July, Professor Khan wrote to Jing Degang, secretary of the OUC Party Committee and OUC president, to reiterate his position.
Professor Khan noted in his letter that UNESCO has a broad mandate in higher education, and that education is at the heart of its mission to build peace, eradicate poverty, and drive sustainable development. As a new type of university, under Jing Degang's strong leadership, the OUC has provided millions of students access to higher education, enhancing social equity, and contributing Chinese strength and wisdom to promoting UN 2030 SDGs.
Professor Khan also expressed appreciation of the OUC's positive response to UNESCO's "Disrupted Classes, Undisrupted Learning" initiative during Covid-19, providing numerous learning resources for free to organisations in need. He gave special emphasis to the awarding of the 2020 UNESCO King Hamad Bin Isa Al-Khalifa Prize for the Use of Information and Communication Technologies in Education to the OUC for its "One College Student Per Village" programme, selected out of about 100 other projects, and demonstrating the OUC's commitment to providing distance education to young Chinese via digital technologies.
Professor Khan also reviewed the productive results of the cooperation of the two sides under the MOUs they signed last year. He expressed appreciation of the support of OUC leadership, and the hope that, under the guidance of Jing Degang, in-depth dialogue and collaboration would continue, with open and distance learning enhanced, and joint organization of an international conference of presidents of Open Universities, among other events, to look forward to.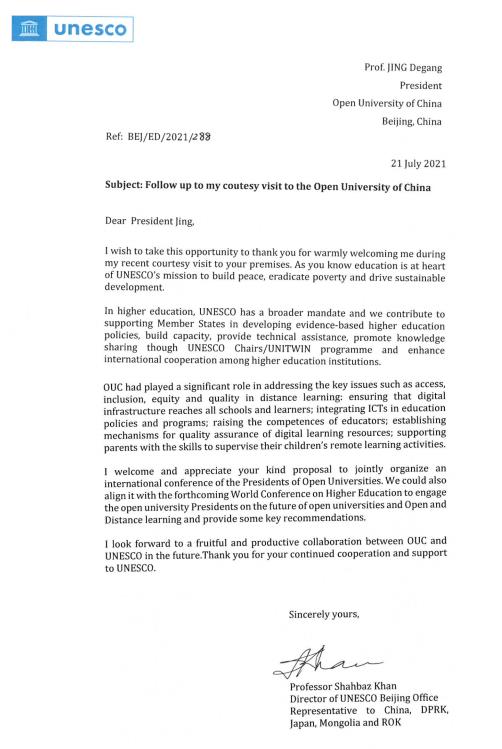 By OUC