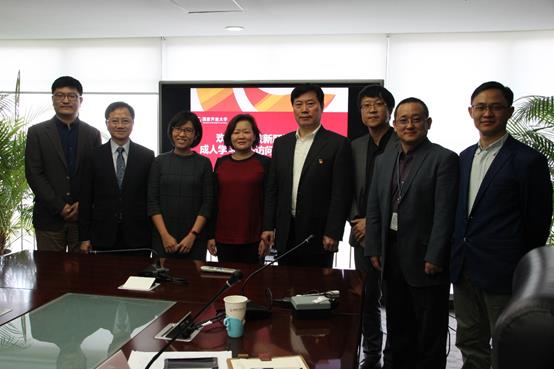 On 22 April 2019, a delegation from Singapore University of Social Sciences (SUSS) visited the Open University of China (OUC).
The three-person delegation included Professor Li Rongan, executive director of the Adult Learning School, Ms. Shen Suqing, head of the Research and Innovation Department, and Ms. Lu Xiuxin, executive manager of the Research and Innovation Department. The OUC hosted the delegation and relevant personnel attended the reception, including Liu Jingduo and Gu Xiaohua, director and deputy director of the Faculty of Political Science and Law, Chen Haishan and Shi Yunzhi, director and deputy director of the OUC International Cooperation and Exchange Department, and Wang Xiangxu, deputy head of the International and Comparative Research Centre of the OUC Education Research Institute. The reception activity was presided over by Shi Yunzhi.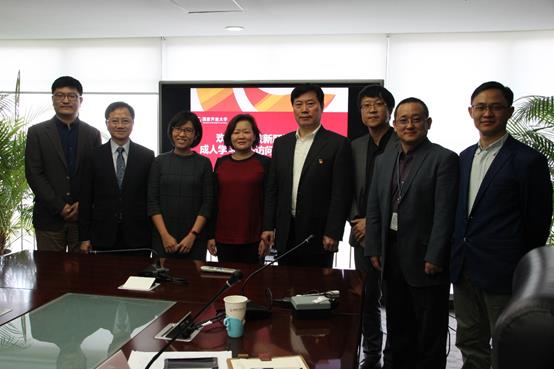 The delegation visited the super cloud classroom and learnt about its functional design and operational model. They spoke highly of the OUC's in-depth integration of information technology and teaching.
Following the reception, a meeting was held. Liu Jingduo and Chen Haishan gave a warm welcome to the delegation. Both sides introduced the operating status of their university and it was discovered that both sides were well matched in terms of "lifelong education" and "promoting a learning-oriented society." It is expected that the two universities will promote cooperation in the fields of academic research, course development, scholar exchange, jointly sponsoring international conferences, and joint publishing.
The two sides agreed to sum up what had been discussed in the meeting and follow up specific cooperative projects according to the feedback from university leaders from both sides, as well as to positively promote the signing of inter-university MOUs in the near future.
SUSS is one of the research universities in the key research project of the OUC's 13th Five-Year Plan World Open Universities Case Study Series. Professor Li Rongan offered constructive advice on the books and said that no effort would be spared to support the completion of the manuscripts.
By Tian Yuan, OUC