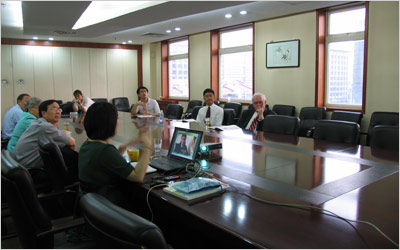 On May 22, 2010, Vice President Zhang Shaogang of the Open University of China received the President of the International Council for Open and Distance Education (ICDE) and President of Athabasca University Dr. Frits Pannekoek, in the Chinese Language Center. The two sides discussed broadly and deeply on how to promote international exchange and cooperation with respect to teaching Chinese as a foreign language. The Director of the International Cooperation and Exchange Division, Li Yawan and the Director of the Multimedia Press, Liang Xiaoqing, also attended the meeting.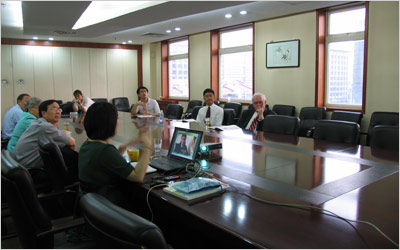 At the beginning, the representative of the Chinese Language Center presented the developing situation of the course resources at the Chinese Language Centre to Professor Pannekoek and showed him the teaching/learning platform and the multimedia courseware. Professor Pannekoek was deeply impressed by the excellent work of the center. He then introduced the desire for teaching Chinese in his home country Canada. He thought that teaching Chinese in high schools and in universities in Canada had considerable potential. He also explained that in some industries of Canada, especially in the Chinese media industry, there was a great demand for talented professionals with good Chinese language skills. If the two sides could cooperate in this field, the future would be much improved. Professor Pannekoek then indicated that he would do some market research after he returned to Canada, and he would then be in a better position to discuss the specifics for future cooperation on this topic with the OUC.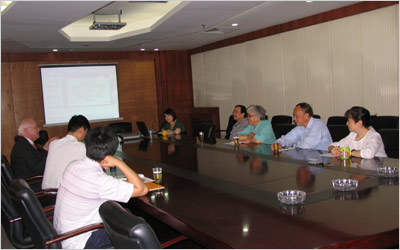 Vice president Zhang Shaogang hoped that as an international organization of distance education, ICDE could use broad international channels to build networks for the members and promote exchanges among them. These could include scholar exchange programmes between ICDE members to share the teaching resources of good quality, promote academic exchange and strengthen cooperation and communication. Professor Pannekoek endorsed the ideas proposed by Vice President Zhang. Vice President Zhang Shaogang concluded that this meeting was not only helpful for building cooperation between Athabasca University and the OUC, but also helpful for building international cooperation globally through promoting the Chinese teaching programmes of the OUC.
The OUC and ICDE have always enjoyed a very good relationship. Since the OUC joined the ICDE in 1995, it has participated in ICDE activities proactively and sent delegations to participate in the ICDE international educational conferences every year.