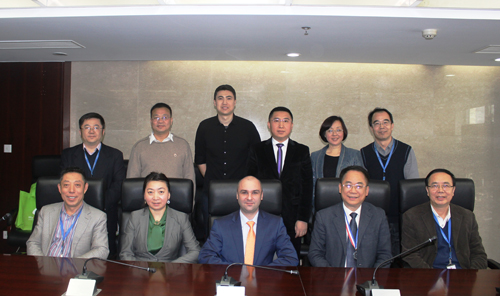 On the afternoon of February 26, 2016, in the company of Chairman of Russia-China Cultural Education Development Foundation Cui Shan and the delegation, Vice President of Lomonosov Moscow State University Yuri Mazei visited the Open University of China (OUC).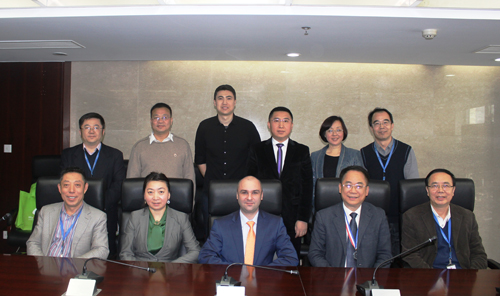 The OUC President Yang Zhijian, Vice President Zhang Shaogang, Liu Chen, General Manager of the OUC Publishing and Media Group, and President of China Central Radio and Television University Press Yang Xiaotang attended the reception. 
Lomonosov Moscow State University Vice President Yuri Mazei visited the history exhibition entitled"Deep Integration of Information Technology and Education-- From Radio and Television University to the Open University of China"; Learner Support Centre (Student Affairs Department); library; and Chinese Language Centre. He also discussed"school cooperation" with the leaders of the OUC. 
Throughout his visit, he gave high praise to the OUC's large scale of enrollment, the application of advanced education technology in teaching, and the sound infrastructure. He hoped that both sides could carry out extensive cooperation in holding international distance education conferences, developing a Russian language curriculum, enrollment, and multimedia education products. 
Yang Zhijian expressed his endorsement of the cooperation proposal put forward by Moscow State University. Yang pointed out that Russia and China have a long established friendly relationship and have exerted a profound cultural influence on each other. By utilizing China's "Russian Culture Complex", both sides could jointly create a batch of "short but compact" micro-courses on the Russian language and culture. Yang added that the first step indeepening the specific cooperation projects is to first decide on a clear direction for cooperation. In the future, the National e-learning Resource Centre can also join in the joint cooperation programme. He emphasized that 2016-2017 is a year of media communication between China and Russia, and he would like to see both countries cooperate in all aspects, especially in promoting cultural exchange and cooperation between China and Russia in the field of humanities. 
Zhang Shaogang said that at the end of 2015 he attended the top-level Sino-Russian education forum held by the Ministry of Education on behalf of the OUC. Following the last forum, this visit paid by Vice President Yuri Mazei is an important step in further advancing cultural education exchanges between China and Russia. In the future, both sides could consider recognizing culture and language micro courses asaccredited courses. While improving their cultural knowledge, the students could also accumulate credits through the credit bank, obtain a "micro-courses"certificate  or even apply these credits toward a degree, so as to expand the attraction of such "micro-courses" and broaden the depth and scope of bilateral cooperation. 
By Chen Haishan, OUC