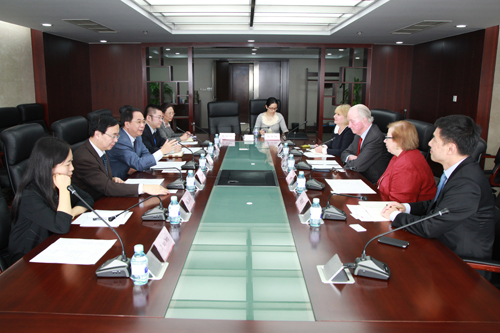 On the 22nd of October, 2013, the Open University of China (OUC) signed a cooperative letter of intent with the Academic Partnership International (API) in London.
 The signing ceremony was attended by the President of the OUC, Yang Zhijian, Vice President of the OUC, Zhang Shaogang, the Dean of the OUC School of Agroforestry and Medicine,
Guo Xiaoxia, the Chairman of the API, Sir David Newbigging, and Associate Dean of the USA's University of Texas Arlington,  Professor Mary Elizabeth Mancini. Yang Yongbo, Director of the OUC International Cooperation and Exchange Department, signed a letter of intent with Terrance Kwok Yin Leung, CEO of North Asia region of API, on behalf of their own parties separately.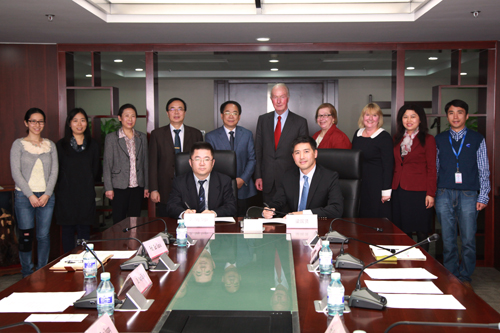 According to this letter of intent, the OUC will introduce original editions of online courses, including the courses of the School of Nursing at the University of Texas Arlington, and other online courses from American universities cooperating with API, and translate them into Chinese so as to make these courses available in mainland China.
Yang Zhijian affirmed that the internationalization of the OUC should continue promoting international communication and cooperation in education in meaningful and advantageous ways. And he is expecting more exciting progress in the field of international cooperation. 
Zhang Shaogang pointed out that recently the State Council has issued a document to accelerate the development of the service industry for aged people, as China's market for geriatric nursing continues to expand. The cooperation in providing specialized nursing courses with API and the University of Texas Arlington happens to conform to the country's developing requirements. 
Academic Partnerships International (API), along with its parent company Academic Partnerships (AP), is an education service company which is devoted to helping universities become international. AP is the biggest service provider of distance online higher education in the United States, as well as the only entity to provide global service in the United States. To date, it has helped more than 40 American public universities to set up virtual universities, and assisted more than 750 university teachers to transform their curriculum into more than 1,500 online courses which cover 160 degree courses. After the establishment of API, AP began rapid global expansion. Currently its business scope has reached as far as America, Europe, Africa, and Asia, and it has been providing excellent online courses for more than one hundred thousand students in schools worldwide. 
By Dai Jing, the OUC