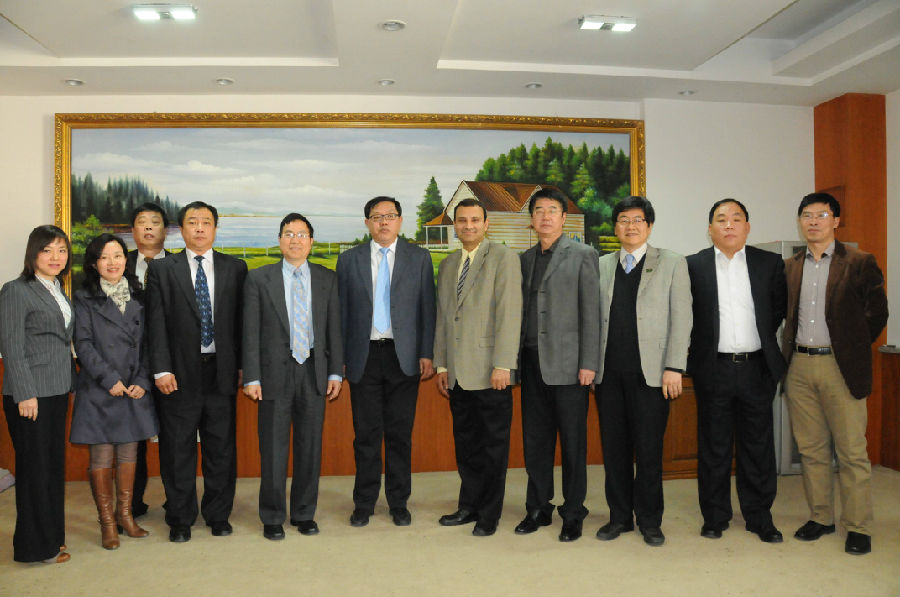 On October 18, a three-person delegation from Wright State University (WSU) of the US visited Shenyang Radio and TV University (RTVU). The delegation included Dr. Sundaram Narayanan,
 WSU provost; Dr. Hong Lang, WSU executive director of the International Exchange Department; and Dr. Li Yi, WSU dean of the College of Science and Mathematics. The trio was given a warm reception by Wang Bin, Shenyang RTVU president, the university's vice presidents Fan Jie and Lü Yuming, as well as other senior personnel from various departments.
During the meeting, Wang Bin began his speech by extending a warm welcome to Dr. Narayanan and his delegation. Wang introduced to them the operation and development of Shenyang RTVU in recent years, focusing his introduction on its Digital Learning Port (www.syeee.net), Cadre Online Learning Net (www.sygbzx.gov.cn), Civil Servant Online Learning Net (www.sygwyzx.gov.cn), School for the Disabled, University for Seniors and Community College. Wang expressed his hope to use Dr. Narayanan's visit as an opportunity to forge Shenyang RTVU's cooperation with WSU in teacher exchange.
Dr. Narayanan expressed his delegation's great appreciation of Shenyang RTVU's warm reception and gave an overview of WSU. Both parties agreed in their talks to adopt a broad prospect for cooperation concerning teaching methods, teacher exchange and student exchange in distance education.
WSU, a research-centred comprehensive university in Dayton, Ohio, is one of the 128 class one research universities. Five percent of its active students are disabled, a proportion that ranks among the top three of this category for American universities. WSU is equipped with an ideal distance education system, and its Medical College has already initiated distance education ties with some universities of Saudi Arabia.