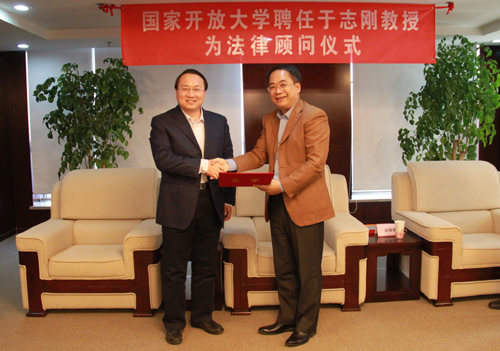 On November 30, 2012, the OUC held a ceremony to appoint Professor Yu Zhigang, China University of Political Science and Law(CUPL), legal adviser for the OUC. The appointment aims to adapt to the new educational environment of the OUC and safeguard its legal rights, while continuing to enhance the ability to administer the university according to the law.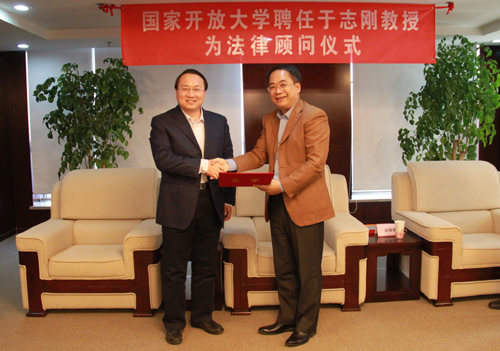 President Yang Zhijian presented the offer to Professor Yu Zhigang and Ruan Zhiyong, party secretary and vice-president of the OUC, presented the professor with commemorative gifts.
President Yang Zhijian said: "The appointment of first-class experts and scholars demonstrates the OUC's educational concept, which is of great importance to its strategic transition." He hopes that after joining the OUC, Professor Yu Zhigang will be able to fully leverage his knowledge and specialties to help the OUC better administer the university in accordance with the law. 
Professor Yu Zhigang said: "The OUC uses advanced teaching concepts and is leading the way in using information technology for teaching and learning." He hopes that the OUC and the CUPL can strengthen their cooperation, and further promote communication and exchange of resources and personnel. He said that he is committed to his duties as the OUC's legal adviser.  
About Yu Zhigang:
Yu Zhigang is a professor and doctoral supervisor at the CUPL's School of Criminal Justice. His current positions include: vice dean of the postgraduate school, head of the CUPL Academic Affairs Office, editor in chief of Criminal Law Issues and Debates, and deputy chief procurator of Shunyi District People's Procuratorate. In 2007, he was selected for the Ministry of Education's Programme for Outstanding Talent in the New Century. In 2010, he was awarded a "May 4th Youth Medal" by the Beijing Municipal Government. In November 2010, he was selected as one of the Top 10 Outstanding Young Jurists.
By Jin Hongyu, the OUC