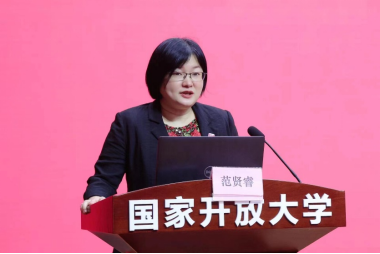 On 17 June 2022, the special work group (SWG) of the Open University of China (OUC), preparing for the World Vocational and Technical Education Development Conference, invited Xiao Lei, director of the executive committee of the China Annual Conference & Expo for International Education, and deputy director of the General Affairs and Research and Development Department of the China Education Association for International Exchange, to give a workshop titled "Preparation and Organisation of International Conferences".
Its aim was to implement the newly revised Vocational Education Law of the People's Republic of China, and to prepare for the parallel forum of the World Vocational and Technical Education Development Conference. Fan Xianrui, OUC vice president, attended, and all SWG and International Department staff, as well as division-level officials of relevant departments, participated.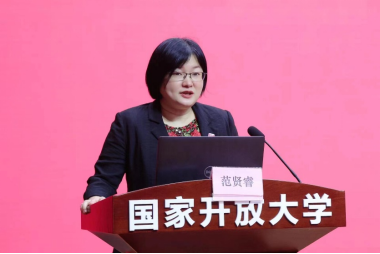 Fan Xianrui emphasised the significance of foreign affairs, that the preparations would have to meet high standards corresponding to the importance of the guests, and that the present was a critical time for these preparations. Inviting professionals to give workshops will enhance the SWG's ability to prepare for international conferences, tasks related to foreign affairs, and international cooperation. She pointed out that members of the SWG should educate themselves in politics, and maintain a practical orientation while emphasising quality and efficiency.
At the meeting, Xiao Lei covered four aspects of international conferences: policies and regulations, preparation and organisation, factors guaranteeing quality, and cases. She shared her experience preparing for them, such as advance planning, focus on detail, attention to leadership, and division of labour, and emphasised that those involved in foreign affairs should have a global outlook on both family and country, and be responsible, idealistic and cooperative.
The workshop was highly practical, and explained complex issues using abundant specifics. The members of the SWG all said they would combine theory with practice, use what they had learned, and do their best preparing for the forum, setting the stage for a successful convening of the 20th CPC National Congress.
Written by Zhang Yi; photos by Zhuge Huangyu, OUC