Providing a variety of educational services for all members of society is an important means of enhancing the quality of the Chinese people and making China a human resources power. It is also an important part of the construction of a lifelong education system and the formation of a learning-oriented society, and a significant responsibility shouldered by the Open University of China (OUC).
Giving full play to its organisational system, educational informatisation, and Credit Bank, the OUC has been focused on providing an integrated overall solution for continuing education for the ministries and commissions, actively exploring a new business model that is based on the "Six-Network Integration", integrates both online and offline and degree and non-degree education, combines occupational and continuing education, blends production with education, promotes cooperation between universities and enterprises, integrates work and study, and the properties of educational public welfare with the market mechanism.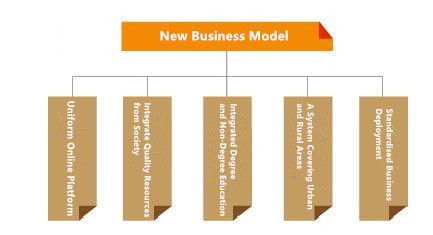 Open University for Older Adults
The Open University for Older Adults was founded on 28th January, 2015 with the cooperation of the National Committee on Aging, the Occupational Skill Identification Centre of the Ministry of Human Resources and Social Security, and the China Social Welfare and Pension Services Association, with the purpose of developing a variety of educational services for the elderly.
At present, the Open University for Older Adults has a website, an official WeChat account, and an app. Two majors, Elderly Services and Management and Social Work for the Elderly, have been launched and enrolment started in autumn 2014.
In addition, the Chinese Elderly Education Network is an education information service platform built with the aim of improving the level of community education and elderly education information services, in addition to fully implementing the requirements of "paying attention to elderly education" in the educational plan.
The elderly study tour project aims to develop projects such as the elderly study tour, art education for the elderly, and so on, in order to provide the elderly with featured service products like "tourism + education" and "art + education." A branded elderly study tour class with the theme of "Looking at the Landscape." Six study tour classes were held in Hunan, Fujian, Guangxi, and Mount Huangshan. The promotion of the construction of learning bases is currently underway.
Healthy and Artistic Pension Service Experiential National Demonstration Centreis a combination of the functions of eight centres, including the demonstration and experiential centre for art and caring for the elderly, the educational centre of the University for the Elderly, the psychological adjustment centre for the elderly, the health and medicine guarantee centre, the nursing practitioners teaching training centre, the elderly care and education research and development centre, and the data collection and processing centre. It is based in Beijing and and its network radiates out across China.
Community Education
In October 2010, the Ministry of Education (MOE) approved the establishment of the Research and Training Centre for Community Education, the aim of which is to carry out social education research, training, service and guidance across China. At present, 14 community education experimental centres and 50 experimental bases have been set up. In addition, a community education government website, China Community Education Network, was developed and constructed.
Twenty-eight "i- labs" have been built and the "i-lab" series of competitions for online learning and offline interaction have been organised. The "National Community Music" and "Traditional Culture Steps into the Community" micro-video contests and many other activities have been held. Several special projects, such as "Lifelong Education Public Service Platform Model Research and Demonstration Application", have been completed. A survey report on community education satisfaction and a series of China Community Education Development Report have been published.
Vocational Training
After five years of exploration, the OUC has made positive progress in non–degree education, which will become an important support mechanism for the strategic transformation and upgrading of the university.
In recent years, considerable progress and outstanding performance has been achieved in non-degree education, demonstrated by nine key OUC projects, including the "Action Plan for Realising Dreams of Further Education", the public service platform for national teachers' professional development, the national continuing education base for professional and technical personnel, the national exhibition and exchange platform for demonstration counties that have exhibited success in rural occupation and adult education, the information tracking system for students under the MOE's Targeted Poverty Alleviation programme, the MOE's professional approval and public information service platform for higher academic continuing education, the national elderly education and pension support public service platform, the national comprehensive information service platform for community education research and training, and "Brilliant Life: A Lifelong Learning Plan for Women"programme.
National Art Education
Aimed at the groups who enjoy artistic hobbies, a painting and calligraphy art education teaching platform has been built with the aim of developing research into calligraphy and painting education and teaching, developing teaching resources for painting and calligraphy education, and organising training and exchange activities.
Public-oriented courses in art, music, calligraphy, seal cutting, opera, film, practical art, dance, photography, and art appreciation have been released. 16,210 minutes of video art courses have been developed and reconstructed, including 31 new courses and 734 micro-courses.
Professional Training
A platform for the professional development of teachers, the "National Teachers' Professional Development Public Service Network", has been constructed based on the OUC's organisational system. It has actively undertaken a national training programme for teachers in primary and secondary schools, with the main aim being to provide integrated solutions for teachers at prefecture, city and county-level schools and to explore a new model of providing continuing education services for local primary and secondary school teachers. A total of 60,000 people have received distance training and 500 people have received face-to-face instruction.
The OUC has taken on the training of high-level, urgently-needed professional and technical personnel in corresponding fields and the task of training teachers in continuing education , forming a training model of "one base for China".
International Chinese Language Education
The OUC has created the MyEChinese distance Chinese language teaching platform, which has built personalised online schools for eight domestic and foreign institutions and enterprises. 54 online courses for a total of 1,185 study hours, including Modern Chinese Phonetics, have been developed. The Chinese language teaching curriculum was launched on iTunesU in 2013, with 30 free open classes provided in the first batch. The international Chinese language education programme has around 30,000 students in more than 100 countries and regions abroad.
In cooperation with Michigan State University, the OUC has strengthened the construction of the Confucius Institute and started the construction of overseas learning centres. It also promoted cooperation with Western Kentucky University, Pakistan, and Indonesia to create a web-based Confucius Institute and small language teaching platforms.The OUC has held the Forum for the Cultivation of International Chinese teachers for five consecutive years, which trained around 500 Chinese instructors in China and abroad. In addition, it has undertaken examination services for the new Chinese Proficiency Test (HSK).
Written by Sun Fuwan, Edited by Yan Jingzhen, www.china.org.cn