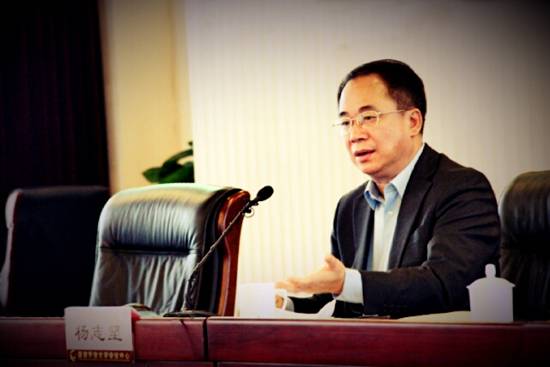 The Open University of China (OUC) held a working conference on the pilot constructing of online teaching team in Beijing on 23rd March, 2017. The conference was presented teachers in the RTVU system nationwide through distance live broadcasting. All conference participants agree that the conference is of great significance and importance for promoting online teaching team construction against the current situations.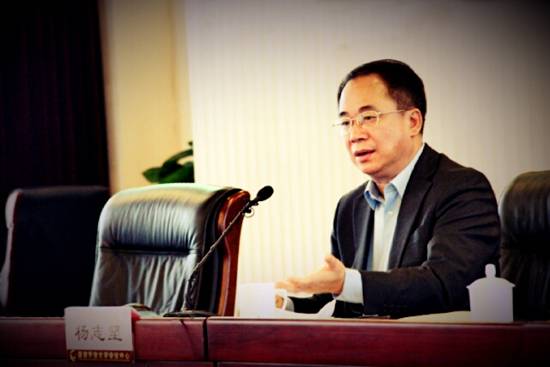 OUC president Yang Zhijian delivered a key-note report titled "Common Responsibility", which comprehensively illustrated the connotation of common responsibility from four aspects including school community, supply-side structural reform, six-network integration model, online teacher team etc.
The report gives a systematic and full analysis of why an "OUC Community" has to be established. President Yang Zhijian's speech is presented as follows:

Esteemed colleagues and teachers,
Good morning! The theme of today's meeting is the construction of online teaching teams. It is the first of such meetings to be held over the next several years during the OUC's reform and construction. This first large-scale meeting is for us to deepen teaching reform, enhance learner development quality, and explore team building models. After lengthy deliberation and an historic exploration in preparation for the meeting, some ideas have taken shape, and some models are currently being developed, which are advancing toward our goal of online teaching team construction. To this end, I myself think this meeting represents a landmark.
Over the years, the OUC's pilot project has made numerous achievements, and the OUC as a whole has taken a more concrete shape. The OUC, along with the radio and television university (RTVU) system in each province, as well as five open universities, have met for repeated studies and reached consensus on major issues along the way. Last year, the Opinions of the Open University of China on Promoting the Construction of the School Organisation System was formally promulgated. We aspire to form the OUC's construction around common principles. With that perspective, the OUC is our common platform and home, and we have the responsibility to enhance her reputation and form a well-respected brand. Let us advance toward that future hand in hand.
We need to establish a reputation, brand, and future, and our priority is to reform and innovate both education and the teaching model. We can win a positive reputation through upgrading our capabilities, strengths, and quality to create the university's desired environment and values. Teachers are critical in measuring a university's education quality and assessing its future. In the case of the OUC, the key is a network-based team capable of advancing teaching and research, and working together around learner development quality. In line with this idea, I'd like to comment on four topics today.
"School Community"
As I have said before, this is our common home. In fact, we have now completed the initial construction of the school community. Last year, we formulated the Opinions on Promoting the Construction of the School Organisation System and Opinions on Strengthening the Teaching Department's Overall Academic Management of the OUC Headquarters. In accordance with the two documents, the OUC's Party secretary and presidents' meeting was held in Hefei, and cooperation agreements were signed to jointly construct OUC branches focused on particular issues. Though not every system of governance is yet in place, and there are still historical problems and immediate challenges, a consensus on ideology has been reached.
Why is it called a school community? This term better reflects the reform and development, equality, cooperation, and win-win mentality. The OUC is also known as a school community. In fact, the proposed school community is a historical necessity, and the only real option in the face of inevitable challenges and conflicts during the nearly 40 years of development of the RTVUs.
In the new century, great changes have taken place across society, politics, economics, and culture. Seen from the perspective of educational and social development, today's higher education system has arrived at a new stage of promoting lifelong learning for all and building a learning society. With new requirements and expectations from both government and society placed on the RTVU system, the Outline of China's National Plan for Medium and Long-term Education Reform and Development (2010-2020) clearly mandated "to operate well the open university." How to understand those six words? Different people have different views. Not all experts and scholars hold the same views, and it is the same with governments at various levels, as well as in departments within the OUC system. Anyhow, it is the common aspiration of all people to push forward transformational development. What the Party secretaries and presidents in the OUC system talk about most, and express in the most sincere and clear attitude, are to persist in operating schools by adhering to the OUC education system.
The Ministry of Education approved the establishment of the OUC and five local open universities. What about the other 39 RTVUs? There are diverse understandings and voices. Seen from a historical perspective, I think the year 2013 marked a shift from conceptual knowledge to rational thinking. I have considered the status, strengths, problems, and challenges of the RTVU system of education. I think that it is entirely acceptable for universities to expect complete independence. However, that independence lacks enough capacity and all necessary supporting conditions. If independent education is achieved, there will be three possibilities: 1) it will not die; 2) it won't live well; and, 3) it will face more challenges. Besides challenges inside the industry, there are also those from Ali, Baidu, Tencent, Huawei, Lenovo, and others, because they are all exploring their respective strengths with the intent to enter online education. I have sensed the extreme challenges that lie in the future, and I hope that a strategic choice can be made for us to build up strengths and core competencies so that we can go ahead with concerted efforts and play our proper role in a time of increasing competition.
Against this background, let's have a look at the European Union (EU) and the US public university systems, and some big corporate alliances, and we will find important implications. If each of the 28 countries in the EU were to compete with China, Russia, or the US as an individual country, it would have neither strength nor influence. However, as a union of 28 countries, the EU is an important power on the world stage. Though it has its own integral economic and educational system, each country remains an independent sovereign state. The EU is somewhat similar to us at the present time. Let's have another look at state universities in the US. For example, the University of California (UC) is a system. The University of California, Berkeley (UCB) ranks fifth in the US, and remains a branch of the UC system, independent with a distinctive model and core competencies. This is worth learning from.
Based on the above thoughts, the OUC's existing 44 branches are all willing to join hands to move forward and take their respective responsibilities in a common business spread across different regions. Therefore, we are exploring an EU model, building an intensive group and open, united school community with diversified main bodies, one that is jointly built and managed. The basic principle of the community construction is based on voluntary entry, with permitted exit.
Both the operation of the community and the building of the online teaching team involve systems issues. This community must be subject to rules. Our community adopts "Five Unifications" in brand, standard, platform, management, and assessment. Without a unified brand, people will be divided; without unified standards, neither quality products will be produced, nor can we self-evaluate; a unified management is flexible under specified regulations; and, a unified evaluation of all major participating bodies is necessary in the context of standards and policies that lead the direction of the community. We will strive toward "Five Individual Features;" e.g. to take positions, share responsibilities, give full play to advantages, show distinctions, and play proper roles through "Five Mutual Efforts;" e.g. mutual discussions, building, management, sharing, and mutual benefit.
We are advancing deeper development of the school community. We have set out to prepare for the establishment of a board of directors and school council, according to the structural concept and model of modern university governance. The basic, two-level coordination system is planned for the entire internal management system. Headquarters will coordinate affairs across the country, while branches coordinate affairs within their regions. These offices carry out all manner of business in accordance with unified policies. All branches work in accordance with guiding principles, policies, standards, and processes. We are all part of the OUC. We have enrolled 3.5 million students. Do we need to take care of them after the enrollment? Do we still need our reputations, brands, and future? Why do I choose Common Responsibility as the topic of my report for today? It is because the organisation of the team is very important. We are a community.
Now, the focus of management of our educational community will move downward. There are complicated problems in need of constant exploration, with the core issue being to improve efficiency of management and quality of education. The OUC is an excellent platform for the construction of specialties, and all branches and schools have the ability for complementary development in specialty construction. In addition, all resources, including teachers, should be considered to achieve sharing and joint construction. This is what I mean by forming an online teaching team.
As far as the school community is concerned, I actually want to tell you that we are all working together to create a new type of school community. We are exploring, trying hard to improve its reputation and brand, and expand its future space. This is our common responsibility. Whether our community succeeds or not depends on striking a balance among rights, responsibilities, and obligations for all parties in a scientific and rational way, resulting in the recognition of all parties' rights, as well as their shouldering of responsibilities and fulfillment of obligations. Therefore, I'd like to prioritise empowerment, responsibility, and obligations.
"Supply-side structural reform"
To maintain reputations and brands, quality must be a central focus. The Party Central Committee engages in supply-side structural reform, and our nation is faced with this issue in both economic and social development. Supply-side structural reform is an issue that fundamentally centres on the relation between supply and demand. However, it is not quite an issue of supply over demand, or demand over supply. Instead, it is an issue concerning resource allocation, and supply channels, content, and quality. With the OUC on the supply side of open and distance education, we are also faced with a number of "structural reform" problems. These include reform problems at the educational level, as well as more profound and difficult ones at the teaching level, such as reform of the establishment and adjustment of majors, teaching content, a course system, basic teaching materials, and teaching and examination approaches.
At last year's teaching conference, I spoke on a method for settling into a productive routine, and explained in detail our present teaching conditions. Now, I think there are still some problems that can't be overlooked. Core issues include teaching content, curriculum, majors, teaching materials, and certain approaches, including those for examinations and management. These problems are referred to each year in teaching inspections, problem reflection, reports, and investigations. Let's take content as an example, which has several issues. Content may not have been updated for years, teaching material may be too dense, and so on. In terms of majors, there may not be enough majors to meet demand, education laws may not adequately be followed, or the cost is not given careful consideration. All these problems involve supply-side structural reform. Of the four key tasks of the year, the most difficult one is teaching reform.
If we are to deepen teaching reform, improve quality, and enhance the satisfaction of society and students, the key is to make clear, logical starting points. First, the logical starting points and end results of the OUC's supply-side structural reform revolve around students: their situations and learning needs, and the best methods to serve them in a high quality manner. In my opinion, we don't have enough understanding of our students' real lives. We must investigate students' daily needs, how to cultivate the students, and how to supply the knowledge they need. We shall make a scientific carding based on teaching research, sorting out research-based knowledge, and rational, academic, and systematic knowledge of regular senior high and middle schools to make up a content system that addresses the needs of OUC students. This content will become courses, which will become a system. At present, what we have done is not enough. Next, we need to reshape our institutional process in line with students' learning and real-life situations.
Next, the core issue of the OUC's "supply-side structural reform" is courses, content, and methods. I think it would be excellent if our students could learn well what they need to, use what they have learned in real life and at work, and, by doing so, improve their happiness.
Last, the fundamental guarantee of supply-side structural reform is quality standards and learner development models. Each university has their own learner development model. What is the OUC's learner development model? There is no getting around defining this. This model must be closely linked to our standards, and align with courses and majors that can be revised. We can build a model that fits our plan, and ensure and improve quality using the model. This is what supply-side reform means.
"Six-Network Integration Model"
The "Six-Network Integration Model" is actually a result of our deep exploration into the integration of education and technology. The "Six Networks" refer to the six factors of web-based learning; e.g. online learning spaces, core courses, teacher teams, learner support, learning assessment, and teaching management. The six factors are interdependent, and supported by each other. They connect to form the "Six-Network Integration Model." It is not only a learning or teaching model, but also a learner development model.
The key to supporting the "Six Networks" and ensuring the success of "Six-Network Integration" lies in teachers. Without teachers, there is no distance support service. There is no university without academic and non-academic service. In an Internet-based university, there must be learning behaviour and processes, with learner support.
What is the highest objective or pursuit of the "Six-Network Integration"? My personal opinion is to change the "Open-Ended Cultivation" of our 3.6 million students into a "Focused Cultivation," paying attention to the process and service, and continuously improving learner development quality. The zones and classes are divided using the Internet, with staff handling management. We know each person's learning process through their online learning behaviours. We know the period of time with the greatest number of students online, which chapter students ask questions about most frequently, the question teachers most frequently respond to, and so on. All these are very clear, forming a kind of "Focused Cultivation."
Therefore, the values of the "Six-Network Integration Model" emphasise encouraging students to learn, putting in place learner support systems and management over the learning process, and reflecting essential characteristics of an "Internet-plus university." It will be the primary evidence of the OUC's existence and value, a significant symbol to differentiate it from other universities, and the OUC's brand, reputation, and future.
"Online teacher team"
Building an "online teacher team" is the best means for exploring and formulating the "Six-Network Integration Model." It is also the key dimension to measure the success or failure of the exploration, and to substantively improve talent formation quality. Without an "online teacher team," it is impossible to improve talent formation quality, or to respond to questions from people of all walks of life, both Chinese and their international peers. The "online teacher team" shares responsibilities with headquarters and branches, where, in the system as a total unit, the specialties are the foundation, and the courses are keystones. The building of an "online teacher team" emphasises both quality and quantity. There is no quality without quantity. The construction of the "online teacher team" shall take place in a manner that achieves progress while ensuring stability, even if that progress is going forward one step and retreating half a step; we can't stand still.
This is a process of exploration. I am especially excited for the convening of today's meeting, because it is am extremely good start. It is an historical start, a milestone. So, I hope this meeting will be a success. Next, we are to explore the establishment of the OUC teacher qualification system. When we give trainings in the future, we are to represent and continue creating the OUC brand, endowing the OUC with a healthy reputation and future. I'll have to stop here. Thank you.
Written: Sun Fuwan, Edited by: Yan Jingzhen, www.china.org.cn