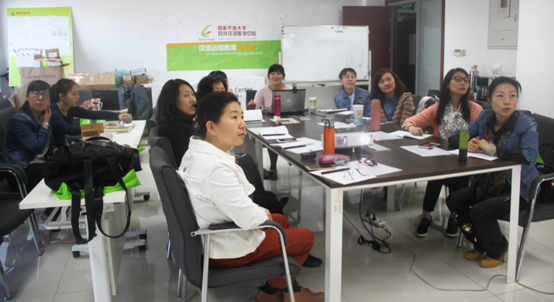 From April 8 to 10, 2016, the Chinese Language Centre of the Open University of China (OUC) kicked off its first session of 2016 professional competence training for international Chinese teaching instructors. The training gave full play to the advantages of distance open education, with the three-day courses all carried out online and offline simultaneously. 32 teachers from a total of 11 domestic Radio and Television Universities (RTVUs) and other social institutions participated in the training.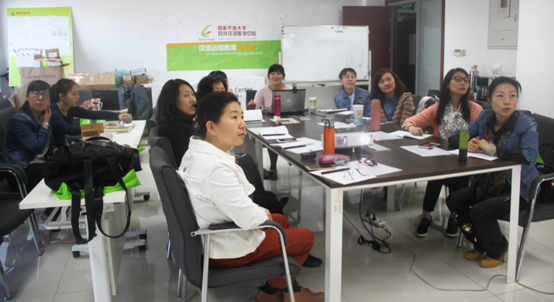 The training not only aims to increase international Chinese teaching instructors' ontological knowledge of the Chinese language, enhance their classroom management and practical teaching abilities, and provide the tutors within the OUC system and greater society with high quality learning resources, convenient communication channels and career development guidance, but also helps these international Chinese teaching instructors prepare for all kinds of aptitude tests and selective tests held by the Confucius Institute Headquarters (Hanban) and required for overseas jobs on government sponsorships.
Those invited to the training included industrial experts such as Professor Jiang Liping from Beijing Language and Culture University, Professor Peng Zongping from Communication University of China, Associate Professor Lou Kaiyang from Minzu University of China, and famous trainer Jiang Nan, who is widely welcomed by many teachers, as a main lecturer. The training content covered courses including, Basic Knowledge and Teaching Skills of Chinese Language, Cross-Cultural Communication and Case Analysis, Basic Principles and Methods of Chinese Language Teaching and Teaching Organization and Classroom Management etc.
Considering the reality of students' backgrounds and their diverse needs, the training adopted an integrative model of "self-study of online courses + face-to-face teaching". That is, one month before the face-to-face teaching began, students studied 10 network courses on the "Teacher Training" platform (www.t.myechinese.com) by themselves, including Introduction to Teaching Chinese as a Foreign Language, Chinese Ontology Knowledge and Teaching Chinese as a Foreign Language, How to Teach the First Lesson as a New Teacher, Chinese Traditional Culture in Chinese Language, Cross-Cultural Communication and Case Analysis and so on. They then arrived at the face-to-face lectures with questions they might have had during the self-study process.
The trainees included front-line teachers from Beijing Open University, Shanxi RTVU, Fuzhou RTVU, Jilin RTVU, Xi'an RTVU, Shanghai Open University, Ningxia RTVU, Yichun RTVU and Jiangxi RTVU, as well as teachers from Xianyang Normal College and other social institutions, who are interested in a career teaching Chinese to speakers of other languages.
The OUC's Chinese Language Centre has consistently adhered to its mission of developing the construction of the programme of teaching Chinese to speakers of other languages in the RTVU system, improving the professional level of its teaching team, expanding its international talents reserve, and advancing the OUC's internationalization of the schooling system. From 2012 to 2015, based on the characteristics and specialties of the teachers in the OUC system, it has successfully held 18 specialist offline trainings, covering a total of 138 backbone teachers and teaching management personnel in 40 provincial and municipal RTVUs throughout the country. On the basis of previous training experiences, the first training in 2016 tested a model of integrating both online and offline teaching and achieved good results. Feedback from the students generally reflected that the training is of a high standard, modern format and very effective. The three-day training session strengthened their professional knowledge, enhanced their teaching abilities and supported them in preparation for the tests for international Chinese teaching instructors who are going to work abroad on government sponsorships.
The OUC's Chinese Language Centre will also carry out a series of topical trainings on professional knowledge and ability enhancement for international Chinese teaching instructors aimed at backbone teachers in related specialties in the OUC system this year, with the hope that more backbone teachers can learn, share and exchange ideas through this platform. Students also expressed that they hoped to have more opportunities to participate in training sessions and related activities to build up a teacher bank for the education of foreign students, improve international cooperation and related business development in their universities, help local RTVUs expand, and to contribute to promoting the internationalization of the OUC system.
By Xu Xiaoxiao ,OUC