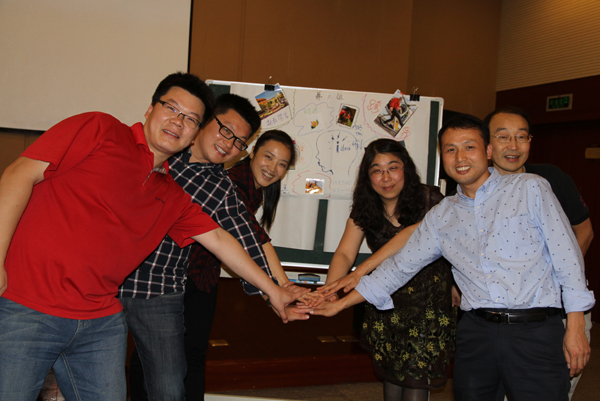 In the golden fall of September, OUC headquarters held large-scale training classes on three occasions, providing a platform for core OUC tutoring and managerial personnel to enhance their theoretical knowledge and business operations capabilities, share and exchange experiences, and broaden their horizons.
I. Beijing Workshop for Personnel Engaged in Tutor Management and Training
On September 18, 2015, a one-week workshop for core tutors engaged in tutor management and training concluded successfully at the OUC's Wukesong campus. Forty-one tutors from 27 branches nationwide participated in the seminar, jointly organized by the OUC's Human Resources Department and Tutor Development Centre.
The workshop's theme was the reform of the OUC's personnel system and the construction of the tutoring team, with a focus on two of the OUC's biggest themes, "Tutor Development" and "Tutor Management." Beijing Normal University's Associate Professor Feng Xiaoying shared a report on "Professional Development for Tutors in Open Universities." Professor Meng Chaoying, Director of China Agricultural University's (CAU) Personnel Department, shared a speech on how CAU, as a representative of the Universities of Project 985, built a "High-level Tutoring Team." Associate Professor and Director of the HR Department at Beijing Vocational College of Finance and Commerce (BVCFC), Lin Lingling, shared how BVCFC, as a national model for vocational colleges, carried out practical explorations into the development of tutoring teams. A tutor from the Academic Affairs Department of Chengdu Radio and Television University (RTVU), Guo Mingquan, shared their practical experience advancing tutor management against the backdrop of tutoring reform in Chengdu RTVU. Feng Liguo, from the Tutor Development Centre, introduced the OUC's efforts in faculty development.
Pursuing the principle of training which serves business development, the seminar discussed key problems in tutors' management at the OUC via facilitated groups, and used a workshop to collectively prepare a draft entitled, "Tutoring Ability Standards for OUC Tutors." Tutors at the seminar unanimously agreed that the "Ability Standards" should serve as the basis for tutor recruitment, management, and development at open universities, and that the formulation of such standards was necessary. They suggested that the standards should be further revised before publication and implementation.
The seminar organized trainees into one-day learning workshops on inter-disciplinary studies. Ms. Zhuang Fengtao, Executive Secretary of the Peking University Alumni Association, Mr. Xu Keqian, CEO of Piyingke Corporation, and Mr. Wang Yuze, Chief Executive Officer from Beijing Chaff Company, were invited to share their own innovative cases against "Internet Thinking." Attendees of the seminar visited LG Electronics Corporation. Mr. Wang Shunjie, General Manager of the Human Resources Department of E-commerce Division of COFCO and Human Resources Director of Womai Network, and Ms. Li Yuanshu, Training Director of LG Electronics (China), were invited to share their practical explorations into "Human Resources Development in Enterprises."
Party Secretary Li Ling attended the seminar's graduation ceremony and awarded participants certificates of completion. Participants generally agreed that this seminar not only provided training, but a forum for the exchange of work and ideas, with new content, high relevance, and diversified means of exchange. The inter-disciplinary study opened up new ways of thinking. They hoped there would be future opportunities for studies and exchanges, and expressed that they would regularly refer to knowledge learned at the seminar and apply practices learned through their work as tutor managers and developers.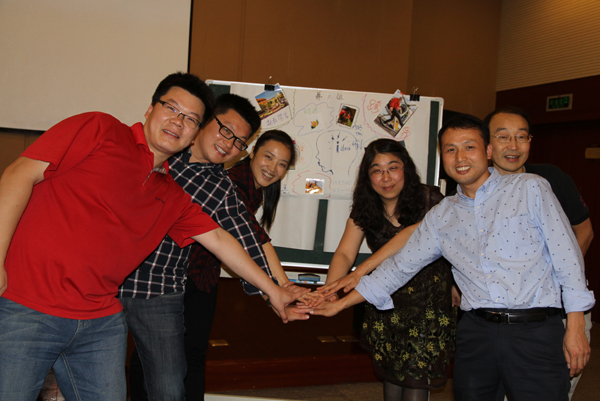 Team activity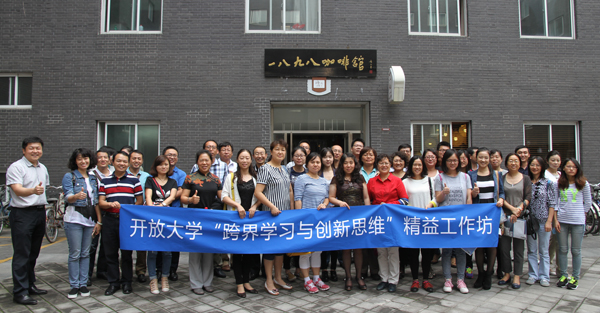 Inter-disciplinary study at "1898 Café"of Zhongguan New Garden of Peking University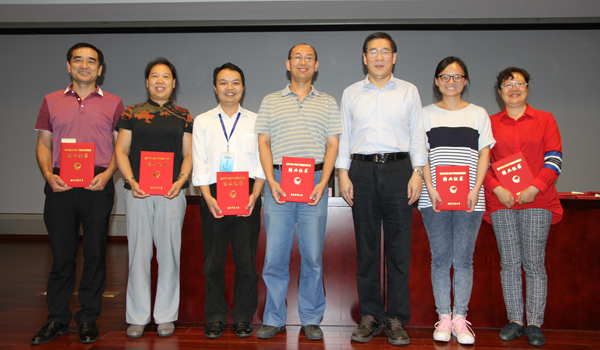 Party Secretary Li Ling attending the seminar's graduation ceremony and awarding participants certificates of completion
II. Senior Training Class for Core Technical Tutors of Digital Libraries
The senior training class for core technical tutors using the OUC's digital library was held from September 20 to 25, 2015. Sixty core OUC tutors engaged in digital library sciences participated in the class, undertaken by the OUC's Learning Resources Department (the Library). OUC Vice President Liu Chen took part in the graduation ceremony and granted certificates to students.
Experts and leaders from the Chinese Academy of Sciences (CAS), Renmin University of China (RUC), and OUC headquarters were invited to the seminar to make presentations on the transformation and development of the library and the reform of open universities. Assistant President and Researcher Yang Xiaotang gave a special discourse on "Open Universities" and "Tutoring Reform of Open Universities," drawing on the latter as the lecture title. The talk provided enough theoretical and practical information for OUC library system personnel to establish a clear idea of school's systems and define the direction of tutoring reform at open universities. CAS Professor Chu Jingli, in a topic entitled, "From Resource Capacity to Service Capability: The Change and Transformation of User-centric Libraries," analyzed the environment and background of current library changes, explained in detail the main trend of changes and developments in libraries, and put forward the requirements for formulating development rules for libraries, as well as the main concepts needing change at the moment. RUC Associate Research Librarian Zhu Xiaojing, presented on, "The Organization and Management of Services in Embedded Subjects – An Example of Subject Services at the Renmin University of China Library," illustrating the services offered embedded in the RUC library and discussing with participants how to carry out subject services in libraries at colleges and universities.
During the study, trainees visited both the RUC library and the Ancient Books Division at the National Library of China. In addition to in-person experience in the development, services, and management of libraries at colleges and universities, trainees also gained an elementary understanding of the history of information management.
In combination with the practical activities, the OUC's Learning Resources Department (the Library) explained content such as, "Discussion on the Development and Transformation of the OUC Library," "Use of Existing OUC Library Database and the 'Open LIB'," "Use of 'the Mobile Library's OpenBook'," and "Service Items for Current Subjects at the OUC Library," and led trainees through exercises. 
In addition, the seminar facilitated interactive thinking and positive communication during the training, which encouraged participants to exchange and study. The "Readers' Space and New Media Application" from the Curator of the Library of Guangzhou Radio and Television University (Guangzhou RTVU), "Course Shelf" from the Curator of the Library of Xi'an RTVU Yao Hui, and "Community Services of the Library of the RTVU: Foshan Joint Library," will serve as references for trainees, enlightening them as they carry out the real work of developing libraries at grass-roots RTVUs (open universities). The trainees carried out warm discussions on related topics and submitted their thoughts for group discussion.
Participants said that this seminar not only broadened their understanding of the development of open universities, but also elevated their thinking on how to more effectively develop the services offered at distance education digital libraries. The targeted business study strengthened their ability to carry out digital library services at their schools and enhanced both their professionalism and research capacity. Meanwhile, the seminar also provided unique learning and exchange opportunities for the technical library personnel, which improves staff cohesion throughout the library system.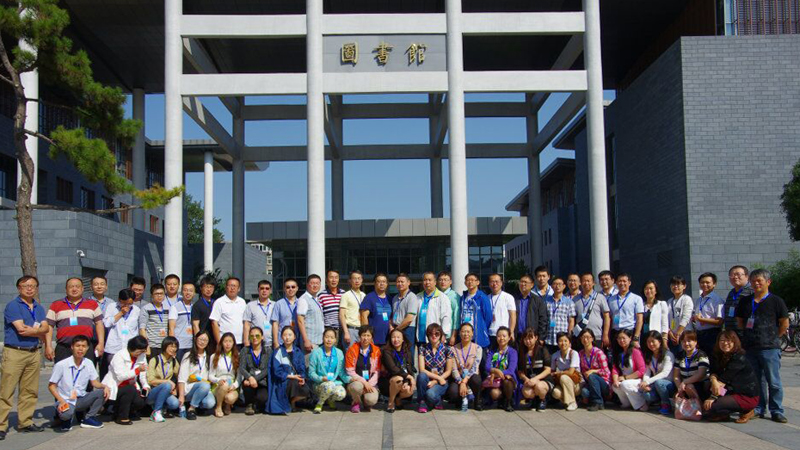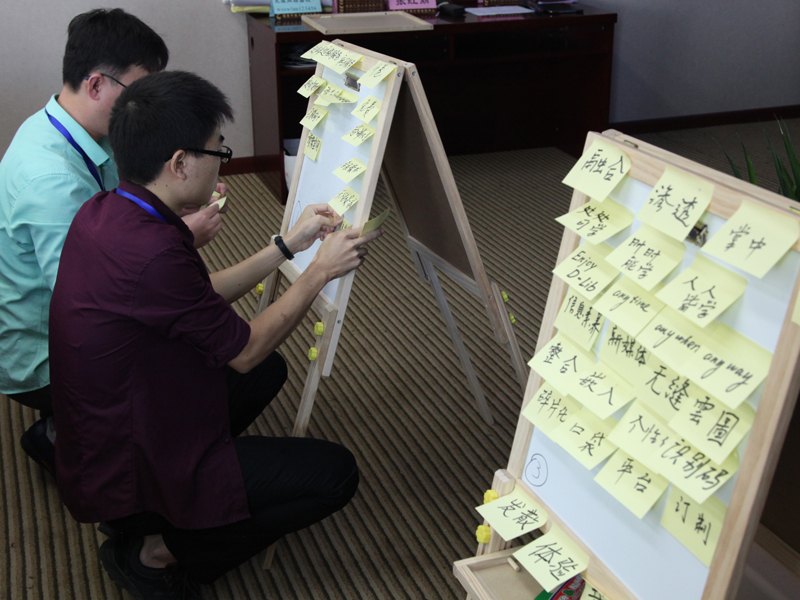 III. Workshop for Core Tutors of Public Politics Theory
On September 21, 2015, the senior workshop for core OUC tutors of public politics theories was held at the OUC's conference centre. More than 50 tutors from the OUC and 28 local open universities and RTVUs participated in the seminar. 
Ye Zhihong, Director of the School of Arts and Law, presided over the opening ceremony. At the opening ceremony, OUC Assistant President and Director of the Learning Resources Department (the Library) Yang Xiaotang made a report entitled, "Tutoring Reform of Open Universities." The report, organized around the construction and development of the OUC, elaborated features of the OUC, such as the tutoring environment, university functions, etc., in addition to analyzing tutoring reform at the OUC.
The one-week seminar offers training to the entire OUC system's core tutors in public politics theory. The training includes two parts: 1) A special discussion on information technology, online education, and the development of network resources, and 2) A discussion centered on frontier academic problems and tutoring experience exchanges in ethnic theories and policies, as well as an introduction to theoretical systems of Chinese socialism. Party School of the Central Committee of C.P.C. Professor Gong Xuezeng, Central Institute of Socialism Professor Sheng Guiping, RUC Professor Zhang Xin, Beijing Jiaotong University Professor Han Zhenfeng, as well as numerous renowned experts and scholars from colleges, universities, and research institutions, including Peking University and the Chinese Academy of Social Sciences, made wonderful lectures. The main forms of the seminar included expert lectures, interactive Q&A, group discussions, and research.  
Every tutor who participated in the study agreed the seminar helped them more clearly understand their responsibilities and duties. They stated the seminar increased their enthusiasm for online education, enhanced their theoretical understanding, and taught them excellent tutoring practices. For example, in her "Learning Handbook," Shanxi RTVU tutor Jia Bingmei wrote the seminar inspired her to, "Think again about the rationality and scientific nature of my own course resources design and try to make changes." Xianning RTVU, Tongcheng branch, tutor Cai Jing wrote that, "Professor Sheng Guiping helped us understand the importance of learning ethnic theories and policies." After listening to Professor Zhang Xin's lecture, Daqing RTVU tutor Pang Lili wrote, "It was the first time I have listened to such a thorough, brilliant, and fascinating lecture on the Theory of Marxism. The Theory of Marxism, which I had thought very hard to understand, is actually so fun and easy to understand." Meanwhile, tutors participating in the training also gave feedback. Some tutors hoped that training methods could be diversified and more time given for group discussion or exchange and discussion with experts. Some tutors hoped that tutors from local open universities and RTVUs could introduce their own tutoring experiences, to facilitate the exchange of information between universities.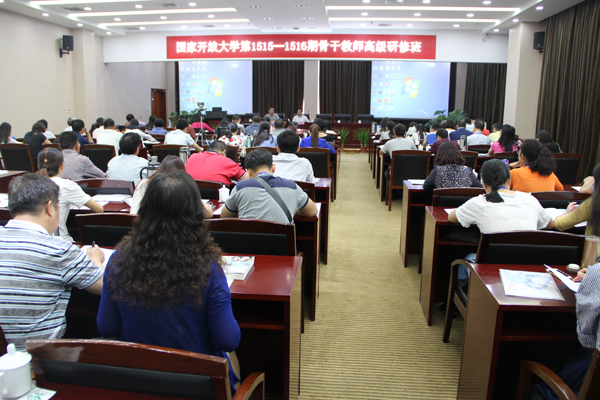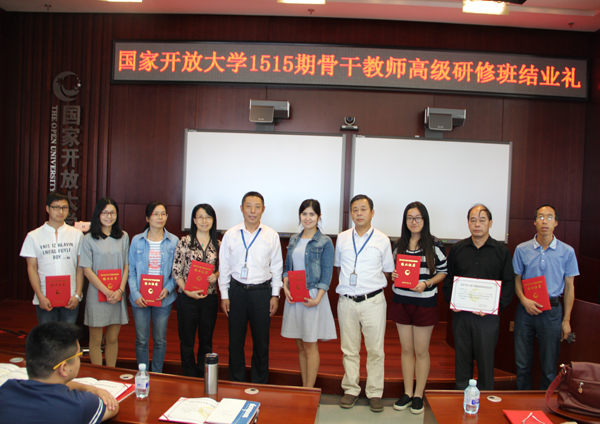 Contributed by the OUC News Centre