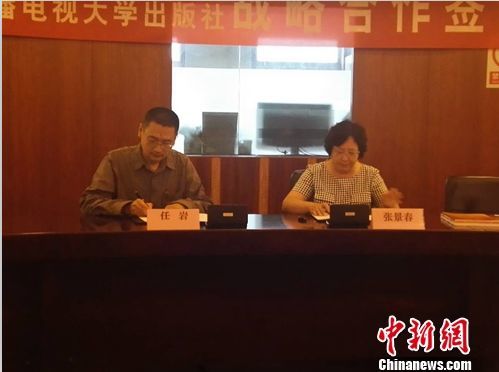 On the morning of July 31st,2015, the "Signing Ceremony of Strategic Cooperation between Guizhou Tongren Polytechnic College and the Open University of China (OUC, aka China Central Radio and TV University,CCRTVU) Press" was held in Beijing.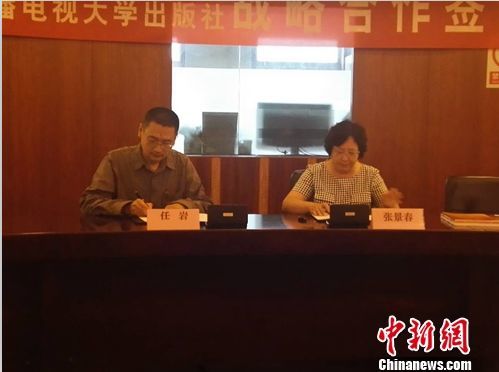 "Carrying out broader cooperation with vocational colleges is important initiative for us in developing vocational education resources". Kuang Tianjian, the Executive Vice President of the OUC (CCRTVU) Press, said that vocational education (textbook) publication is a very important part of the overall strategic arrangements in the publishing business. 
First of all, Kuang Tianjian introduced the development of the OUC (CCRTVU) Press. He pointed out that in 2015, the Press increased the production of the publications for higher vocational colleges, promoted the creation of excellent courses, excellent teaching materials and digital resources for higher vocational colleges with the support of the brand advantage for the creation of teaching materials, professional publishing capabilities and multi-media teaching material resources development for the OUC (RTVU) system. 
 "We are lacking in the resources of universities and colleges, which will affect our research and development in teaching resources. We hope that the strategic cooperation with Tongren Polytechnic College can help strengthen the relationship between the Press and the well-known experts and backbone teachers of the college. We need to combine this with the editorial advantages of the Press so as to continuously improve the work of the Press in teaching material development, multi-media teaching material construction standards and other aspects, and take the lead in forming a brand influence domestically", said Kuang Tianjian. 
Following the statement of Kuang Tianjian, Zhang Jingchun, the President of Guizhou Tongren Polytechnic College, said that the OUC (CCRTVU) Press is a famous publishing house, which has provided services such as the production and distribution of many textbooks for domestic universities and colleges. He also added, "Especially in recent years, in order to assist career development in higher vocational education the Press offered a platform to build new subjects and develop course material for higher vocational education colleges." 
 "We also hope that both parties' strategic cooperation can help upgrade the level of production in setting up specialties and teaching digitization in Tongren Polytechnic College and meanwhile produce the courses and textbooks fitting for professional needs in similar higher vocational colleges so as to promote the production of featured specialties", said Zhang Jingchun."Besides, we also hope that our textbook production can 'step up to a higher grade'".
Subsequently, Zhang Jingchun and Ren Yan, Editor in Chief of the OUC (CCRTVU) Press, as representatives of both parties, signed the framework agreement. According to the OUC (CCRTVU) Press, this means that the two sides have expressed the intention of comprehensive strategic cooperation to realize advantageous complementarities through the integration of resources from both sides, working together to build a brand in vocational education. 
                                                                                                        By Yan Jingzhen